Abstract
Background
With the expanding implementation of minimally invasive surgery, the operating team is confronted with challenges in the field of ergonomics. Visual feedback is derived from a monitor placed outside the operating field. This crossover trial was conducted to evaluate and compare neck posture in relation to monitor position in a dedicated minimally invasive surgery (MIS) suite and a conventional operating room.
Methods
Assessment of the neck was conducted for 16 surgeons, assisting surgeons, and scrub nurses performing a laparoscopic cholecystectomy in both types of operating room. Flexion and rotation of the cervical spine were measured intraoperatively using a video analysis system. A two-question visual analog scale (VAS) questionnaire was used to evaluate posture in relation to the monitor position.
Results
Neck rotation was significantly reduced in the MIS suite for the surgeon (p = 0.018) and the assisting surgeon (p < 0.001). Neck flexion was significantly improved in the MIS suite for the surgeon (p < 0.001) and the scrub nurse (p = 0.018). On the questionnaire, the operating room team scored their posture significantly higher in the MIS suite and also indicated fewer musculoskeletal complaints.
Conclusions
The ergonomic quality of the neck posture is significantly improved in the MIS suite for the entire operating room team.
This is a preview of subscription content, log in to check access.
Access options
Buy single article
Instant access to the full article PDF.
US$ 39.95
Price includes VAT for USA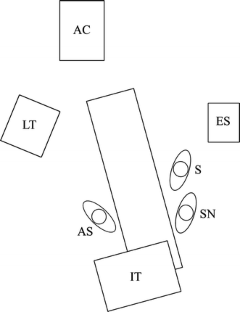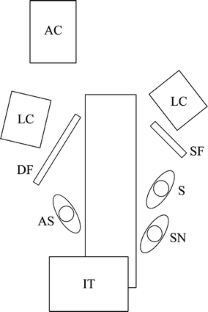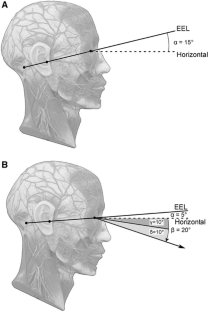 References
1.

Berggren U, Gordh T, Grama D, Haglund U, Rastad J, Arvidsson D (1994) Laparoscopic versus open cholecystectomy: hospitalization, sick leave, analgesia, and trauma responses. Br J Surg 81:1362–1365

2.

Hendolin HI, Paakonen ME, Alhava EM, Tarvainen R, Kemppinen T, Lahtinen P (2000) Laparoscopic or open cholecystectomy: a prospective randomised trial to compare postoperative pain, pulmonary function, and stress response. Eur J Surg 166:394–399

3.

Richards C, Edwards J, Culver D, Emori TG, Tolson J, Gaynes R (2003) Does using a laparoscopic approach to cholecystectomy decrease the risk of surgical site infection? Ann Surg 237:358–362

4.

Schellekens PC, Bijnen AB, Honing M, Lourens J, de Ruiter P (1995) Results of the introduction of laparoscopic cholecystectomy on morbidity and mortality of gallbladder surgery in a large regional hospital. Ned Tijdschr Geneeskd 139:723–727

5.

Berguer R (1999) Surgery and ergonomics. Arch Surg 134:1011–1016

6.

Van Veelen MA, Nederlof EA, Goossens RH, Schot CJ, Jakimowicz JJ (2003) Ergonomic problems encountered by the medical team related to products used for minimally invasive surgery. Surg Endosc 17:1077–1081

7.

Kenyon TA, Urbach DR, Speer JB, Waterman-Hukari B, Foraker GF, Hansen PD, Swanstrom LL (2001) Dedicated minimally invasive surgery suites increase operating room efficiency. Surg Endosc 15:1140–1143

8.

Gallagher AG, McClure N, McGuigan J, Ritchie K, Sheehy NP (1998) An ergonomic analysis of the fulcrum effect in the acquisition of endoscopic skills. Endoscopy 30:617–620

9.

Berguer R, Forkey DL, Smith WD (1999) Ergonomic problems associated with laparoscopic surgery. Surg Endosc 13:466–468

10.

Erfanian K, Luks FI, Kurkchubasche AG, Wesselhoeft CW Jr, Tracy TF Jr (2003) In-line image projection accelerates task performance in laparoscopic appendectomy. J Pediatr Surg 38:1059–1062

11.

Hemal AK, Srinivas M, Charles AR (2001) Ergonomic problems associated with laparoscopy. J Endourol 15:499–503

12.

Vereczkei A, Feussner H, Negele T, Fritzsche F, Seitz T, Bubb H, Horvath OP (2004) Ergonomic assessment of the static stress confronted by surgeons during laparoscopic cholecystectomy. Surg Endosc 18:1118–1122

13.

Herron DM, Gagner M, Kenyon TL, Swanstrom LL (2001) The minimally invasive surgical suite enters the 21st century: a discussion of critical design elements. Surg Endosc 15:415–422

14.

Satava RM (2003) Disruptive visions: the operating room of the future. Surg Endosc 17:104–107

15.

Hanna GB, Shimi SM, Cuschieri A (1998) Task performance in endoscopic surgery is influenced by location of the image display. Ann Surg 227:481–484

16.

Seghers J, Jochem A, Spaepen A (2003) Posture, muscle activity, and muscle fatigue in prolonged VDT work at different screen height settings. Ergonomics 46:714–730

17.

Middel B, Van Sonderen FLP (2002) Statistical significant change versus relevant or important change in (quasi) experimental design: some conceptual and methodological problems in estimating magnitude of intervention-related change in health services research. Int J Integrated Care 2:1–21

18.

Cohen J (1988) Statistical power analysis for the behavioural sciences, 2nd edn. Academic Press, New York

19.

Middel B, Stewart R, Bouma J, van Sonderen E, van den Heuvel WJA (2001) How to validate clinically important change in health-related functional status: is the magnitude of the effect size consistently related to magnitude of change as indicated by a global question rating? J Eval Clin Pract 7:399–410

20.

Psihogios JP, Sommerich CM, Mirka GA, Moon SD (2001) A field evaluation of monitor placement effects in VDT users. Appl Ergon 32:313–325

21.

Matern U, Faist M, Kehl K, Giebmeyer C, Buess G (2005) Monitor position in laparoscopic surgery. Surg Endosc 19:436–440

22.

Omar AM, Wade NJ, Brown SI, Cuschieri A (2005) Assessing the benefits of "gaze-down" display location in complex tasks. Surg Endosc 19:105–108
Acknowledgments
We thank J. M. P. Collins for reviewing the text, B. Middel for advising on statistical methods, and the MCL Department of Medical Photography for creating the figures.
About this article
Cite this article
van Det, M.J., Meijerink, W.J.H.J., Hoff, C. et al. Ergonomic assessment of neck posture in the minimally invasive surgery suite during laparoscopic cholecystectomy. Surg Endosc 22, 2421 (2008). https://doi.org/10.1007/s00464-008-0042-6
Received:

Revised:

Accepted:

Published:
Keywords
Ergonomics

Laparoscopic cholecystectomy

Minimally invasive surgery

Neck

Operating room

Posture