Abstract
Background
Many activities performed by team members in the operating room (OR) are not directly related to the achievement of the surgical goal.
Methods
A video-aided observational field study was conducted in the OR to examine disruptive events during laparoscopic antireflux surgery. Disruptive events were categorized into one of six groups: instrument change, surgeon position change, nurse duty shift, conversation, phone/pager answering, and extraneous interruption. The frequency and duration of each type of disruptive event were recorded. Events were further categorized based on whether or not they delayed the workflow.
Results
The average procedure time of 12 observed cases was 123 min. On average, a total of 114 disruptive events were recorded per hour. Intraoperative conversations were recorded with the highest frequency (71 episodes/h) and longest duration (16 min/h); however, most conversations did not delay surgical workflow. The events that generated most surgical delays were instrument change (3.4 min/h), which included times for placing essential instruments into the surgical site and time spent waiting for an unavailable instrument. On average, disruptive events performed in the OR caused 4.1 min of delay for each case per hour, corresponding to 6.5% of the procedure time.
Conclusions
This study demonstrated the feasibility of using video-aided observational studies for developing objective assessment of team quality in the OR. Categorizing disruptive events and examining their negative impact on the OR time will help to develop methods to eliminate inefficiency inside the OR.
This is a preview of subscription content, log in to check access.
Access options
Buy single article
Instant access to the full article PDF.
US$ 39.95
Price includes VAT for USA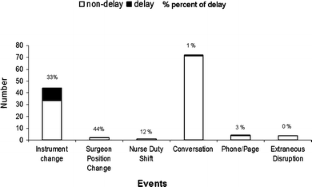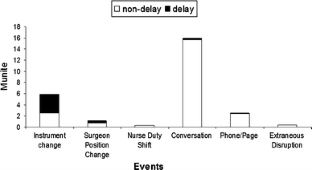 References
1.

Alarcon A, Berguer R (1996) A comparison of operating room crowding between open and laparoscopic operations. Surg Endosc 10:916–919

2.

Carthey J (2003) The role of structured observational research in health care. Qual Saf Health Care 12(Suppl 2):ii13–ii16

3.

de Leval MR, Carthey J, Wright DJ, Farewell VT, Reason JT (2000) Human factors and cardiac surgery: a multicenter study. J Thorac Cardiovasc Surg 119:661–672

4.

Lingard L, Reznick R, Espin S, Regehr G, DeVito I (2002) Team communications in the operating room: talk patterns, sites of tension, and implications for novices. Acad Med 77:232–237

5.

Taxis K, Barber N (2003) Ethnographic study of incidence and severity of intravenous drug errors. BMJ 326:684–687

6.

Dixon-Woods M (2003) What can ethnography do for quality and safety in health care? Qual Saf Health Care 12:326–327

7.

Savage J (2000) Ethnography and health care. BMJ 321:1400–1402

8.

Xiao Y, Schimpff S, Mackenzie C et al (2007) Video technology to advance safety in the operating room and perioperative environment. Surg Innov 14:52–61

9.

Mackenzie CF, Jefferies NJ, Hunter WA, Bernhard WN, Xiao Y (1996) Comparison of self-reporting of deficiencies in airway management with video analyses of actual performance. LOTAS Group. Level One Trauma Anesthesia Simulation. Hum Factors 38:623–635

10.

Weinger MB, Gonzales DC, Slagle J, Syeed M (2004) Video capture of clinical care to enhance patient safety. Qual Saf Health Care 13:136–144

11.

Wurnig PN, Hollaus PH, Wurnig CH, Wolf RK, Ohtsuka T, Pridun NS (2003) A new method for digital video documentation in surgical procedures and minimally invasive surgery. Surg Endosc 17:232–235

12.

Guerlain S, Adams RB, Turrentine FB et al (2005) Assessing team performance in the operating room: development and use of a "black-box" recorder and other tools for the intraoperative environment. J Am Coll Surg 200:29–37

13.

Vincent C, Moorthy K, Sarker SK, Chang A, Darzi AW (2004) Systems approaches to surgical quality and safety: from concept to measurement. Ann Surg 239:475–482

14.

Wiegmann DA, ElBardissi AW, Dearani JA, Daly RC, Sundt TM 3rd (2007) Disruptions in surgical flow and their relationship to surgical errors: an exploratory investigation. Surgery 142:658–665
Acknowledgements
This project was supported by the Legacy Research Advisor Committee Grant 2006 and the authors wish to thank surgeons, OR nurses, and anesthesiologists for their cooperation and contributions. Thanks are also due to Dr. Alan Lomax for his feedback and kind assistance with manuscript preparation. The authors especially want to thank the Editor as well as the two anonymous reviewers for their helpful comments.
Additional information
This work was presented at the SAGES 2008 meeting. Philadelphia, PA.
About this article
Cite this article
Zheng, B., Martinec, D.V., Cassera, M.A. et al. A quantitative study of disruption in the operating room during laparoscopic antireflux surgery. Surg Endosc 22, 2171–2177 (2008). https://doi.org/10.1007/s00464-008-0017-7
Received:

Revised:

Accepted:

Published:

Issue Date:
Keywords
Workflow

OR efficiency

Disruption

Laparoscopic procedure

Video analysis

Team assessment