Abstract
Background
Intravenous administration of dexamethasone 90 min before laparoscopic cholecystectomy improves surgical outcome but may be impractical. The objective of this study was to assess the clinical efficacy of oral self-administration of prednisone 2 h before ambulatory laparoscopic cholecystectomy.
Methods
In a double-blind placebo-controlled study, 200 patients were randomized to oral administration of prednisone (50 mg) or placebo 2 h before laparoscopic cholecystectomy. Patients received a similar standardized anaesthetic, surgical, and analgesic treatment. The primary outcome was pain 24 h after surgery and secondary outcomes were fatigue and malaise 24 h after surgery. Outcome parameters were registered before operation, on the day of operation, and the following two days. Analgesic and antiemetic requirements were registered, and nausea and vomiting were assessed twice within the first 24 h. Side-effects and 30-day follow-up for morbidity were registered.
Results
Data from 184 patients were available for statistical analysis. There were no significant differences in side-effects or complications between the surgical groups (P > 0.05). No significant intergroup differences in 24-h pain, fatigue or malaise scores or any other variables were found (P > 0.05).
Conclusion
There is no important clinical gain of preoperative oral steroid administration compared with placebo in patients undergoing laparoscopic cholecystectomy.
This is a preview of subscription content, log in to check access.
Access options
Buy single article
Instant access to the full article PDF.
US$ 39.95
Price includes VAT for USA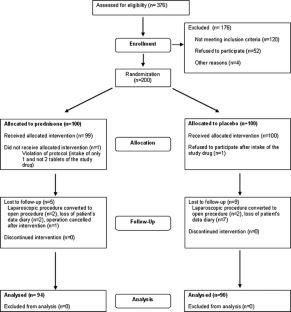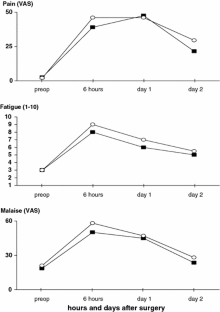 References
1.

Bisgaard T, Klarskov B, Kehlet H, Rosenberg J (2003) Preoperative dexamethasone improves surgical outcome after laparoscopic cholecystectomy. A randomized double-blind placebo-controlled trial Ann Surg 238:651–660

2.

Bisgaard T, Klarskov B, Rosenberg J, Kehlet H (2001) Characteristics and prediction of early pain after laparoscopic cholecystectomy. Pain 90:261–69

3.

Bisgaard T, Klarskov B, Rosenberg J, Kehlet H (2001) Factors determining convalescence after uncomplicated laparoscopic cholecystectomy. Arch Surg 136:917–21

4.

Bisgaard T, Kristiansen VB, Hjortsø NC, Jacobsen LS, Rosenberg J, Kehlet H (2004) Randomised clinical trial comparing an oral carbohydrate beverage with placebo before laparoscopic cholecystectomy. Br J Surg 91:151–158

5.

Bisgaard T (2006) Analgesic treatment after laparoscopic cholecystectomy. A critical assessment of the evidence. Anesthesiology 104:835–846

6.

Callery MP (2003) Preoperative steroids for laparoscopic surgery. Ann Surg 238:661–662

7.

Coloma M, White PF, Markowitz SC, Whitten CW, Macaluso AR, Berrisford SB, Thornton KC (2002) Dexamethasone in combination with dolasetron for prophylaxis in the ambulatory setting. Effect on outcome after laparoscopic cholecystectomy. Anesthesiology 96:1346–50

8.

DiSanto AR, DeSante KA (1975) Bioavailability and pharmacokinetics of prednisone in humans. J Pharma Sci 64:109–112

9.

Egger M, Juni P, Bartlett C, for the Consort Group (2001) The Value of patient flow charts in reports of randomized controlled trials: Bibliography study. JAMA 285:1996–1999

10.

Feo CV, Sortini D, Ragazzi R, De Palma M, Liboni A (2006) Randomized clinical trial of the effect of preoperative dexamethasone on nausea and vomiting after laparoscopic cholecystectomy. Br J Surg 93:295–299

11.

Ferry JJ, Horvath AM, Bekersky I, Heath EC, Ryan CF, Colburn WA (1988) Relative and absolute bioavailability of prednisone and prednisolone after separate oral and intravenous doses. J Clin Pharmacol 28:81–87

12.

Fujii Y, Saitoh Y, Tanaka H, Toyooka H (2000) Granisetron/dexamethasone combination for the prevention of postoperative nausea and vomiting after laparoscopic cholecystectomy. Eur J Anaesthesiol 17:64–68

13.

Gambertoglio JG, Frey FJ, Holford NHG, Birnbaum JL, Lizak PS, Vincenti F, Feduska NJ, Salvatierra O, Amend WJC (1982) Prednisone and prednisolone bioavailability in renal transplant patients. Kidney Int 21:621–626

14.

Garg V, Jusko WJ (1994) Bioavailability, reversible metabolism of prednisone and prednisolone in man. Biopharm Drug Dispos 15:163–172

15.

Greif R, Laciny S, Rapf B, Hickle RS, Sessler DI (1999) Supplemental oxygen reduces the incidence of postoperative nausea and vomiting. Anesthesiology 91:1246–52

16.

Holte K, Kehlet H ( 2002) Perioperative single dose glucocorticoid administration - pathophysiological effects and clinical implications. J Am Coll Surg 195:694–712

17.

Leksowski K, Peryga P, Szyca R (2006) Ondansetron, metoclopramid, dexamethason, and their combinations compared for the prevention of postoperative nausea and vomiting in patients undergoing laparoscopic cholecystectomy: A prospective randomized study. Surg Endosc 20:878–878

18.

Morrow SA, Stoian CA, Dmitrovic J, Chan SC, Metz LM (2004) The bioavailability of IV methyldprednisolone and oral prednisone in multiple sclerosis. Neurology 63:1079–1080

19.

Pickup ME (1979) Clinical pharmacokinetics of prednisone and prednisolone. Clin Pharmacokin 4:111–128

20.

Sapolsky RM, Romero LM, Munck AU (2000) How do glucocorticoids influence stress responses? Integrating permissive, suppressive, stimulatory, and preparative actions. Endocr Rev 21:55–89

21.

Schwartz JI, Mukhopadhyay S, Porras AG, Viswanathan-Aiyer KJ, Adcock S, Ebel DL, Gertz BJ (2003) Effect of rofecoxib on prednisolone and prednisone in pharmacokinetics in healthy subject. J Clin Pharmacol 43:187–192

22.

Wang JJ, Ho ST, Liu YH, Lee SC, Liu YC, Liao YC (1999) Dexamethasone reduces nausea and vomiting after laparoscopic cholecystectomy. Br J Anaesth 83:772–75

23.

Wang JJ, Ho ST, Tzeng JI, Tang CS (2000) The effect of timing of dexamethasone administration on its efficacy as a prophylactic antiemetic for postoperative nausea and vomiting. Anesth Analg 91:136–39

24.

Wang JJ, Ho ST, Uen YH, Lin MT, Chen KT, Huang JC (2002) Small-dose dexamethasone reduces nausea and vomiting after laparoscopic cholecystectomy: a comparison of tropisetron with saline. Anesth Analg 95:229–32
Acknowledgements
The authors would like to thank Nycomed Danmark A/S, Denmark for providing randomized concealed containers of the study drugs for the trial. Research nurses Dorthe Greve Jørgensen, Jeanette Juncker Madsen, and Irene Tarp Jørgensen are thanked for invaluable help and enthusiasm during the study.
About this article
Cite this article
Bisgaard, T., Schulze, S., Christian Hjortsø, N. et al. Randomized clinical trial comparing oral prednisone (50 mg) with placebo before laparoscopic cholecystectomy. Surg Endosc 22, 566–572 (2008). https://doi.org/10.1007/s00464-007-9713-y
Received:

Revised:

Accepted:

Published:

Issue Date:
Keywords
Cholecystectomy

Prednisone

Corticosteroids

Pain

Fatigue

Nausea and vomiting

Outcome