Abstract
Background
Conversion to an open procedure during laparoscopically assisted colorectal resection may be necessary because of technical, patient, or pathologic factors. Recent literature has indicated that converted patients may have poorer outcomes than those undergoing open or completed laparoscopically assisted procedure. This study aimed to audit the authors' experience with laparoscopically assisted colectomy and to assess the clinical outcomes of patients undergoing conversion.
Methods
All laparoscopic right hemicolectomies or anterior resections performed at seven South Australian hospitals from 1997 to 2006 were reviewed. Data pertaining to patient sex, age, American Society of Anesthesiology (ASA) score, pathology, operative outcomes including operating time, conversion, reason for conversion, length of hospital stay, and intra- and postoperative complications were analyzed.
Results
Laparoscopic anterior resection had a higher rate of open conversion than laparoscopic right hemicolectomy (18.7% vs 10.4%; p = 0.028). In the right hemicolectomy group, none of the investigated risk factors for conversion were statistically significant, and the morbidity rates for the two groups were similar. The median hospital stay was significantly longer in the anterior resection group (p < 0.001), and the wound morbidity rate was higher in the converted group (12.8% vs 3.0%; p = 0.022). Age older than 75 years and a high ASA status were independent risk factors for conversion in anterior resection.
Conclusions
Conversion of laparoscopic anterior resection to open procedure is associated with higher wound morbidity and a longer hospital stay. The authors recommend that surgeons carefully consider the selection of patients 75 years of age or older and high ASA status for laparoscopic anterior resection.
This is a preview of subscription content, log in to check access.
Access options
Buy single article
Instant access to the full article PDF.
US$ 39.95
Price includes VAT for USA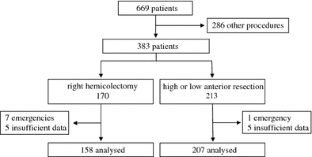 References
1.

Weeks JC, Nelson H, Gelber C, Sargent D, Schroeder G, the Clinical Outcomes of Surgical Therapy (COST) Study Group. (2002) Short-term quality-of-life outcomes following laparoscopic-assisted colectomy vs open colectomy for colon cancer: a randomised trial. JAMA 287:321–328

2.

Velanovich V (2000) Laparoscopic vs open surgery: a preliminary comparison of quality-of-life outcomes. Surg Endosc 14:16–21

3.

Chung CC, Tsang WW, Kwok SY, Li MK (2003) Laparoscopy and its current role in the management of colorectal disease. Colorectal Dis 5:528–543

4.

Clinical Outcomes of Surgical Therapy Study Group (2004) A comparison of laparoscopically assisted and open colectomy for colon cancer. N Eng J Med 350:2050–2062

5.

Guillou PJ, Quirke P, Thorpe H, Walker J, Jayne DG, Smith AM, Heath RM, Brown JM, the MRC CLASICC trial group. (2005) Short-term end points of conventional versus laparoscopic-assisted surgery in patients with colorectal cancer (MRC CLASICC trial): multicentre, randomised controlled trial. Lancet 365:1718–1727

6.

Scheidbach H, Schneider C, Hugel O, Scheuerlein H, Barlehner E, Konradt J, Wittekind C, Kockerling F, the Laparoscopic Colorectal Surgery Study Group (2003) Oncological quality and preliminary long-term results in laparoscopic colorectal surgery. Surg Endosc 17:903–910

7.

Franks PJ, Bosanquet N, Thorpe H, Brown JM, Copeland J, Smith AMH, Quirke P, Guillou PJ (2006) Short-term costs of conventional vs laparoscopic-assisted surgery in patients with colorectal cancer (MRC CLASICC trial). Br J Cancer 95:6–12

8.

Janson M, Bjorholt I, Carlsson P, Haglind E, Henriksson M, Lindholm E, Anderberg B (2004) Randomized clinical trial of the cost of open and laparoscopic surgery for colonic cancer. Br J Surg 91:409–417

9.

Tekkis PP, Senagore AJ, Delaney CP, Fazio VW (2005) Evaluation of the learning curve in laparoscopic colorectal surgery: comparison of right-sided and left-sided resections. Ann Surg 242:83–91

10.

Marusch F, Gastinger I, Schneider C, Scheidbach H, Konradt J, Bruch HP, Kohler L, Barlehner E, Kockerling F, the Laparoscopic Colorectal Surgery Study Group (LCSSG) (2001) Experience as a factor influencing the indications for laparoscopic colorectal surgery and the results. Surg Endosc 15:116–120

11.

Shah PR, Joseph A, Haray PN (2005) Laparoscopic colorectal surgery: learning curve and training implications. Postgrad Med J 81:537–540

12.

Owens WD, Felts JA, Spitznagel EL Jr (1978) ASA physical status classifications: a study of consistency of ratings. Anesthesiology 49:239–243

13.

Pandya S, Murray JJ, Coller JA, Rusin LC (1999) Laparoscopic colectomy: indications for conversion to laparotomy. Arch Surg 134:471–475

14.

Scheidbach H, Schneider C, Hugel O, Yildirim C, Lippert H, Kockerling F (2005) Laparoscopic surgery in the old patient: do indications and outcome differ? Langenbecks Arch Surg 390:328–332

15.

Sklow B, Read T, Birnbaum E, Fry R, Fleshman J (2003) Age and type of procedure influence the choice of patients for laparoscopic colectomy. Surg Endosc 17:923–929

16.

Simons AJ, Anthone GJ, Ortega AE, Franklin M, Fleshman J, Geis WP, Beart RW (1995) Laparoscopic-assisted colectomy learning curve. Dis Colon Rectum 38:600–603

17.

Dincler S, Koller MT, Steurer J, Bachmann LM, Christen D, Buchmann P (2003) Multidimensional analysis of learning curves in laparoscopic sigmoid resection: eight-year results. Dis Colon Rectum 46:1371–1378
Acknowledgments
The authors thank Mr. David Rodda, Mr. Andrew Luck, and Mr. Alex Karatassas for allowing access to their data.
Additional information
Presented in part as a virtual poster at the Royal Australasian College of Surgeons Annual Scientific Congress, Christchurch, New Zealand, May 2007, and as a podium presentation at the Annual Scientific Meeting of the Royal Australasian College of Surgeons South Australian Branch, Friday, 4 August 2006.
Appendix 1. Other complications for right hemicolectomy (RHC) and anterior resection (AR)
Appendix 1. Other complications for right hemicolectomy (RHC) and anterior resection (AR)
About this article
Cite this article
Tan, P.Y., Stephens, J.H., Rieger, N.A. et al. Laparoscopically assisted colectomy: a study of risk factors and predictors of open conversion. Surg Endosc 22, 1708–1714 (2008). https://doi.org/10.1007/s00464-007-9702-1
Received:

Revised:

Accepted:

Published:

Issue Date:
Keywords
Colectomy

Colon

Conversion

Minimally invasive surgical procedures