Abstract
Background
Historically, esophageal fistulas, perforations, and benign and malignant strictures have been managed surgically or with the placement of permanent endoprostheses or metallic stents. Recently, a removable, self-expanding, plastic stent has become available. The authors investigated the use of this new stent at their institution.
Methods
The study reviewed all the patients who received a Polyflex stent for an esophageal indication at the authors' institution between January 2004 and October 2006. Duration of placement, complications, and treatment efficacy were recorded.
Results
A total of 37 stents were placed in 30 patients (14 women and 16 men) with a mean age of 68 years (range, 28–92 years). Stent placement included 7 for fistulas, 3 for perforations, 1 for an anastomotic leak, 7 for malignant strictures, and 19 for benign strictures (8 anastomotic, 1 caustic, 5 reflux, 2 radiation, and 2 autoimmune esophagitis strictures, and 1 post-Nissen gas bloat stricture). The mean follow-up period was 6 months. Stent deployment was successful for all the patients, and no complications resulted from stent placement or removal. Nine stents migrated spontaneously. Three of three perforations and three of five fistulas sealed. Only one stent was removed because of patient discomfort. One patient with a radiation stricture experienced tracheoesophageal fistulas secondary to pressure necrosis. Of 20 patients with stricture, 18 experienced improvement in their dysphagia.
Conclusion
Self-expanding, removable plastic stents are easily and safely placed and removed from the esophagus. This has facilitated their use in the authors' institution for an increasing number of esophageal conditions. Further studies to help define their ultimate role in benign and malignant esophageal pathology are warranted.
This is a preview of subscription content, log in to check access.
Access options
Buy single article
Instant access to the full article PDF.
US$ 39.95
Price includes VAT for USA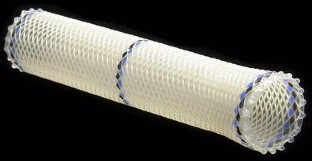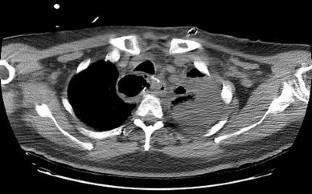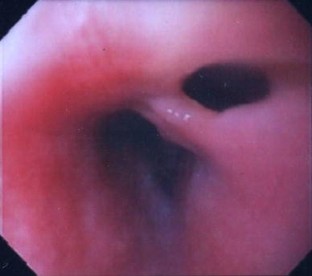 References
1.

Low D, Kozarek R (1988) Esophageal endoscopy, dilation, and intraesophageal prosthetic devices: the esophagus: medical and surgical management. WB Saunders, Philadelphia

2.

Lee S (2001) The role of esophageal stenting in the nonsurgical management of esophageal strictures. Br J Radiol 74:891–900

3.

Therasse E, Oliva V, Lafontaine E, Perrault P, Giroux MF, Soulez G (2003) Balloon dilation and stent placement for esophageal lesions: indications, methods, and results. Radiographics 23:89–105

4.

Knyrim K, Wagner HJ, Bethge N, Keymling M, Vakil N (1993) A controlled trial of an expansile metal stent for palliation of esophageal obstruction due to inoperable cancer. N Engl J Med 329:1302–1307

5.

Song HY, Choi KC, Cho BH, Ahn DS, Kim KS (1991) Esophagogastric neoplasms: palliation with a modified Gianturco stent. Radiology 180:349–354

6.

Miyayama S, Matsui O, Kadoya M, Yoshikawa J, Gabata T, Kitagawa K, Arai K, Takashima T (1995) Malignant esophageal stricture and fistula: palliative treatment with polyurethane-covered Gianturco stent. J Vasc Interv Radiol 6:342–248

7.

Ell C, May A, Hahn EG (1995) Gianturco-Z stents in the palliative treatment of malignant esophageal obstruction and esophagotracheal fistulas. Endoscopy 27:495–500

8.

Han YM, Song HY, Lee JM, Cho SI, Chung GH, Kim CS, Sohn MH, Choi KC (1996) Esophagorespiratory fistulae due to esophageal carcinoma: palliation with a covered Gianturco stent. Radiology 199:65–70

9.

Wadhwa RP, Kozarek R, France R, Brandabur J, Gluck M, Low D, Traverso W, Moonka R (2003) Use of self-expandable metallic stents in benign GI diseases. Gastrointest Endosc 58:207–212

10.

Ackroyd R, Watson D, Devitt P, Jamieson G (2001) Expandable metallic stents should not be used in the treatment of benign esophageal strictures. J Gastroenterol Hepatol 16:484–487

11.

Sheikh RA, Trudeau WL (1998) Expandable metallic stent placement in patients with benign esophageal strictures: results of long term follow-up. Gastrointest Endosc 48:227–229

12.

Low D, Kozarek R (2003) Removal of esophageal expandable metal stents. Surg Endosc 17:990–996

13.

Fischer A, Thomusch O, Benz S, von Dobschuetz E, Baier P, Hopt U (2006) Nonoperative treatment of 15 benign esophageal perforations with self-expandable covered metal stents. Ann Thorac Surg 81:467–473

14.

Repici A, Conio M, De Angelis C, Battaglia E, Musso A, Pellicano R, Goss M, Venezia G, Rizzetto M, Saracco G (2004) Temporary placement of an expandable polyester silicone-covered stent for treatment of refractory benign esophageal strictures. Gastrointest Endosc 60:513–519

15.

Evrard S, Le Moine O, Lazarki G, Dormann A, Nakadi I, Deviere J (2004) Self-expanding plastic stents for benign esophageal lesions. Gastrointest Endosc 60:894–900

16.

Schubert D, Scheidbach H, Kuhn R, Wex C, Weiss G, Eder F, Lippert H, Pross M (2005) Endoscopic treatment of thoracic esophageal anastomotic leaks by using silicone-covered, self-expanding polyester stents. Gastrointest Endosc 61:891–896

17.

Muldner A, Reinshagen K, Wustner M, Kahler G (2005) Modified self-expanding plastic stent for the treatment of refractory benign esophageal strictures. Endoscopy 37:925

18.

Costamagna G, Shah, Tringali A, Mutignani M, Perri V, Riccioni E (2003) Prospective evaluation of a new self-expanding plastic stent for inoperable esophageal strictures. Surg Endosc 17:891–895

19.

Petruzziello L, Costamagna G (2002) Stenting in esophageal strictures. Dig Dis 20:154–166

20.

Gelbmann C, Ratiu N, Rath H, Rogler G, Lock G, Scholmerich J, Kullman F (2004) Use of self-expandable plastic stents for the treatment of esophageal perforations and symptomatic anastomotic leaks. Endoscopy 36:695–699

21.

Ferguson D (2005) Evaluation and management of benign esophageal strictures. Dis Esophagus 18:359–364

22.

Mamazza J, Schlachta CM, Poulin EC (1998) Surgery for peptic strictures. Gastrointest Endosc Clin North Am 8:399–413

23.

Henderson R (1983) Management of the patient with benign esophageal stricture. Surg Clin North Am 63:885–903

24.

Patterson D (1983) Natural history of benign esophageal stricture treated by dilation. Gastroenterology 85:346–350

25.

Decker P, Lippler J, Decker D, Hirner A (2001) Use of the Polyflex stent in the palliative therapy of esophageal carcinoma. Surg Endosc 15:1444–1447

26.

Bethge N, Vakil N (2001) A prospective trial of a new self-expanding plastic stent for malignant esophageal obstruction. Am J Gastroenterol 96:1350–1354

27.

Langer F, Wenzl E, Prager G, Salat A, Miholic J, Mang T, Zacherl J (2005) Management of postoperative esophageal leaks with the Polyflex self-expanding covered plastic stent. Ann Thorac Surg 79:398–404

28.

Song HY, Park S, Jung HY, Kim SB, Kim JH, Huh SJ, Kim TH, Kim YK, Park S, Yoon HK, Sung KB, Min Y (1997) Benign and malignant esophageal strictures: treatment with a polyurethane-covered retrievable expandable metallic stent. Radiology 203:747–752

29.

Triester S, Fleischer D, Sharma V (2006) Failure of self-expanding plastic stents in treatment of refractory benign esophageal strictures. Endoscopy 38:533–537

30.

Radecke K, Gerken G, Treichel U (2005) Impact of a self-expanding, plastic esophageal stent on various esophageal stenoses, fistulas, and leakages: a single-center experience in 39 patients. Gastrointest Endosc 61:812–818

31.

Peters JH, Craanen ME, van der Peet DL, Cuesta MA, Mulder CJ (2006) Self-expanding metal stents for the treatment of intrathoracic esophageal anastomotic leaks following esophagectomy. Am J Gastroenterol 101:1393–1395

32.

Komanduri S, Villaflor V, Butsch J. Polyflex stent placement immediately following endoscopic ultrasound staging of advanced esophageal malignancy: a feasible and effective alternative to surgical jejunostomy. Gastrointest Endosc 63:AB131

33.

Szegali L, Gal I, Kosa I, Kiss G (2006) Palliative treatment of esophageal carcinoma with self-expanding plastic stents: a report on 69 cases. Eur J Gastroenterol Hepatol 18:1197–1201
About this article
Cite this article
Karbowski, M., Schembre, D., Kozarek, R. et al. Polyflex self-expanding, removable plastic stents: assessment of treatment efficacy and safety in a variety of benign and malignant conditions of the esophagus. Surg Endosc 22, 1326–1333 (2008). https://doi.org/10.1007/s00464-007-9644-7
Received:

Revised:

Accepted:

Published:

Issue Date:
Keywords
Endoprosthesis

Obstructive esophageal pathology

Polyflex stent

Removable plastic stents