Abstract
Background
The value and efficacy of laparoscopic colorectal surgery has been validated by large multicenter, randomized, controlled trials. However the results of a large series by a single surgeon in a single center have yet to be reported. We reviewed the short-term outcome of our series of laparoscopic colorectal procedures to better define the learning curve for acquiring these skills.
Methods
Four hundred four patients with a colorectal neoplasm underwent laparoscopic surgery between August 1998 and December 2005. Surgery was performed under 8 to 10 cm H2O CO2 pneumoperitoneum. Type of operation, time of operation, and estimated blood loss were compared for each level of lymph node dissection, and the rate and reason for conversion to open procedures were determined. Time to passage of flatus, hospital stay, and postoperative complications were recorded. The learning curve for right hemicolectomy, sigmoidectomy, and low anterior resection was calculated.
Results
Open conversion was required in 13 patients (3.2%). Uncontrollable bleeding occurred in four cases, and inability to divide the rectum because of adhesions or local invasion occurred in three. The time of operation for D3 level lymph node dissection was longer than for D2 in ileocecal resection, right hemicolectomy, and sigmoidectomy. Estimated blood loss was similar among the different types of operation. Blood loss of last 40 right hemicolectomies was less than in the first 40 cases, and the incidence of intraoperative complications in the first 40 sigmoidectomies was higher than subsequent cases. Time of operation, estimated blood loss, and number of complications did not change over time for low anterior resection.
Conclusion
The large series performed by a single surgeon is consistent with large multicenter studies that have validated the superiority of laparoscopic colorectal surgery over conventional open procedures. The learning curve flattens out after about 40 cases of right hemicolectomy and sigmoidectomy.
This is a preview of subscription content, log in to check access.
Access options
Buy single article
Instant access to the full article PDF.
US$ 39.95
Price includes VAT for USA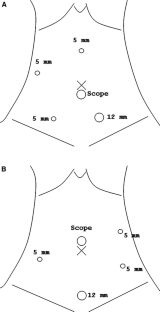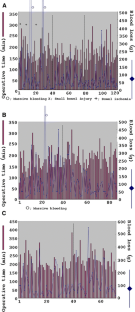 References
1.

Jacobs M, Verdeja JC, Goldstein HS (1991) Minimally invasive colon resection (laparoscopic colectomy). Surg Laparosc Endosc 1:144–150

2.

Fusco MA, Capt MD, Paluzzi MW (1993) Abdominal wall recurrence after laparoscopic-assisted colectomy for adenocarcinoma of the colon. Dis Colon Rectum 36:858–861

3.

Nduka CC, Monson JRT, Menzies-Gow N, Darzi A (1994) Abdominal wall metastases following laparoscopy. Br J Surg 81:648–652

4.

Tseng LNL, Berends FJ, Wittich P H, Bouvy ND, Marquet RL, Kazemier G, Bonjer HJ (1998) Port-site metastasis Impact of local tissue trauma and gas leakage. Surg Endosc 12:1377–1380

5.

Braga M, Vignali A, Gianotti L, Zuliani W, Radaeli G, Gruarin P, Dellabona P, Di Cario V (2002) Laparoscopic versus open colorectal surgery. a randomized trial on short-term outcome. Ann Surg 236:759–767

6.

Delaney CP, Kiran RP, Senagore AJ, Brady K, Fazio VW (2003) Case-matched comparison of clinical and financial outcome after laproscopic or open colorectal surgery. Ann Surg 238:67–72

7.

Guillou P, Quirke P, Thorpe H, Walker J, Jayne DG, Smith AMH, Heath RM, Brown JB (2005) Short-term endpoints of conventional versus laparoscopic-assisted surgery in patients with colorectal cancer (MRC CLASIC trial): multicentre, randomized controlled trial. Lancet 365: 1718–1726

8.

Lacy AM, Garcia-Valdecasas JC, Delgado S, Castells A, Taura P, Pique JM, Visa J (2002) Laparoscopy-assisted colectomy versus open colectomy for treatment of non-metastatic colon cancer: a randomized trial. Lancet 359:2224–2229

9.

Leung KL, Kwok SPY, Lam SCW, Lee JFY, Yiu RYC, Ng SSM, Lai PBS (2004) Laparoscopic resection of rectosigmoid carcinoma: prospective randomized trial. Lancet 363:1187–1192

10.

Nelson H, Sargent DJ, Wieand HS, fleshman J, Anvari M, Stryker SJ, Beart RW, Hellinger M, Flanagan R, Peters W, Ota D (2004) A comparison of laparoscopically assisted and open colectomy for colon cancer. N Engl J Med 350:2050–2059

11.

Fukunaga Y, Higashino M, Tanimura S, Nishiguchi Y, Kishida S, Nishikawa M, Ogata A, Osugi H (2003) A novel laparoscopic technique for stapled colon and rectal anastomosis. Tech Coloproctol 7:192–197

12.

Weeks JC, Nelson H, Gelber S, Sargent D, Schroeder G (2002) Short-term quality-of-life outcomes following laparoscopic-assisted colectomy vs open colectomy for colon cancer. JAMA 287:321–328

13.

Delgado F, Bolufer J.M, Grau E, Domingo C, Serrano F, Gomez S (1999) Laparoscopic colorectal cancer resection, initial follow-up results. Surg Laparosc Endosc 9:91–98

14.

Molenaar CB, Bijnen AB, de Ruiter P (1998) Indications for laparoscopic colorectal surgery: results from the medical centre Alkmaar, The Netherlands. Surg Endosc 12:42–45

15.

Franklin ME, Rosenthal D, AbregoMedina D, Dorman JP, Glass JL, Norem R, Diaz A (1996) Prospective comparison of open vs laparoscopic colon surgery for carcinoma. Five-year results. Dis Colon Rectum 39:S35–46

16.

Leung KL, Yui RYC, Lai PBC, Lee JFY, Thung KH, Lau WY (1999) Laparoscopic-assisted resection of colorectal carcinoma: five-year audit. Dis Colon Rectum 42:327–332

17.

Liang JT, Shieh MJ, Chen CN, Cheng YM, Chang KJ, Wang SM (2002) Prospective evaluation of laparoscopy-assisted colectomy versus laparotomy with resection for management of complex polyps of the sigmoid colon. World J Surg 26:377–383

18.

Milsom JW, Hammerhofer KA, Bohm B, Marcell P, elson P, Fazio VW (2001) Prospective randomized trial comparing laparoscopic vs .conventional surgery for refractory ileocolic Crohn's disease. Dis Colon Rectum 44:1–9

19.

Carlsen E, Schlichting E, Guldvog I, Johnson E, Heald RJ (1998) Effect of the introduction of total mesorectal excision for the treatment of rectal cancer. Br J Surg 85:526–529

20.

Heald RJ, Husband EM, Ryall RDH (1982) The mesorectum in rectal cancer surgery- the clue to pelvic recurrence? Br J Surg 69:613–616

21.

Senagore AJ, Luchtefeld MA, Mackeigan JM (1995) What is the learning curve for laparoscopic colectomy? Am Surg 61:681–685

22.

Shah PR, Joseph A, Haray PN (2005) Laparoscopic colorectal surgery: learning curve and training implications. Postgrad Med J 81:537–540

23.

Simons AJ, Anthone GJ, Ortega AE, Franklin M, Fleshman J, Geis WP, Beart RW (1995) Laparoscopic-assisted colectomy learning curve. Dis Colon Rectum 38:600–603
About this article
Cite this article
Fukunaga, Y., Higashino, M., Tanimura, S. et al. Laparoscopic colorectal surgery for neoplasm. A large series by a single surgeon. Surg Endosc 22, 1452–1458 (2008). https://doi.org/10.1007/s00464-007-9630-0
Received:

Revised:

Accepted:

Published:

Issue Date:
Keywords
Laparoscopic colorectal surgery

Open conversion

Complication

Short-term outcomes

Learning curve