Abstract
Background
Recent typical therapy for twin-to-twin transfusion syndrome (TTTS) is selective laser photocoagulation of anastomotic communicating vessels on the placenta using the fetoscopic approach. The difficulty of a conventional laser device approach for this procedure depends significantly on the placental location, so a new robotized device is required to bend the direction of laser irradiation flexibly within the narrow uterus.
Methods
The authors designed a miniature bending mechanism impelled by a wire-guided linkage driving method that provides a stable procedure for bending laser irradiation from −90° to 90°. Using this bending mechanism, the authors developed a bending manipulator with a diameter of 3.5 mm and a hollow central channel with a diameter of 0.8 mm for passing a glass fiber for neodymium:yttrium–aluminum-garnet (Nd:YAG) laser photocoagulation. The bending mechanism is motorized by an electrical actuator and controlled by a grip-type interface with a small joystick. The robotized tip's part and the actuator's part are easily separable for cleaning and sterilization.
Results
In performance evaluations of the manipulator, the bending characteristics with a glass fiber were examined. The bending range was −52.6° to 80°, with a very small hysteresis error, and the bending repeatability error was 0.5° ± 0.2°, which corresponds with the high accuracy of 0.2 ± 0.1-mm positioning error at the glass fiber's tip. In the evaluation of Nd:YAG laser photocoagulation, the study confirmed that the manipulator performed effective laser photocoagulation of the placental phantom surface (underwater chicken liver). The large bending range, reaching 80°, enabled a flexible approach from various directions with a high irradiation efficiency of no less than 96.6%.
Conclusions
The authors' original miniature bending manipulator can change the laser irradiating direction with highly repeatable positioning accuracy for speedy, safe, and effective vessel occlusion in clinical practice.
This is a preview of subscription content, log in to check access.
Access options
Buy single article
Instant access to the full article PDF.
US$ 39.95
Price includes VAT for USA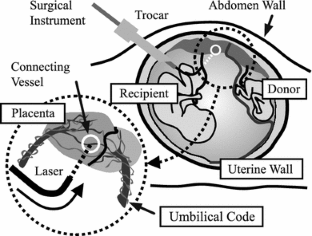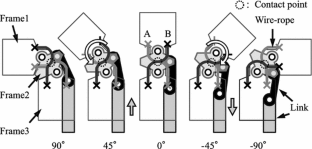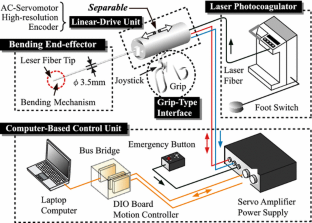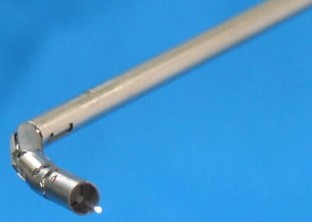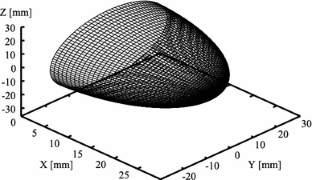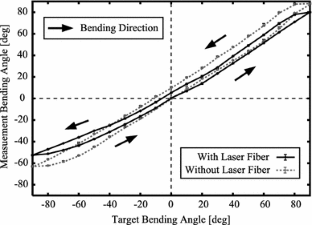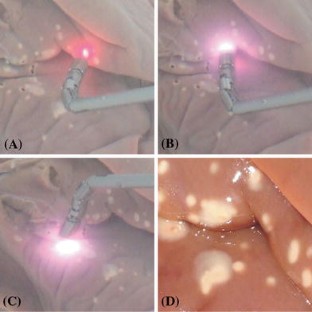 References
1.

Abbou CC, Hoznek A, Salomon L, Olsson LE, Lobontiu A, Saint F, Cicco A, Antiphon P, Chopin D (2001) Laparoscopic radical prostatectomy with a remote controlled robot. Urology 165: 1964–1966

2.

Arata J, Mitsuishi M, Warisawa S, Tanaka K, Yoshizawa T, Hashizume M (2005) Development of a dexterous minimally-invasive surgical system with augmented force feedback capability. Proceedings of the. 2005 IEEE/RSJ International Conference on Intelligent Robots and Systems, pp 3207–3212

3.

Dario P, Carrozza MC, Marcacci M, D'Attanasio S, Magnami B, Tonet O, Megali G (2000) A novel mechatronic tool for computer-assisted arthroscopy. IEEE Trans Inform Technol Biomed 4: 15–28

4.

Evans MI, Adzick NS, Holzgreve W, Harrison MR (2001) The unborn patient: the art and science of fetal therapy, 3rd ed. Saunders, Philadelphia

5.

Feldstein VA, Machin GA, Albanese CT, Sandberg P, Farrell JA, Farmer DL, Harrison MR (2000) Twin-twin transfusion syndrome: the "select" procedure. Fetal Diagn Ther 15: 257–261

6.

Ikuta K, Sasaki K, Yamamoto K, Shimada T (2002) Remote microsurgery system for deep and narrow space: development of new surgical procedure and microrobotic tool. Proceedings of the 5th International Conference on Medical Image Computing and Computer-Assisted Intervention, pp 163–172

7.

Peirs J, Reynaerts D, Van Brussel H (2001) A miniature manipulator for integration in a self-propelling endoscope. Sens Actuators A: 343–349

8.

Quintero RA, Comas C, Bornick PW, Allen MH, Kruger M (2000) Selective versus nonselective laser photocoagulation of placental vessels in twin-to-twin transfusion syndrome. Ultrasound Obstet Gynecol 16: 230–236

9.

Senat MV, Deprest J, Boulvain M, Paupe A, Winer N, Ville Y (2004) Endoscopic laser surgery versus serial amnioreduction for severe twin-to-twin transfusion syndrome. N Engl J Med. 351: 136–144

10.

Yamashita H, Hata N, Hashizume M, Dohi T (2004) Handheld laparoscopic forceps manipulator using multislider linkage mechanisms. Lect Notes Computer Sci 3217: 121–128

11.

Yamashita H, Kim D, Hata N, Dohi T (2003) Multislider linkage mechanism for endoscopic forceps manipulator. Proceedings of the 2003 IEEE/RSJ International Conference on Intelligent Robots and Systems, pp 2577–2582
Acknowledgments
A part of this work was supported by Health and Labour Sciences Research Grants in 2005 (research on medical devices for analyzing, supporting, and substituting the function of human body; H17-Physi-006), by FY2005 JSPS Grants-in-Aid for Scientific Research Development of Next Generation End Effecter and Navigation System for Computer Aided Surgery (17100008), and by Research Fellowships of the Japan Society for the Promotion of Science for Young Scientists (041400000227).
About this article
Cite this article
Yamashita, H., Matsumiya, K., Masamune, K. et al. Miniature bending manipulator for fetoscopic intrauterine laser therapy to treat twin-to-twin transfusion syndrome. Surg Endosc 22, 430–435 (2008). https://doi.org/10.1007/s00464-007-9444-0
Keywords
Miniature bending manipulator

Selective laser photocoagulation

Twin-to-twin transfusion syndrome