Abstract
Introduction
Acute colonic obstruction is a frequent emergency condition in a general surgical setting. The use of an endoscopic self-expanding stent can relieve obstruction and eventually prepare the patient for elective laparoscopic or open surgery.
Materials and Methods
From September 2001 to March 2006 we treated 25 patients with acute left or transverse colonic obstruction. In 23 patients stents were positioned planning an elective procedure to be performed. In two patients with multiple liver metastases and malignant ascites only a palliation was intended (2 of 25 patients).
Results
Mean age was 66.6 years. The 23 patients who underwent resection, 14 females and nine males, had a mean age of 65.5 years. Obstructions were located in the rectum (five), in the sigmoid (16) and in the transverse colon (two). In one patient stricture was due to radiotherapy, in twenty four cases it was due to primary cancer. Stents were successfully placed in 24 patients. In one of them two stents had to be placed due to the slippage of the first one beyond the stricture. Excellent resumption of colonic transit was achieved in all the patients. No complications were observed. In 23 patients resection was performed (19 laparoscopy; four open). Complications occurred in one patient in open group (pancreatic fistula after splenectomy) and was treated conservatively. Mean postoperative stay was 18.5 (range 9–35) days for the open group and 12 (range 9–20) for the laparoscopic group. Mean follow-up was 36 months.
Conclusions
use of self expanding endoscopic colonic stents can provide excellent palliation in acute obstruction, aiming both to prepare the colon to elective surgery after adequate preparation or to palliate the stricture in case of unresectable advanced tumors.
This is a preview of subscription content, log in to check access.
Access options
Buy single article
Instant access to the full article PDF.
US$ 39.95
Price includes VAT for USA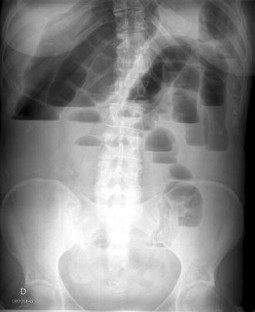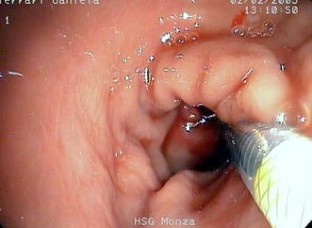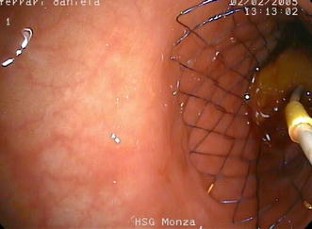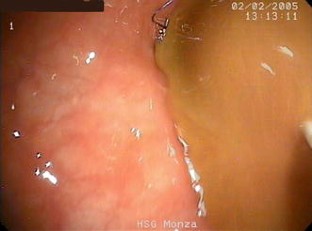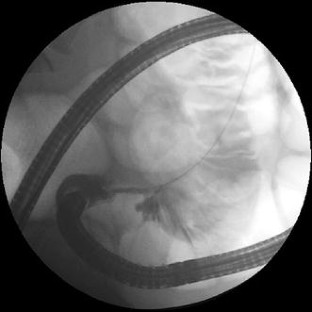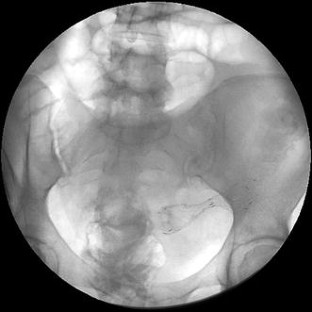 References
1.

Griffith RS (1992) Preoperative evaluation: medical obstacles to surgery. Cancer 70: 1333–1341

2.

Deans GT, Krukowski ZH, Irwin ST (1994) Malignant obstruction of the left colon. Br J Surg 81: 1270–1276

3.

Witzig JA, Morel P, Erne M, Egeli R, Borst F, Rohner A (1993) Chirurgie des cancer digestifs des patients de plus de 80 ans. Helv Chir Acta 59: 767–769

4.

Messmer P, Thoni F, Ackermann C, Herzog U, Schuppiser JP, Tondelli P. Perioperative morbidity and mortality of colon resection in colonic carcinoma

5.

Buechter KJ, Bounstany C, Caillouete R (1998) Surgical management of the acutely obstructed colon. Am J Surg 156:163–168

6.

Runkel NS, Schlag P, Schwarz V, Herfarth C (1991) Outcome after emergency surgery for cancer of the large intestine. Br J Surg 78: 183–188

7.

Fielding LP, Stewart-Brown S, Blesovsky L (1979) Large bowel obstruction caused by cancer: a prospective study. Br Med J 2: 515–517

8.

Scott NA, Jeacock J, Kingston RD (1995) Risk factors in patients presenting as an emergency with colorectal cancer. Br J Surg 82: 321–323

9.

Choo IW, Do YS, Suh SW, Chun HK, Choo SW, Park HS, Kang SK, Kim SK (1998) malignant colorectal obstruction: treatment with a flexible covered stent. Radiology 2006: 415–421

10.

Turegano-Fuentes F, Echenagusia-Belda A, Simon-Muerza G, Camunez F, minoz-Jimenez F, Della Valle Hernandez E, Quintas-Rodriguez A (1998) Transanal self-expanding metal stents as an alternative to palliative colostomy in selected patients with malignant obstruction of the left colon. Br J Surg 85: 232–235

11.

Tejero E, Mainar A, Fernandez L, Tobio R, De Gregorio MA (1994) New method for the treatment of colorectal neoplastic obstructions. Dis Colon Rectum 37: 1158–1159

12.

Saida Y, sumiyama Y, Nagao J, Takase M (1996) Stent endoprosthesis for obstructing colorectal cancers. Dis Colon Rectum 39: 552–555

13.

Akle CA (1998) Endoprostheses for colonic strictures. Br J Surg 85: 310–314

14.

Hoffman G, Baker J, Fitchett C, Vansant J (1994) Laparoscopic assisted colectomy: Initial experience. Ann Surg 219: 732–743

15.

Lacy AM, Garca-Valdecasas J, Pacheco JL, Visa J (1995) Short-term outcome analysis of a randomized study comparing laparoscopic vs. open colectomy for colon cancer. Surg Endosc 9: 1101–1105

16.

Regland JJ, Londe AM, Spratt JS (1971) Correlation of the prognosis of obstructing colorectal carcinoma with clinical and pathologic variables. Am J Surg 121:552–556

17.

Serpell JW, McDermott FT, Katrivessus H, Huhes ESR (1989) Carcinomas of the colon causing intestinal occlusion. Br J Surg 2: 549–554

18.

Leithman IM, Sullivan JD, Brams D, DeCosse JJ (1992) Multivariate analysis of morbidity and mortality from the initial surgical management of obstructing carcinoma of the colon. Surg Gynecol Obstet 174: 513–518

19.

Mauro MA, Koehler RE, Baron TH (2000) Advances in gastrointestinal intervention: the treatment of gastroduodenal and colorectal obstruction with metallic stents. Radiology 215: 659–669

20.

Martinez-Santos C, Lobato RF, Fradejas JM, Pinto I, Ortega-Deballon P, Moreno-Azcoita M (2002) Self-expandable stent bifore elective surgery vs. emergency surgery for the treatment of malignant colorectal obstructions: comparison of primary anastomosis and morbidity rate. Dis Colon Rectum 45: 401–406

21.

Law WL, Chu KW, Ho JWC, Tung HM, Law SYK, Chu KM (2000) Self-expanding metallic stent in the treatment of colonic obstruction caused by advanced malignancy. Dis Colon Rectum 43: 1522–1527

22.

Mainar A, De Gregorio Ariza MA, Tejero E, Tobio R, Alfonso E, Pinto I, Herrera M, Fernandez JA (1999) Acute colorectal obstruction treatment with self-expandable metallic stents before scheduled surgery. Results of a multicenter study. Radiology 10: 65–69

23.

Camunez F, Echenagusia A, Simo G, Turegano F, Vazquez J, Barreiro-Meiro I (2000) Malignat colorectal obstruction treated by means of self-expanding metallic stents: effectiveness before surgery and in palliation. Radiology 216: 492–497

24.

Ely CA, Arregui ME (2003) The use of enteral stents in colonic and gastric outlet obstruction. Surg Endosc 17: 89–94

25.

Liberman H, Adams DR, Blatchford GJ, Ternent CA, Christensen MA, Thorson AG (2001) Clinical use of the self-expanding metallic stent in the management of colorectal cancer. Am J Surg 180: 407–412

26.

Harris GJC, Senagore AJ, Lavery IC, Fazio VW (2001) The management of neoplastic colorectal obstruction with colonic endoluminal stenting devices. Am J Surg 181: 499–506

27.

Dauphine CE, Tan P, Beart Jr RW, Vukasin P, Cohen H, Corman ML (2002) Placement of self-expanding metal stents for acute malignant large-bowel obstruction: a collective review. Ann Surg Oncol 9: 574–579

28.

Laura E. Targownik, Brennan M. Spiegel, Jonathan Sack, Oscar J. Hines, Gareth S. Dulai, Ian M. Gralnek, James J. Farrell (2004) Colonic stent vs. emergency surgery for management of acute left-side malignant colonic obstruction: a decision analysis. Gastrointest Endosc 60: 865–74

29.

Crosta C, Trovato C, Fiori G, Ravizza D, Tamayo D, Zampino MG, Biffi R (2006) Metal stent placement in acute malignant colorectal obstruction. Digestive and Liver Disease 38: 341–346

30.

Xinopoulos D, Dimitroulopoulos D, Theodosopoulos T, Tsamakidis K, Bitsakou G, Plantaniotis G, et al. (2004) Stenting or stoma creation for patients with inoperable malignant colonic obstruction? Results of a study and cost-effectiveness analysis. Surg Endosc 18: 421–6

31.

Khot UP, Lang AW, Murali K, Parker MC (2002) Systematic review of the efficay and safety of colorectal stents. Br J Surg 89: 1096–102

32.

Dulucq J-L, Wintringer P, Beyssac R, Barberis C, Talbi P, Mahajna A (2006) One stage laparoscopic colorectal resection after placement of self-expanding metallic stents for colorectal obstruction. Dig Dis Sci 2006 Nov 1; [epub ahead of print]
About this article
Cite this article
Olmi, S., Scaini, A., Cesana, G. et al. Acute colonic obstruction: endoscopic stenting and laparoscopic resection. Surg Endosc 21, 2100 (2007). https://doi.org/10.1007/s00464-007-9352-3
Received:

Revised:

Accepted:

Published:
Keywords
Intestinal obstruction

Endoscopy

Stent

Laparoscopy

Colonic resection