Abstract
Background
Pancreas divisum is the most common anatomic variant of pancreatic development and may lead to pancreatitis. This study evaluated the efficacy of endoscopic stenting in patients with chronic pancreatitis due to pancreas divisum.
Methods
Between 1993 and 2005, 32 patients with chronic pancreatitis due to pancreas divisum were treated with endoscopic stenting. Each patient underwent an endoscopic retrograde cholangiopancreatography to confirm the diagnosis of pancreas divisum prior to endoscopic stenting. A survey was conducted by telephone conversation to evaluate pain intensity, symptom relief, hospital admissions, quality of life and pain medication usage, which was verified by a statewide narcotic electronic database. Eight of the 32 patients were unavailable for the interview and were not included in the analysis of the study. Results are expressed as mean ± standard error of the mean (SEM).
Results
Twenty-four patients were followed up for a period of 59.6 months. The overall pain level average in the 24 patients decreased significantly from 8.9 ± 0.4 pre-stenting to 3.9 ± 0.7 post-stenting (P < 0.05) on a scale of 1 to 10. The number of hospital admissions per year in these patients decreased significantly from 7.3 ± 2.1 pre-stenting to 2.1 ± 0.4 post-stenting (P < 0.05). Pain medication usage reported by the patients found a decrease in 58% of patients, 21% remained the same, and 13% increased their usage. There was improvement in nausea (67%), vomiting (63%), and chronic pain (75%). Thirteen patients (55%) were treated endoscopically without requiring surgery and 11 (45%) patients required surgery after stenting. These 11 patients had surgery an average of 25 months post-stenting. The complication rate of post-procedural pancreatitis was 3.4%. No mortality was reported in this study.
Conclusion
Endoscopic stenting of the pancreatic duct is a safe and effective first treatment for patients with pancreatitis secondary to pancreas divisum. Surgery, when performed for endoscopic stenting failure, is effective as an adjunctive treatment.
This is a preview of subscription content, log in to check access.
We're sorry, something doesn't seem to be working properly.
Please try refreshing the page. If that doesn't work, please contact support so we can address the problem.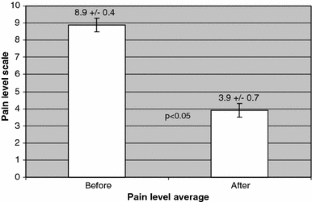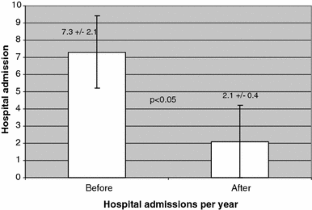 References
1.

Ahmad SA, Wray CJ, Rilo HL, et al. (2006) Chronic pancreatitis: Recent advances and ongoing challenges. Curr Prob Surg 43: 135–238

2.

Ashby K, Lo SK (1995) The role of pancreatic stenting in obstructive ductal disorders other than pancreas divisum. Gastrointest Endosc 42: 306–311

3.

Axon AT, Classen M, Cotton PB, Cremer M, Freeny PC, Lees WR (1984) Pancreatography in chronic pancreatitis: international definitions. Gut 25: 1107–1112

4.

Bradley EL, Stephan RN (1996) Accessory duct sphincteroplasty is preferred for long-term prevention of recurrent acute pancreatitis in patients with pancreas divisum. J Am Coll Surg 183: 65–70

5.

Cohen SA, Siegel JH (2001) Pancreas divisum: Endoscopic therapy. Surg Clin North Am 81: 467–477

6.

Coleman SD, Eisen GM, Troughton AB, Cotton PB (1994) Endoscopic treatment in pancreas divisum. Am J Gastroenterol 89: 1152–1155

7.

Cooperman AM, Siegel J, Hammerman H (1989) Editorial: Pancreas divisum advocates and agnostics. J Clin Gastroenterol 11: 489–491

8.

Ertan A (2000) Long-term results after endoscopic pancreatic stent placement without pancreatic papillotomy in acute recurrent pancreatitis due to pancreas divisum. Gastrointest Endosc 52: 9–14

9.

Freeman ML (2006) ERCP in acute pancreatitis. In: Cotton PB, Leung J (eds), Advanced digestive endoscopy: ERCP. Blackwell, Malden, pp. 199–238

10.

Heyries L, Barthet M, Delvasto C, Zamora C, Bernard JP, Sahel J (2002) Long-term results of endoscopic management of pancreas divisum with recurrent acute pancreatitis. Gastrointest Endosc 55: 376–381

11.

Kamisawa T (2004) Clincial significance of the minor duodenal papilla and accessory pancreatic duct. J Gastroenterol 39: 605–615

12.

Khalid A, Slivka A (2001) Pancreas divisum. Curr Treat Options Gastroenterol 4: 389–399 [Abstract]

13.

Kozarek RA, Ball TJ, Patterson DJ, Brandabur JJ, Raltz SL (1995) Endoscopic approach to pancreas divisum. Dig Dis Sci 40: 1974–1981

14.

Lans JL, Geenen JE, Johanson JF, Hogan WJ (1992) Endoscopic therapy in patients with pancreas divisum and acute pancreatitis: a prospective, randomized, controlled clinical trial. Gastrointest Endosc 38: 430–434

15.

Lehman GA, Sherman S, Nisi R (1993) Pancreas divisum: Results of minor papilla sphincterotomy. Gastrointest Endosc 39: 1–8

16.

Murr MM, Norman J (2001) Acute Pancreatitis. In: Greenfield LJ, Mulholland MW, Oldman RT, Zelenock GB, Lillemoe KD (eds), Scientific principles and practice, Lippincott Williams & Wilkins, New York, pp. 863–872

17.

Schapiro RH, Warshaw AL (1995) Pancreas divisum. In: Pitt HA, Carr-Locke DL, Ferrucci JT (eds), Hepatobiliary and pancreatic disease: The team approach to management. Little Brown, Philadelphia, pp. 387–394

18.

Schlosser W, Rau BM, Poch B, Beger HG (2005) Surgical treatment of pancreas divisum causing chronic pancreatitis: The outcome benefits of duodenum-preserving pancreatic head resection. J Gastrointest Surg 9: 710–715

19.

Siegel JH, Ben-Zvi JS, Pullano W, Cooperman A (1990) Effectiveness of endoscopic drainage for pancreas divisum: Endoscopic and surgical results in 31 patients. Endoscopy 22: 129–133

20.

Siegel JH, Cooperman AM, Pullano W, Hammerman H (1993) Pancreas Divisum: Observation, endoscopic drainage, and surgical treatment results in 65 patients. Surg Laparosc Endosc 3: 281–285

21.

Somogyi L, Forsmark CE (1998) Pancreatic duct stenting in benign pancreatic disease. Semin Gastrointest Dis 9: 73–79

22.

Warshaw AL, Simeone JF, Schapiro RH, Flavin-Warshaw B (1990) Evaluation and treatment of the dominant dorsal duct syndrome (Pancreas divisum redefined). Am J Surg 159: 59–66
About this article
Cite this article
Vitale, G.C., Vitale, M., Vitale, D.S. et al. Long-term follow-up of endoscopic stenting in patients with chronic pancreatitis secondary to pancreas divisum. Surg Endosc 21, 2199–2202 (2007). https://doi.org/10.1007/s00464-007-9347-0
Received:

Revised:

Accepted:

Published:

Issue Date:
Keywords
Chronic pancreatitis

Pancreas divisum

Endoscopy

Stenting

ERCP

Minor papilla