Abstract
Background
This study aimed to evaluate the effect of fibrin glue in laparoscopic spleen-preserving procedures for traumatic rupture.
Methods
From January 2002 to December 2005, six laparoscopic spleen-preserving procedures were performed for traumatic rupture using fibrin glue. Two of the cases had previous middle and lower abdominal surgery. Survey of the abdominal cavity was performed by inserting two 5- to 12-mm trocars, one 5-mm trocar, and a 30° scope. A complete survey of all the patients was performed.
Results
None of the patients required laparotomy, and no postoperative bleeding occurred. The fibrin sealant achieved immediate hemostasis, and all the patients recovered without further splenic bleeding. The mean postoperative stay was 4.3 days (range, 4–5 days). All the patients were followed up for 3 to 12 months. Postoperative immunoglobulin scanning, ultrasonography, and computed tomography (CT) results were normal.
Conclusions
Laparoscopic management of spleen trauma can be used once a positive diagnosis has been made. It is useful for assessing the degree of splenic injury. A laparoscopic spleen-preserving procedure can be used safely for patients with stable vital data. It is an effective procedure for the evaluation and treatment of hemodynamically stable patients with splenic injuries for whom nonoperative treatment is controversial. The topical application of a fibrin sealant in splenic trauma achieves definitive hemostasis safely, rapidly, and reliably. It also is simple to use in either laparoscopic or open procedures.
This is a preview of subscription content, log in to check access.
Access options
Buy single article
Instant access to the full article PDF.
US$ 39.95
Price includes VAT for USA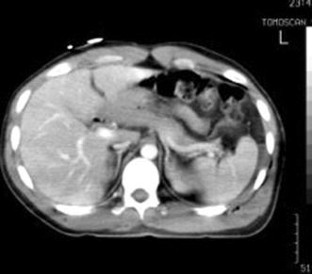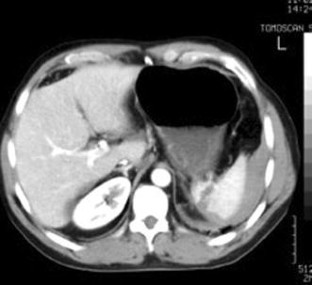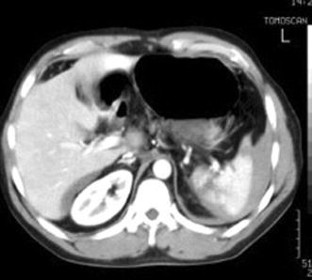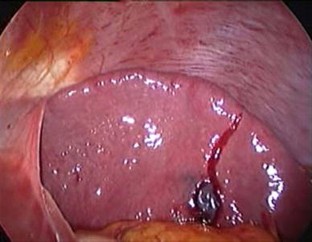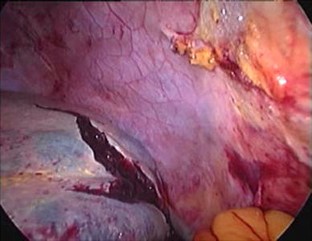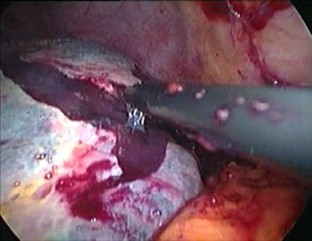 References
1.

Adachi Y, Suematsu T, Shiraishi N, Katsuta T, Morimoto A, Kitano S, Akazawa K (1999) Quality of life after laparoscopic-assisted Billroth I gastrectomy. Br J Surg 86: 541–544

2.

Berci G, Sackier JM, Paz-Partlow M (1991) Emergency laparoscopy. Am J Surg 161: 332–335

3.

Carbon RT, Baar S, Waldschmdt, Hummer HP, Simon S (2001) Minimal invasive pediatric surgery: development and progress by innovative technology. Klin Pediatr 213: 99–103

4.

Clacy TV, Ramshaw DG, Maxwell JG, et al. (1997) Management outcomes in splenic injury: a state wide trauma center review. Ann Surg 226: 17–24

5.

SH, Shandling B, Simpson JS, et al. (1997) The morbidity and mortality of splenectomy in childhood. Ann Surg 185: 307–310

6.

EL, Neu HC (1981) Postsplenectomy infection. Surg Clin North Am 61: 135–155

7.

C, Vane DW (2000) Changing patterns of treatment for blunt splenic injuries: an 11-year experience in a rural state. J Pediatr Surg 35: 985–988

8.

J (1979) Untersuchung eines Fibrinklebers fur die anwendung. In: Der Chirurgie Peripherer Nerven, Diplomabiet Inst F Botanik, Technische Mikroscopie Organ. Technische Universitat Wien, Rohstofflehre, Vienna

9.

Ra, Filipi CJ, Wetscher G, Neary P, de Meester TR, Perdikis G (1994). Laparoscopic Nissen fundoplication is an effective treatment for gastroesophageal reflux disease. Ann Surg 220: 472–481

10.

CGS, Mingoli A, Sgarzini G, Brachini G, Ponzano C, Di Paola M, Modini C (2006) Laparoscopic treatment of blunt splenic injuries: initial experience with 11 patients. Surg Endosc May

11.

N, Mavor E (2000) Laparoscopic splenectomy. Surg Clin North Am 80: 1285–1292

12.

H, Shumacker HB Jr (1952) Splenic studies: I. Susceptibility to infection after splenectomy performed in infancy. Ann Surg 136: 239–242

13.

PJ, Tsiotos GG, Glaser KS, Hinder RA (1999) Laparoscopic splenectomy: evolution and current status. Surg Laparosc Endosc 9: 1–8

14.

RH, Smith RS, Fry WR (1994) Successful laparoscopic splenorrhaphy using absorbable mesh for grade III splenic injury: report of a case. Surg Laparosc Endosc 4: 311–315

15.

G, De Viviee R., Hellberg KD (1981) Clinical experience with fibrin glue in cardiac surgery. J Thorac Cardiovasc Surg 29: 251–256

16.

HB, Nugent P, Reuben BI, et al. (1988) Fibrin glue sealing of polytetrafluororethylene vascular graft anastomoses: comparison with oxidized cellulose. J Vasc Surg 8 : 563–568

17.

HB, Shoemaker WC, Hino ST, et al. (1984) Splenic salvage using biologic glue. Arch Surg 119: 1309–1311

18.

Malangoni MA, Dillon LD, Klamer TW, et al. (1984) Factors influencing the risk of early and late serious infection in adults after splenectomy for trauma. Surgery 96: 775–782

19.

Indoe AH (1932) Delayed hemorrhage following traumatic rupture of the spleen. Br J Surg 20: 249–268

20.

JS, Moore EE, Moore GE, et al. (1982) Alternatives to splenectomy in adults after trauma. Am J Surg 144: 711–716

21.

L, Shapiro SJ (1979) Techniques of splenic conservation. Arch Surg 114: 449–454

22.

CJ, Salky B, Reiner M (2001) Hand-assisted laparoscopic splenectomy for ruptured spleen. Surg Endosc 15:324

23.

N, Champault G, Boutelier P (1995) Laparoscopic splenic salvage in blunt abdominal trauma. Acta Chir Belg 95 (4 suppl): 202–204

24.

A (1993) The laparoscopic treatment of splenic rupture: a case report. Ann Ital Chir 64: 225–228

25.

Scheele J, Gentsch. HH, Matteson E (1984) Splenic repair by fibrin tissue adhesive and collagen fleece. Surgery 95: 6–12

26.

T, Shatney CH (1983) Splenic sequelae after splenectomy for trauma in adults. Am J Surg 145: 667–673

27.

JS Jr, Wegrovitz MA, Delong BS (1992) Prospective validation of criteria, including age, for safe, nonsurgical management of the ruptured spleen. J Trauma 36: 385–389

28.

AC, Perry JF (1982) Splenic preservation following splenic trauma. J Trauma 22: 496–501
About this article
Cite this article
Olmi, S., Scaini, A., Erba, L. et al. Use of fibrin glue (Tissucol) as a hemostatic in laparoscopic conservative treatment of spleen trauma. Surg Endosc 21, 2051–2054 (2007). https://doi.org/10.1007/s00464-007-9288-7
Received:

Revised:

Accepted:

Published:

Issue Date:
Keywords
Diagnostic laparoscopy

Fibrin glue

Laparoscopy

Spleen preserve

Spleen rupture

Trauma