Abstract
Background
For patients whose symptoms develop after Nissen fundoplication, the precise mechanism of anatomic failure can be difficult to determine. The authors have previously reported the endosonographic hallmarks defining an intact Nissen fundoplication in swine and the known causes of failure. The current clinical trial tested the hypothesis that a defined set of endosonographic criteria can be applied to determine fundoplication integrity in humans.
Methods
The study enrolled seven symptomatic and nine asymptomatic subjects at a mean of 6 years (range, 1–30 years) after Nissen fundoplication. A validated gastroesophageal reflux disease (GERD)-specific questionnaire and medication history were completed. Before endoscopic ultrasound (EUS), all the patients underwent complete conventional testing (upper endoscopy, esophagram, manometry, 24-h pH). A diagnosis was rendered on the basis of combined test results. Then EUS was performed by an observer blinded to symptoms, medication use, and conventional testing diagnoses. Because EUS and esophagogastroduodenoscopy (EGD) are uniformly performed in combination, the EUS diagnosis was rendered on the basis of previously established criteria combined with the EGD interpretation. The diagnoses then were compared to examine the contribution of EUS in this setting.
Results
The technique and defined criteria were easily applied to all subjects. All symptomatic patients had heartburn and were taking proton pump inhibitors (PPI). No asymptomatic patients were taking PPI. All diagnoses established with combined conventional testing were detected on EUS with upper endoscopy. Additionally, EUS resolved the etiology of a low lower esophageal sphincter pressure in two symptomatic patients and detected the additional diagnoses of slippage in two subjects. Among asymptomatic subjects, EUS identified additional diagnoses in two subjects considered to be normal by conventional testing methods.
Conclusion
According to the findings, EUS is a feasible method for evaluating post-Nissen fundoplication hiatal anatomic relationships. The combination of EUS and EGD allows the mechanism of failure to be detected in patients presenting with postoperative symptoms after Nissen fundoplication.
This is a preview of subscription content, log in to check access.
Access options
Buy single article
Instant access to the full article PDF.
US$ 39.95
Price includes VAT for USA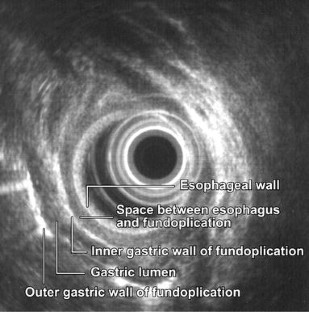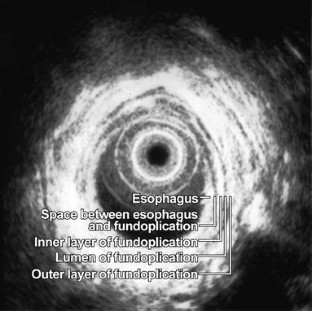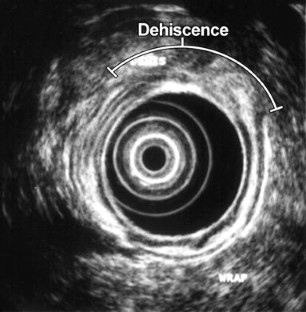 References
1.

Bremner CG (2001) Esophageal motility testing made easy. Quality Medical Publishers, St. Louis, MO.

2.

Dallemagne B, Weerts J, Markiewicz S, Dewandre JM, Wahlen C, Monami B, Jehaes C (2006) Clinical results of laparoscopic fundoplication at ten years after surgery. Surg Endosc 20: 159–165

3.

Dauer E, Thompson D, Zinsmeister AR, Dierkhising R, Harris A, Zais T, Alexander J, Murray JA, Wise JL, Lim K, Locke GR III, Romero Y (2006) Supraesophageal reflux: validation of a symptom questionnaire. Otolaryngol Head Neck Surg 134:73–80

4.

Finlayson SR, Laycock WS, Birkmeyer JD (2003) National trends in utilization and outcomes of antireflux surgery. Surg Endosc 17: 864–867

5.

Gopal DV, Chang EY, Kim CY, Sandone C, Pfau PR, Frick TJ, Hunter JG, Kahrilas PJ, Jobe BA (2006) EUS characteristics of Nissen fundoplication: normal appearance and mechanisms of failure. Gastrointest Endosc 63: 35–44

6.

Granderath FA, Kamolz T, Schweiger UM, Pasiut M, Haas CF, Wykypiel H, Pointner R (2002) Long-term results of laparoscopic antireflux surgery. Surg Endosc 16: 753–757

7.

Hinder RA, Klingler PJ, Perdikis G, Smith SL (1997) Management of the failed antireflux operation. Surg Clin North Am 77: 1083–1098

8.

Horgan S, Pohl D, Bogetti D, Eubanks T, Pellegrini C (1999) Failed antireflux surgery: what have we learned from reoperations? Arch Surg 134: 809–815, discussion 815–807

9.

Hunter JG, Smith CD, Branum GD, Waring JP, Trus TL, Cornwell M, Galloway K (1999) Laparoscopic fundoplication failures: patterns of failure and response to fundoplication revision. Ann Surg 230: 595–604, discussion 604–596

10.

Jobe BA, Kahrilas PJ, Vernon AH, Sandone C, Gopal DV, Swanstrom LL, Aye RW, Hill LD, Hunter JG (2004) Endoscopic appraisal of the gastroesophageal valve after antireflux surgery. Am J Gastroenterol 99: 233–243

11.

Kusano M, Ino K, Yamada T, Kawamura O, Toki M, Ohwada T, Kikuchi K, Shirota T, Kimura M, Miyazaki M, Nakamura K, Igarashi S, Tomizawa M, Tamura T, Sekiguchi T, Mori M (1999) Interobserver and intraobserver variation in endoscopic assessment of GERD using the "Los Angeles" classification. Gastrointest Endosc 49: 700–704

12.

Meining A, Rosch T, Wolf A, Lorenz R, Allescher HD, Kauer W, Dittler HJ (2003) High interobserver variability in endosonographic staging of upper gastrointestinal cancers. Z Gastroenterol 41: 391–394

13.

Pessaux P, Arnaud JP, Ghavami B, Flament JB, Trebuchet G, Meyer C, Huten N, Champault G (2000) Laparoscopic antireflux surgery: comparative study of Nissen, Nissen-Rossetti, and Toupet fundoplication. Societe Francaise de Chirurgie Laparoscopique. Surg Endosc 14: 1024–1027

14.

Schlick T, Heintz A, Junginger T (1999) The examiner's learning effect and its influence on the quality of endoscopic ultrasonography in carcinoma of the esophagus and gastric cardia. Surg Endosc 13: 894–898

15.

Skinner DB (1992) Surgical management after failed antireflux operations. World J Surg 16: 359–363

16.

Smith CD, McClusky DA, Rajad MA, Lederman AB, Hunter JG (2005) When fundoplication fails: redo? Ann Surg 241: 861–869, discussion 869–871

17.

Velanovich V, Karmy-Jones R (1998) Measuring gastroesophageal reflux disease: relationship between the Health-Related Quality of Life score and physiologic parameters. Am Surg 64: 649–653

18.

Watson DI, Jamieson GG, Game PA, Williams RS, Devitt PG (1999) Laparoscopic reoperation following failed antireflux surgery. Br J Surg 86: 98–101
Acknowledgment
This work was funded by a grant from the Society of American Gastrointestinal and Endoscopic Surgeons (BAJ). It was supported in part by National Institutes of Health grant K23 DK066165-02 (BAJ).
About this article
Cite this article
Chang, E.Y., Minjarez, R.C., Kim, C.Y. et al. Endoscopic ultrasound for the evaluation of Nissen fundoplication integrity: a blinded comparison with conventional testing. Surg Endosc 21, 1719–1725 (2007). https://doi.org/10.1007/s00464-007-9234-8
Received:

Revised:

Accepted:

Published:

Issue Date:
Keywords
Antireflux surgery

Endoscopic ultrasound

Failure

Gastroesophageal reflux disease

Nissen fundoplication

Reoperation