Abstract
Background
In the absence of facilities and expertise for laparoscopic bile duct exploration (LBDE), most patients with suspected ductal calculi undergo preoperative endoscopic duct clearance. Intraoperative cholangiography (IOC) is not performed at the subsequent laparoscopic cholecystectomy. This study aimed to investigate the rate of successful duct clearance after simple transcystic manipulations.
Methods
This prospective study investigated 1,408 patients over 13 years in a unit practicing single-session management of biliary calculi. For the great majority, IOC was attempted. Abnormalities were dealt with by flushing of the duct, glucagon injection, Dormia basket trawling, choledochoscopic transcystic exploration, or choledochotomy.
Results
Of 1,056 cholangiograms performed (75%), 287 were abnormal (27.2%). Surgical trainees, operating under supervision, successfully performed 24% of all cholangiograms. Of 396 patients admitted with biliary emergencies, 94.1% had abnormal cholangiograms. Of the 287 patients with abnormal IOCs, 9.4% required no intervention, 18% were clear after glucagon and flushing, and 13% were cleared using Dormia basket trawling under fluoroscopy. A total of 95 patients required formal LBDE, and 2 required postoperative endoscopic retrograde cholangiopancreatography (ERCP). No postoperative ERCP for retained stones was required after simple transcystic manipulation. Eight conversions occurred, one during a transcystic exploration. Follow-up evaluation continued for as long as 6 years in some cases. Two patients had recurrent stones after LBDE and a clear postoperative tube cholangiogram.
Conclusion
In this series, 10% of the abnormal cholangiograms occurred in patients without preoperative risk factors for bile duct stones. Altogether, 88 IOCs (31%) were cleared after either simple flushing or trawling with a Dormia basket. Formal LBDE was not required for 40% of abnormal cholangiograms. Simple transcystic manipulations to clear the bile ducts justify the use of routine IOC in units without laparoscopic biliary expertise.
This is a preview of subscription content, log in to check access.
Access options
Buy single article
Instant access to the full article PDF.
US$ 39.95
Price includes VAT for USA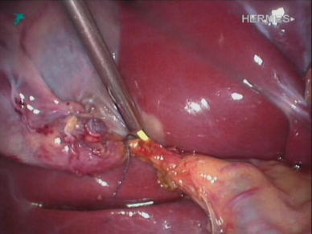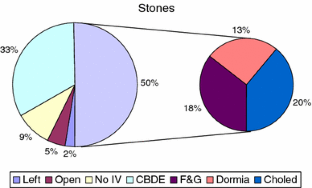 References
1.

Metcalfe MS, Ong T, Bruening MH, Iswariah H, Wemyss-Holden SA, Maddern GJ (2004) Is laparoscopic intraoperative cholangiogram a matter of routine? Am J Surg 187: 475–481

2.

Wei KZ, Zhu ZC, Hui LJ, Kai Y, De HJ (2003) Prospective evaluation of magnetic resonance cholangiography in patients with suspected common bile duct stones before laparoscopic cholecystectomy. Hepatobiliary Pancreat Dis Int 2: 576–580

3.

Cuschieri A, Lezoche E, Morino M, Croce E, Lacy A, Toouli J, Faggioni A, Riberio VM, Jakimowicz J, Visa J, Hanna GB (1999) EAES multicenter prospective randomized trial comparing two-stage vs single-stage management of patients with gallstone disease and ductal calculi. Surg Endosc 13: 952–957

4.

Rhodes M, Sussman L, Cohen L, Lewis MP (1995) Randomized trial of laparoscopic exploration of common bile duct versus postoperative endoscopic retrograde cholangiography for common bile duct stones. Lancet 351: 159–161

5.

Corbitt JD, Leonetti LA (1997) One thousand and six consecutive laparoscopic intraoperative cholangiograms. JSLS 1: 13–16

6.

Kitahama A, Kerstein MD, Overby JL, Kappelman MD, Webb WR (1986) Routine intraoperative cholangiogram. Surg Gynecol Obstet 162: 317–322

7.

Simone M, Mutter D, Rubino F, Dutson E, Roy C, Soler L, Marescaux J (2004) Three dimensional virtual cholangioscopy: a reliable tool for the diagnosis of common bile duct stones. Ann Surg 240: 82–88

8.

Hunt DR, Reiter L, Scott AJ (1990) Preoperative ultrasound measurement of bile duct diameter: basis for selective cholangiography. Aust N Z J Surg 60: 189–192

9.

Gautier G, Frank P, Crombe TA, Gruner L, Ponchon T, Barth X, Valette PJ (2004) Contribution of magnetic resonance cholangiopancreatography to the management of patients with suspected common bile duct stones. Gastroenterol Clin Biol 28: 129–134

10.

Arvanitidis-Dimitrios G, Pantes A, Agaritsi R, Margantinis G, Tsiakos S, Sakorafas G, Kostopoulos P (2004) Can somatostatin prevent post-ERCP pancreatitis? Results of a randomized controlled trial. J Gastroenterol Hepatol 19: 278–282

11.

Cotton PB, Lehman G, Vennes J, Geenen J, Russell RC, Meyers WC, Liquory C, Nickl N (1991) Endoscopic sphincterotomy complications and their management: an attempt at consensus. Gastrointest Endosc 37: 383–393

12.

Corbitt JD, Yusem SO (1994) Laparoscopic cholecystectomy with operative cholangiogram. Surg Endosc 8: 292–295

13.

Sabharwal EJ, Minford EJ, Marson LP, Muir IM, Hill D, Auld CD (1998) Laparoscopic cholangiography: a prospective study. Br J Surg 85: 624–626

14.

Duensing RA, Williams R, Collins JC, Wilson SE (1995) Managing choledocholithiasis in the laparoscopic era. Am J Surg 170: 619–623

15.

Grace PA, Qureshi A, Burke P (1993) Selective cholangiography in laparoscopic cholecystectomy. Br J Surg 80: 244–246

16.

Kelly TR (1980) Gallstone pancreatitis: the timing of surgery. Surgery 88: 345–350

17.

Acosta MJ, Rossi R, Ledesma CL (1977) The usefulness of stool screening for diagnosing cholelithiasis in acute pancreatitis: a description of the technique. Am J Dig Dis 22: 168–172

18.

Mahmud S, McGlinchey I, Kasem H, Nassar AH (2001) Radiological treatment of retained bile duct stones following recent surgery using glucagon. Surg Endosc 15: 1359–1360

19.

Thompson MH, Tranter SE (2002) All-comers policy for laparoscopic exploration of the common bile duct. Br J Surg 89: 1608–1612

20.

Hyser MJ, Chaudhry V, Byrne MP (1999) Laparoscopic transcystic management of choledocholithiasis. Am Surg 65: 606–609

21.

Lorimer JW, Fairfull-Smith RJ (1995) Intraoperative cholangiography is not essential to avoid duct injuries during laparoscopic cholecystectomy. Am J Surg 169: 344–347

22.

Davidoff AM, Pappas TN, Murray EA (1992) Mechanisms of major biliary injury during laparoscopic cholecystectomy. Ann Surg 215: 196–202

23.

Mahmud S, Hamza Y, Nassar AH (2001) The significance of cystic duct stones encountered during laparoscopic cholecystectomy. Surg Endosc 15: 460–462

24.

Mahmud S, Masaud M, Canna K, Nassar AHM (2002) Fundus-first laparoscopic cholecystectomy. Surg Endosc 16: 581–584

25.

Wagner AJ, Sobrino MA, Traverso LW (2004) The long-term follow-up of patients with positive intraoperative cholangiograms during laparoscopic cholecystectomy. Surg Endosc 18: 1762–1765
About this article
Cite this article
Hamouda, A.H., Goh, W., Mahmud, S. et al. Intraoperative cholangiography facilitates simple transcystic clearance of ductal stones in units without expertise for laparoscopic bile duct surgery. Surg Endosc 21, 955–959 (2007). https://doi.org/10.1007/s00464-006-9127-2
Received:

Revised:

Accepted:

Published:

Issue Date:
Keywords
Bile duct stones

Intraoperative cholangiography

Laparoscopic bile duct exploration

Laparoscopic cholecystectomy

Training

Transcystic exploration