Abstract
Background
The purpose of this study was to analyze the published perioperative results and outcomes of laparoscopic (LVHR) and open (OVHR) ventral hernia repair focusing on complications and hernia recurrences.
Methods
Data were compiled from all English-language reports of LVHR published from 1996 through January 2006. Series with fewer than 20 cases of LVHR, insufficient details of complications, or those part of a larger series were excluded. Data were derived from 31 reports of LVHR alone (unpaired studies) and 14 that directly compared LVHR to OVHR (paired sudies). Chi-squared analysis, Fisher's exact test, and two-tailed t-test analysis were used.
Results
Forty-five published series were included, representing 5340 patients (4582 LVHR, 758 OVHR). In the pooled analysis (combined paired and unpaired studies), LVHR was associated with significantly fewer wound complications (3.8% vs. 16.8%, p < 0.0001), total complications (22.7% vs. 41.7%, p < 0.0001), hernia recurrences (4.3% vs. 12.1%, p < 0.0001), and a shorter length of stay (2.4 vs. 4.3 days, p = 0.0004). These outcomes maintained statistical significance when only the paired studies were analyzed. In the pooled analysis, LVHR was associated with fewer gastrointestinal (2.6% vs. 5.9%, p < 0.0001), pulmonary (0.6% vs. 1.7%, p = 0.0013), and miscellaneous (0.7% vs. 1.9%, p = 0.0011) complications, but a higher incidence of prolonged procedure site pain (1.96% vs. 0.92%, p = 0.0469); none of these outcomes was significant in the paired study analysis. No differences in cardiac, neurologic, septic, genitourinary, or thromboembolic complications were found. The mortality rate was 0.13% with LVHR and 0.26% with OVHR (p = NS). Trends toward larger hernia defects and larger mesh sizes were observed for LVHR.
Conclusions
The published literature indicates fewer wound-related and overall complications and a lower rate of hernia recurrence for LVHR compared to OVHR. Further controlled trials are necessary to substantiate these findings and to assess the health care economic impact of this approach.
This is a preview of subscription content, log in to check access.
Access options
Buy single article
Instant access to the full article PDF.
US$ 39.95
Price includes VAT for USA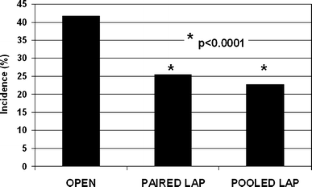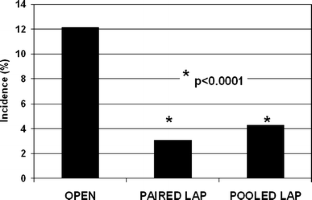 References
1.

Anthony T, Bergen PC, Kim LT, Henderson M, Fahey T, Rege RV, Turnage RH (2000) Factors affecting recurrence following incisional herniorrhaphy. World J Surg 24: 95–100

2.

Beldi G, Ipaktchi R, Wagner M, Gloor B, Candinas D (2006) Laparoscopic ventral hernia repair is safe and cost effective. Surg Endosc 20: 92–95

3.

Ben-Haim M, Kuriansky J, Tal R, Zmora O, Mintz Y, Rosin D, Ayalon A, Shabtai M (2002) Pitfalls and complications with laparoscopic intraperitoneal expanded polytetrafluoroethylene patch repair of postoperative ventral hernia. Surg Endosc 16: 785–788

4.

Bencini L, Sanchez LJ (2004) Learning curve for laparoscopic ventral hernia repair. Am J Surg 187: 378–382

5.

Bencini L, Sanchez LJ, Boffi B, Farsi M, Scatizzi M, Moretti R (2003) Incisional hernia: repair retrospective comparison of laparoscopic and open techniques. Surg Endosc 17: 1546–1551

6.

Burger JW, Luijendijk RW, Hop WC, Halm JA, Verdaasdonk EG, Jeekel J (2004) Long-term follow-up of a randomized controlled trial of suture versus mesh repair of incisional hernia. Ann Surg 240: 578–583

7.

Carbajo MA, Martin del Olmo JC, Blanco JI, de la CC, Toledano M, Martin F, Vaquero C, Inglada L (1999) Laparoscopic treatment vs open surgery in the solution of major incisional and abdominal wall hernias with mesh. Surg Endosc 13: 250–252

8.

Carbajo MA, Martin del Olmo JC, Blanco JI, Toledano M, de la CC, Ferreras C, Vaquero C (2003) Laparoscopic approach to incisional hernia. Surg Endosc 17: 118–122

9.

Cobb WS, Kercher KW, Heniford BT (2005) Laparoscopic repair of incisional hernias. Surg Clin North Am 85: 91–103, ix

10.

DeMaria EJ, Moss JM, Sugerman HJ (2000) Laparoscopic intraperitoneal polytetrafluoroethylene (PTFE) prosthetic patch repair of ventral hernia. Prospective comparison to open prefascial polypropylene mesh repair. Surg Endosc 14: 326–329

11.

Earle D, Seymour N, Fellinger E, Perez A (2006) Laparoscopic versus open incisional hernia repair: a single-institution analysis of hospital resource utilization for 884 consecutive cases. Surg Endosc 20: 71–75

12.

Gonzalez R, Mason E, Duncan T, Wilson R, Ramshaw BJ (2003) Laparoscopic versus open umbilical hernia repair. JSLS 7: 323–328

13.

Goodney PP, Birkmeyer CM, Birkmeyer JD (2002) Short-term outcomes of laparoscopic and open ventral hernia repair: a meta-analysis. Arch Surg 137: 1161–1165

14.

Heniford BT, Park A, Ramshaw BJ, Voeller G (2003) Laparoscopic repair of ventral hernias: nine years' experience with 850 consecutive hernias. Ann Surg 238: 391–399

15.

Holzman MD, Purut CM, Reintgen K, Eubanks S, Pappas TN (1997) Laparoscopic ventral and incisional hernioplasty. Surg Endosc 11: 32–35

16.

LeBlanc KA, Booth WV (1993) Laparoscopic repair of incisional abdominal hernias using expanded polytetrafluoroethylene: preliminary findings. Surg Laparosc Endosc 3: 39–41

17.

LeBlanc KA, Booth WV, Whitaker JM, Bellanger DE (2000) Laparoscopic incisional and ventral herniorrhaphy in 100 patients. Am J Surg 180: 193–197

18.

Luijendijk RW, Hop WC, van den Tol MP, de L, Braaksma MM, IJzermans JN, Boelhouwer RU, de Vries BC, Salu MK, Wereldsma JC, Bruijninckx CM, Jeekel J (2000) A comparison of suture repair with mesh repair for incisional hernia. N Engl J Med 343: 392–398

19.

Luijendijk RW, Lemmen MH, Hop WC, Wereldsma JC (1997) Incisional hernia recurrence following "vest-over-pants" or vertical Mayo repair of primary hernias of the midline. World J Surg 21: 62–65

20.

McGreevy JM, Goodney PP, Birkmeyer CM, Finlayson SR, Laycock WS, Birkmeyer JD (2003) A prospective study comparing the complication rates between laparoscopic and open ventral hernia repairs. Surg Endosc 17: 1778–1780

21.

Moreno-Egea A, Carrasco L, Girela E, Martin JG, Aguayo JL, Canteras M (2002) Open vs laparoscopic repair of spigelian hernia: a prospective randomized trial. Arch Surg 137: 1266–1268

22.

Moreno-Egea A, Torralba JA, Girela E, Corral M, Bento M, Cartagena J, Vicente JP, Aguayo JL, Canteras M (2004) Immediate, early, and late morbidity with laparoscopic ventral hernia repair and tolerance to composite mesh. Surg Laparosc Endosc Percutan Tech 14: 130–135

23.

Mudge M, Hughes LE (1985) Incisional hernia: a 10 year prospective study of incidence and attitudes. Br J Surg 72: 70–71

24.

Novitsky YW, Cobb WS, Kercher KW, Matthews BD, Sing RF, Heniford BT (2006) Laparoscopic ventral hernia repair in obese patients: a new standard of care. Arch Surg 141: 57–61

25.

Perrone JM, Soper NJ, Eagon JC, Klingensmith ME, Aft RL, Frisella MM, Brunt LM (2005) Perioperative outcomes and complications of laparoscopic ventral hernia repair. Surgery 138: 708–715

26.

Read RC, Yoder G (1989) Recent trends in the management of incisional herniation. Arch Surg 124: 485–488

27.

Rosen M, Brody F, Ponsky J, Walsh RM, Rosenblatt S, Duperier F, Fanning A, Siperstein A (2003) Recurrence after laparoscopic ventral hernia repair. Surg Endosc 17: 123–128

28.

Salameh JR, Sweeney JF, Graviss EA, Essien FA, Williams MD, Awad S, Itani KM, Fisher WE (2002) Laparoscopic ventral hernia repair during the learning curve. Hernia 6: 182–187

29.

Sorensen LT, Hemmingsen UB, Kirkeby LT, Kallehave F, Jorgensen LN (2005) Smoking is a risk factor for incisional hernia. Arch Surg 140: 119–123

30.

Sugerman HJ (1998) Increased intra-abdominal pressure in obesity. Int J Obes Relat Metab Disord 22: 1138

31.

Sugerman HJ (2001) Effects of increased intra-abdominal pressure in severe obesity. Surg Clin North Am 81: 1063–1075, vi

32.

Ujiki MB, Weinberger J, Varghese TK, Murayama KM, Joehl RJ (2004) One hundred consecutive laparoscopic ventral hernia repairs. Am J Surg 188: 593–597

33.

Winslow ER, Fleshman JW, Birnbaum EH, Brunt LM (2002) Wound complications of laparoscopic vs open colectomy. Surg Endosc 16: 1420–1425

34.

Wright BE, Beckerman J, Cohen M, Cumming JK, Rodriguez JL (2002) Is laparoscopic umbilical hernia repair with mesh a reasonable alternative to conventional repair? Am J Surg 184: 505–508

35.

Wright BE, Niskanen BD, Peterson DJ, Ney AL, Odland MD, VanCamp J, Zera RT, Rodriguez JL (2002) Laparoscopic ventral hernia repair: are there comparative advantages over traditional methods of repair? Am Surg 68: 291–295
Acknowledgments
The authors thank Dr. Yan Yan in the Division of Urologic Surgery for performing the statistical analyses in this study. They also acknowledge the support of the Washington University Institute for Minimally Invasive Surgery, which is supported by educational grants from Ethicon EndoSurgery, Inc., and Stryker Endoscopy, Inc.
Appendices
Appendix 1. Paired Series Included in Study
1.

Beldi G, Ipaktchi R, Wagner M, Gloor B, Candinas D (2006) Laparoscopic ventral hernia repair is safe and cost effective. Surg Endosc 20: 92–95

2.

Bencini L, Sanchez LJ, Boffi B, Farsi M, Scatizzi M, Moretti R (2003) Incisional hernia: repair retrospective comparison of laparoscopic and open techniques. Surg Endosc 17: 1546–1551

3.

Carbajo MA, Martin del Olmo JC, Blanco JI, de la CC, Toledano M, Martin F, Vaquero C, Inglada L (1999) Laparoscopic treatment vs open surgery in the solution of major incisional and abdominal wall hernias with mesh. Surg Endosc 13: 250–252

4.

DeMaria EJ, Moss JM, Sugerman HJ (2000) Laparoscopic intraperitoneal polytetrafluoroethylene (PTFE) prosthetic patch repair of ventral hernia. Prospective comparison to open prefascial polypropylene mesh repair. Surg Endosc 14: 326–329

5.

Gonzalez R, Mason E, Duncan T, Wilson R, Ramshaw BJ (2003) Laparoscopic versus open umbilical hernia repair. JSLS 7: 323–328

6.

Holzman MD, Purut CM, Reintgen K, Eubanks S, Pappas TN (1997) Laparoscopic ventral and incisional hernioplasty. Surg Endosc 11: 32–35

7.

McGreevy JM, Goodney PP, Birkmeyer CM, Finlayson SR, Laycock WS, Birkmeyer JD (2003) A prospective study comparing the complication rates between laparoscopic and open ventral hernia repairs. Surg Endosc 17: 1778–1780

8.

Park A, Birch DW, Lovrics P (1998) Laparoscopic and open incisional hernia repair: a comparison study. Surgery 124: 816–821

9.

Raftopoulos I, Vanuno D, Khorsand J, Kouraklis G, Lasky P (2003) Comparison of open and laparoscopic prosthetic repair of large ventral hernias. JSLS 7: 227–232

10.

Ramshaw BJ, Esartia P, Schwab J, Mason EM, Wilson RA, Duncan TD, Miller J, Lucas GW, Promes J (1999) Comparison of laparoscopic and open ventral herniorrhaphy. Am Surg 65: 827–831

11.

Salameh JR, Sweeney JF, Graviss EA, Essien FA, Williams MD, Awad S, Itani KM, Fisher WE (2002) Laparoscopic ventral hernia repair during the learning curve. Hernia 6: 182–187

12.

van't Riet RM, de Vos van Steenwijk PJ, Bonthuis F, Marquet RL, Steyerberg EW, Jeekel J, Bonjer HJ (2003) Prevention of adhesion to prosthetic mesh: comparison of different barriers using an incisional hernia model. Ann Surg 237: 123–128

13.

Wright BE, Beckerman J, Cohen M, Cumming JK, Rodriguez JL (2002) Is laparoscopic umbilical hernia repair with mesh a reasonable alternative to conventional repair? Am J Surg 184: 505–508

14.

Wright BE, Niskanen BD, Peterson DJ, Ney AL, Odland MD, VanCamp J, Zera RT, Rodriguez JL (2002) Laparoscopic ventral hernia repair: are there comparative advantages over traditional methods of repair? Am Surg 68: 291–295
Appendix 2. Unpaired Series Included in Study
1.

Aura T, Habib E, Mekkaoui M, Brassier D, Elhadad A (2002) Laparoscopic tension-free repair of anterior abdominal wall incisional and ventral hernias with an intraperitoneal Gore-Tex mesh: prospective study and review of the literature. J Laparoendosc Adv Surg Tech A 12: 263–267

2.

Bageacu S, Blanc P, Breton C, Gonzales M, Porcheron J, Chabert M, Balique JG (2002) Laparoscopic repair of incisional hernia: a retrospective study of 159 patients. Surg Endosc 16: 345–348

3.

Bamehriz F, Birch DW (2004) The feasibility of adopting laparoscopic incisional hernia repair in general surgery practice: early outcomes in an unselected series of patients. Surg Laparosc Endosc Percutan Tech 14: 207–209

4.

Ben-Haim M, Kuriansky J, Tal R, Zmora O, Mintz Y, Rosin D, Ayalon A, Shabtai M (2002) Pitfalls and complications with laparoscopic intraperitoneal expanded polytetrafluoroethylene patch repair of postoperative ventral hernia. Surg Endosc 16: 785–788

5.

Berger D, Bientzle M, Muller A (2002) Postoperative complications after laparoscopic incisional hernia repair. Incidence and treatment. Surg Endosc 16: 1720–1723

6.

Bingener J, Kazantsev GB, Chopra S, Schwesinger WH (2004) Adhesion formation after laparoscopic ventral incisional hernia repair with polypropylene mesh: a study using abdominal ultrasound. JSLS 8: 127–131

7.

Birgisson G, Park AE, Mastrangelo MJ Jr, Witzke DB, Chu UB (2001) Obesity and laparoscopic repair of ventral hernias. Surg Endosc 15: 1419–1422

8.

Bower CE, Reade CC, Kirby LW, Roth JS (2004) Complications of laparoscopic incisional-ventral hernia repair: the experience of a single institution. Surg Endosc 18: 672–675

9.

Carbajo MA, Martp del Olmo JC, Blanco JI, Toledano M, de la CC, Ferreras C, Vaquero C (2003) Laparoscopic approach to incisional hernia. Surg Endosc 17: 118–122

10.

Chelala E, Gaede F, Douillez V, Dessily M, Alle JL (2003) The suturing concept for laparoscopic mesh fixation in ventral and incisional hernias: preliminary results. Hernia 7: 191–196

11.

Chowbey PK, Sharma A, Khullar R, Mann V, Baijal M, Vashistha A (2000) Laparoscopic ventral hernia repair. J Laparoendosc Adv Surg Tech A 10: 79–84

12.

Eid GM, Prince JM, Mattar SG, Hamad G, Ikrammudin S, Schauer PR (2003) Medium-term follow-up confirms the safety and durability of laparoscopic ventral hernia repair with PTFE. Surgery 134: 599–603

13.

Franklin ME Jr, Gonzalez JJ Jr, Glass JL, Manjarrez A (2004) Laparoscopic ventral and incisional hernia repair: an 11-year experience. Hernia 8: 23–27

14.

Heniford BT, Park A, Ramshaw BJ, Voeller G (2003) Laparoscopic repair of ventral hernias: nine years' experience with 850 consecutive hernias. Ann Surg 238: 391–399

15.

Kannan K, Ng C, Ravintharan T (2004) Laparoscopic ventral hernia repair: local experience. Singapore Med J 45: 271–275

16.

Kua KB, Coleman M, Martin I, O'Rourke N (2002) Laparoscopic repair of ventral incisional hernia. ANZ J Surg 72: 296–299

17.

Kyzer S, Alis M, Aloni Y, Charuzi I (1999) Laparoscopic repair of postoperation ventral hernia. Early postoperation results. Surg Endosc 13: 928–931

18.

LeBlanc KA, Whitaker JM, Bellanger DE, Rhynes VK (2003) Laparoscopic incisional and ventral hernioplasty: lessons learned from 200 patients. Hernia 7: 118–124

19.

Mizrahi S, Lantsberg L, Kirshtein B, Bayme M, Avinoah E (2003) The experience with a modified technique for laparoscopic ventral hernia repair. J Laparoendosc Adv Surg Tech A 13: 305–307

20.

Moreno-Egea DA, Martinez JA, Cuenca GM, Miquel JD, Lorenzo JG, Albasini JL, Jordana MC (2004) Mortality following laparoscopic ventral hernia repair: lessons from 90 consecutive cases and bibliographical analysis. Hernia 8: 208–212

21.

Muysoms F, Daeter E, Vander MG, Claeys D (2004) Laparoscopic intraperitoneal repair of incisional and ventral hernias. Acta Chir Belg 104: 705–708

22.

Parker HH III, Nottingham JM, Bynoe RP, Yost MJ (2002) Laparoscopic repair of large incisional hernias. Am Surg 68: 530–533

23.

Perrone JM, Soper NJ, Eagon JC, Klingensmith ME, Aft RL, Frisella MM, Brunt LM (2005) Perioperative outcomes and complications of laparoscopic ventral hernia repair. Surgery 138: 708–715

24.

Reitter DR, Paulsen JK, Debord JR, Estes NC (2000) Five-year experience with the "four-before" laparoscopic ventral hernia repair. Am Surg 66: 465–468

25.

Rosen M, Brody F, Ponsky J, Walsh RM, Rosenblatt S, Duperier F, Fanning A, Siperstein A (2003) Recurrence after laparoscopic ventral hernia repair. Surg Endosc 17: 123–128

26.

Sanchez LJ, Bencini L, Moretti R (2004) Recurrences after laparoscopic ventral hernia repair: results and critical review. Hernia 8: 138–143

27.

Szymanski J, Voitk A, Joffe J, Alvarez C, Rosenthal G (2000) Technique and early results of outpatient laparoscopic mesh onlay repair of ventral hernias. Surg Endosc 14: 582–584

28.

Toy FK, Bailey RW, Carey S, Chappuis CW, Gagner M, Josephs LG, Mangiante EC, Park AE, Pomp A, Smoot RT Jr, Uddo JF Jr, Voeller GR (1998) Prospective, multicenter study of laparoscopic ventral hernioplasty. Preliminary results. Surg Endosc 12: 955–959

29.

Tsimoyiannis EC, Siakas P, Glantzounis G, Koulas S, Mavridou P, Gossios KI (2001) Seroma in laparoscopic ventral hernioplasty. Surg Laparosc Endosc Percutan Tech 11: 317–321

30.

Ujiki MB, Weinberger J, Varghese TK, Murayama KM, Joehl RJ (2004) One hundred consecutive laparoscopic ventral hernia repairs. Am J Surg 188: 593–597

31.

Verbo A, Petito L, Pedretti G, Lurati M, D'Alba P, Coco C (2004) Use of a new type of PTFE mesh in laparoscopic incisional hernia repair: the continuing evolution of technique and surgical expertise. Int Surg 89: 27–31
About this article
Cite this article
Pierce, R.A., Spitler, J.A., Frisella, M.M. et al. Pooled data analysis of laparoscopic vs. open ventral hernia repair: 14 years of patient data accrual. Surg Endosc 21, 378–386 (2007). https://doi.org/10.1007/s00464-006-9115-6
Received:

Accepted:

Published:

Issue Date:
Keywords
Ventral hernia

Incisional hernia

Hernia repair

Laparoscopy

Meta-analysis

Statistical analysis