Abstract
Background
Preparation for outpatient flexible sigmoidoscopy using a self-administered phosphate enema is the standard practice in our unit, but it provides acceptable bowel preparation in only 80% of patients. This study compared two methods of bowel preparation with the current standard in an attempt to improve efficacy and acceptability.
Methods
From January to September 2003, patients scheduled for out-patient flexible sigmoidoscopy were prospectively randomized to 3 groups: group 1: one Fleet enema 2 h pre-procedure; group 2: two Fleet enemas, one on the evening prior to sigmoidoscopy and one 2 h pre-procedure; group 3: lactulose 30 ml orally 48 and 24 h prior to sigmoidoscopy, plus a single Fleet enema 2 h pre-procedure. A patient questionnaire was used to assess side effects and tolerance. The endoscopists questionnaire assessed the indication for the procedure, quality of preparation, depth of insertion, and pathological findings identified. Power calculations were based on the 80% acceptable preparation rate obtained using a single enema.
Results
For this study, 305 patients were randomized to the three groups. Patient data were available for 261 patients (group 1 = 105; group 2 = 81; group 3 = 75), and endoscopist data were available for 251 patients (group 1 = 97; group 2 = 79; group 3 = 75). No difference was noted between the groups with regard to age, gender, procedure indication, grade of endoscopist, or patient acceptability variables (ease of use: p = 0.09; assistance required: p = 0.11; cramps experienced: p = 0.84; alternative method: p = 0.25). There was no significant difference between the groups in terms of depth of insertion (p = 0.42—chi-squared test) or abnormalities noted (p = 0.34—chi-squared test). Nor was there any difference in the quality of preparation of patients in group 1 versus group 2 (p = 0.39—Fishers exact test) or group 1 versus group 3 (p = 0.13—Fishers exact). However, lactulose + Fleet resulted in significantly fewer patients with acceptable preparation compared with those who administered two Fleet enemas (p = 0.02— Fishers exact test).
Conclusions
The addition of a Fleet enema or oral lactulose over and above a single Fleet enema gives no significant improvement in the acceptability or efficacy of bowel preparation.
This is a preview of subscription content, log in to check access.
Access options
Buy single article
Instant access to the full article PDF.
US$ 39.95
Price includes VAT for USA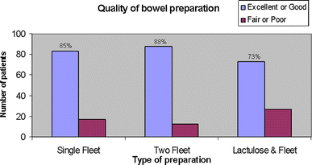 References
1.

Atkin WS, Hart A, Edwards R (2000) Single blind randomized trial of efficacy and acceptability of oral Picolax versus self administered phosphate enema in bowel preparation for flexible sigmoidoscopy screening. BMJ 320: 1504–1509

2.

Bini EJ, Unger JS, Reiber JM, Rosenberg J, Trujillo K, Weinshel EH (2000) Prospective, randomized, single blind comparison of two preparations for screening flexible sigmoidoscopy. Gastrointest Endosc 52: 218–222

3.

Brown AR, DiPalma JA (2004) Bowel preparation for gastrointestinal procedures. Curr Gastroenterol Rep 6: 395–401

4.

Drew PJ, Hughes M, Hodson R, Farouk R, Lee PW, Wedgwood KR, Monson JR, Duthie GS (1997) The optimum bowel preparation for flexible sigmoidoscopy. Eur J Surg Oncol 23: 315–316

5.

Fincher RK, Osgard EM, Jackson JL, Strong JS, Wong RKH (1999) A comparison of bowel preparations for flexible sigmoidoscopy: oral magnesium citrate combined with oral bisacodyl, one hypertonic phosphate enema or two hypertonic phosphate enemas. Am J Gastroenterol 94: 2122–2127

6.

Herman M, Shaw M, Loewen B (2001) Comparison of three forms of bowel preparations for screening flexible sigmoidoscopy. Gastroenterol Nurs 24: 178–181

7.

Osgard E, Jackson JL, Strong J (1998) A randomized trial comparing three methods of bowel preparation for flexible sigmoidoscopy. Am J Gastroenterol 93: 1126–1130

8.

Preston KL, Peluso FE, Goldner F (1997) Optimal bowel preparation for flexible sigmoidoscopy—are two enemas better than one? Gastrointest Endosc 40: 474–476

9.

Standards of Practice Committee, American Society for Gastrointestinal Endoscopy: Faigel D, Eisen G, Baron T, Dominitz J, Goldstein J, Hirota W, Jacobson B, Johanson J, Leighton J (2003) Preparation of patients for GI endoscopy. Gastrointest Endosc 57: 446–450

10.

Underwood D, Makar R, Najfi SM, Neilly P, Gilliland R (2002) Prospective randomized single blind trial of Fleet phosphate enema versus glycerin suppositories as preparation for flexible sigmoidoscopy. Colorect Dis 4(suppl. 1):15

11.

Verne JECW, Aubrey R, Love SB, Talbot IC, Northover JMA (1998) Population based randomised study of uptake and yield of screening by flexible sigmoidoscopy compared with screening by faecal occult blood testing. BMJ 317: 182–185

12.

Weiss BD, Watkins S (1985) Bowel preparation for flexible sigmoidoscopy. J Fam Prac 21: 285–287
Additional information
Presented as a poster at the Digestive Disease Week, New Orleans in May 2004
Abstract published in Gastrointest Endosc 2004; 59(5): 127
About this article
Cite this article
Gidwani, A.L., Makar, R., Garrett, D. et al. A prospective randomized single-blind comparison of three methods of bowel preparation for outpatient flexible sigmoidoscopy. Surg Endosc 21, 945–949 (2007). https://doi.org/10.1007/s00464-006-9111-x
Received:

Accepted:

Published:

Issue Date:
Keywords
Flexible sigmoidoscopy

Fleet enema

Lactulose

Acceptability quality