Abstract
Background
Most studies investigating esophageal motility among the morbidly obese have focused on the relationship between lower esophageal sphincter (LES) pressure and gastroesophageal reflux disease (GERD). Very few studies in the literature have examined motility disorders among the morbidly obese population in general outside the context of GERD. This study aimed to determine the prevalence of esophageal motility disorders in obese patients selected for bariatric surgery.
Methods
A total of 116 obese patients (81 women and 35 men) selected for laparoscopic gastric banding underwent manometric evaluation of their esophagus from January to March 2003. Tracings were retrospectively reviewed for the end points of LES resting pressure, LES relaxation, and esophageal peristalsis.
Results
The study patients had a body mass index (BMI) of 42.9 kg/m2, and a mean age of 48.6 years. The following abnormal manometric findings were demonstrated in 41% of the patients: nonspecific esophageal motility disorders (23%), nutcracker esophagus (peristaltic amplitude >180 mmHg) (11%), isolated hypertensive LES pressure (>35 mmHg) (3%), isolated hypotensive LES pressure (<12 mmHg) (3%), diffuse esophageal spasm (1%), and achalasia (1%). Only one patient with abnormal esophageal motility reported noncardiac chest pain.
Conclusions
Despite a high prevalence of esophageal dysmotility in our morbidly obese study population, there was a conspicuous absence of symptoms. Although the patients in this study were not directly questioned with regard to esophageal symptoms, several studies in the literature support our conclusion.
This is a preview of subscription content, log in to check access.
Access options
Buy single article
Instant access to the full article PDF.
US$ 39.95
Price includes VAT for USA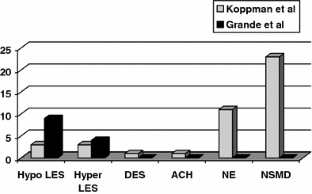 References
1.

Backman L, Granstrom L, Lindahl J, Melcher A (1983) Manometric studies of lower esophageal sphincter in extreme obesity. Acta Chir Scand 149: 193–197

2.

Barak N, Ehrenpreis ED, Harrison JR, Sitrin MD (2002) Gastroesophageal reflux disease in obesity: pathophysiological and therapeutic considerations. Obes Rev 3: 9–15

3.

Buchwald H (2005) Consensus Conference Statement: bariatric surgery for morbid obesity: health implications for patients, health professionals, and third-party payers. J Am Coll Surg 200: 593–604

4.

Clouse R, Staiano A (1983) Contraction abnormalities of the esophageal body in patients referred for manometry: a new approach to manometric classification. Dig Dis Sci 28: 784–791

5.

Fisher B, Pennathur A, Mutnick J, Little A (1999) Obesity correlates with gastroesophageal reflux. Dig Dis Sci 44: 2290–2294

6.

Frezza E, Ikramuddin S, Gourash W, Rakitt T, Kingston A, Luketich J, Schauer P. (2002) Symptomatic improvement in gastroesophageal reflux disease (GERD) following laparoscopic Roun-en-Y gastric bypass. Surg Endosc 16: 1027–1031

7.

Grande L, Lacima G, Ros E, Pera M, Ascaso C, Visa J, Pera C. (1999) Deterioration of esophageal motility with age: a manometric study of 79 healthy subjects. Am J Gastroenterol 94: 1795–1801

8.

Greenstein RJ, Nissan A, Jaffin B (1998) Esophageal anatomy and function in laparoscopic gastric restrictive bariatric surgery: implications for patient selection. Obes Surg 8: 199–206

9.

Hampel H, Abraham N, El-Serag H (2005) Meta-analysis: obesity and the risk for gastroesophageal reflux disease and its complications. Ann Int Med 143: 199–211

10.

Hong D, Kamath M, Wang S, Tabet J, Tougas G, Anvari M (2002). Assessment of the afferent vagal nerve in patients with gastroesophageal reflux. Surg Endosc 16: 1042–1045

11.

Hong D, Khajanchee Y, Pereira N, Lockhart B, Patterson EJ, Swanstrom LL. (2004) Manometric abnormalities and gastroesophageal reflux disease in the morbidly obese. Obes Surg 14: 744–749

12.

Iovino P, Angrisani L, Tremolaterra F, Nirchio E, Ciannella M, Borrelli V, Sabbatini F, Mazzacca G, Ciacci C. (2002) Abnormal esophageal acid exposure is common in morbidly obese patients and improves after successful Lap-Band system implantation. Surg Endosc 16: 1631–1635

13.

Jaffin B, Knoeplmacher P, Greenstein R (1999) High prevalence of asymptomatic esophageal motility disorders among morbidly obese patient. Obes Surg 9: 390–395

14.

Kjellin A, Ramel S, Rossner S, Thor K (1996) Gastroesophageal reflux in obese patients is not reduced by weight reduction. Scand J Gastroenterol 1: 1047–1051

15.

Lagergren J, Bergstrom R, Nyren O (2001) No relation between body mass and gastroesophageal reflux symptoms in a Swedish population–based study. Gut 48: 578–579

16.

Lundell L, Ruth M, Sandberg N, Bove-Nielsen M (1995) Does massive obesity promote abnormal gastroesophageal reflux? Dig Dis Sci 40: 1632–1635

17.

Mercer C, Rue C, Hanelin L, Hill LD (1985) Effect of obesity on esophageal transit. Am J Surg 149: 177–181

18.

O'brien TF Jr (1980) Lower esophageal sphincter pressure (LESP) and esophageal function in obese humans. J Clin Gastroenterol 2: 145–148

19.

Peterson H, Rothschild M, Weinberg C, Fell RD, McLeish KR, Pfeifer MA. (1988) Body fat and the activity of the autonomic nervous system. N Engl J Med 318: 1077–1083

20.

Richter J, Wu W, Johns D, Blackwell JN, Nelson JL 3rd, Castell JA, Castell DO. (1987) Esophageal manometry in 95 healthy adult volunteers: variability of pressures with age and frequency of "abnormal" contractions. Dig Dis Sci 32: 583–592

21.

Sugarbaker D, Kearney D, Richards W (1993) Esophageal physiology and pathophysiology. Surg Clin North Am 73: 1101–1116

22.

Suter M, Dorta G, Giusti V, Calmes JM (2004) Gatroesophageal reflux and esophageal motility disorders in morbidly obese patients. Obes Surg 14: 959–966

23.

Suter M, Dorta G, Giusti V, Calmes JM (2005) Gastric banding interferes with esophageal motility and gastroesophageal reflux. Arch Surg 140: 639–643

24.

Verset D, Houben JJ, Gay F, Elcheroth J, Bourgeois V, Van Gossum A. (1997) The place of upper gastrointestinal tract endoscopy before and after vertical banded gastroplasty for morbid obesity. Dig Dis Sci 42: 2333–2337

25.

Weihrauch TR, Vallerius P, Alpers H, Ewe K (1980) Assessment of various factors influencing esophageal pressure measurement: II. Significance of physiological factors in intraluminal manometry. Klinische Wochenschrift 58: 287–292

26.

Weiss H, Nehoda H, Labeck B, Peer-Kuhberger MD, Klingler P, Gadenstatter M, Aigner F, Westscher GJ. (2000) Treatment of morbid obesity with laparoscopic adjustable gastric banding affects esophageal motility. Am J Surg 180: 479–482

27.

Wilson L, Wenzhou M, Hirschowitz B (1999) Association of obesity with hiatal hernia and esophagitis. Am J Gastroenterol 94: 2840–2844

28.

Xing J, Chen J (2004) Alterations of gastrointestinal motility in obesity. Obes Res 12: 1723–1732

29.

Zacchi P, Mearin F, Humbert P, Formiguera X, Malagelada JR (1991) Effect of obesity on gastroesophageal resistance to flow in man. Dig Dis Sci 36: 1473–1480
Additional information
Podium presentation at the annual meeting of the Society of American Gastrointestinal Endoscopic Surgeons (SAGES), 26–29 April 2006, Dallas, TX, USA
About this article
Cite this article
Koppman, J.S., Poggi, L., Szomstein, S. et al. Esophageal motility disorders in the morbidly obese population. Surg Endosc 21, 761–764 (2007). https://doi.org/10.1007/s00464-006-9102-y
Received:

Accepted:

Published:

Issue Date:
Keywords
Bariatric surgery

Esophageal dysmotility

Gastroesophageal reflux disease

Morbid obesity