Abstract
Background
The transgastric approach is currently being studied as a potentially less invasive alternative to conventional laparoscopy for intra-abdominal surgery. A major obstacle to overcome is the closure of the transgastric incision in a rapid, reproducible, and safe manner. The effectiveness of various techniques for gastrotomy closure were compared by assessing leak pressures in an ex vivo porcine stomach model.
Methods
Whole stomachs from adult white pigs were suspended in a Plexiglas box to facilitate endoscopic technique. Standard gastrotomies were made by needle knife incision and dilation with a controlled radial expansion (CRE) balloon. The first arm used standard QuickClips™; the second, a prototype device developed by LSI Solutions; the third, hand-sewn by a senior surgeon; the final, a control with open gastrotomy. Five stomachs were tested per study arm. After closure, each stomach was inflated by an automated pressure gauge. The pressures to achieve air leakage and liquid leakage were recorded.
Results
The unclosed controls demonstrated air leakage at a median pressure of 15 mmHg, representing baseline system resistance. The QuickClip closures leaked air at a median pressure of 33 mmHg. The prototype gastrotomy device yielded the highest median air leak pressure of 85 mmHg while dramatically diminishing time for incision and gastrotomy closure to approximately 5 min. The hand-sewn closures leaked air at a median pressure of 47 mmHg. Using Kruskal-Wallis statistical analysis, the comparisons were significant (p = 0.0019). Post hoc paired comparisons using MULTTEST procedure with both Bonferroni and bootstrap adjustments revealed that the difference between prototype and clips was significant; prototype versus hand-sewn was not. Liquid-leak pressures produced similar results.
Conclusions
The prototype device decreases procedure time and yields leak-resistant gastrotomy closures that are superior to clips and rival hand-sewn interrupted stitches.
This is a preview of subscription content, log in to check access.
Access options
Buy single article
Instant access to the full article PDF.
US$ 39.95
Price includes VAT for USA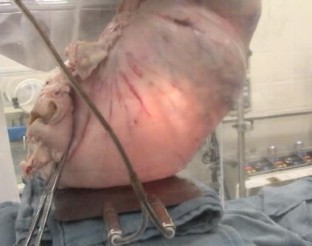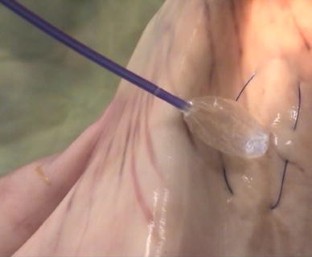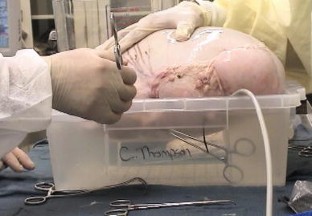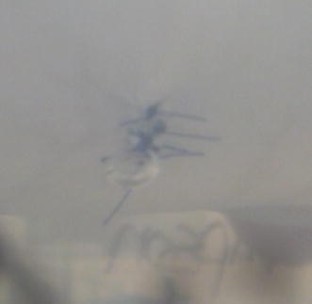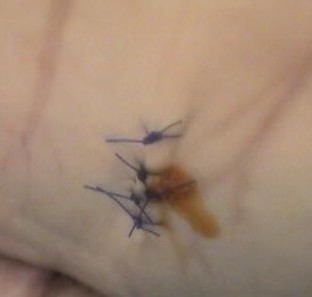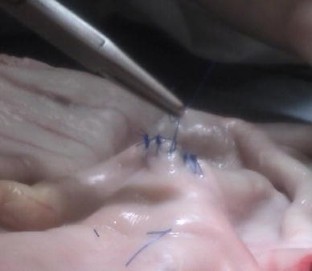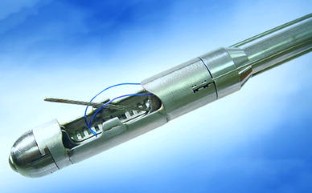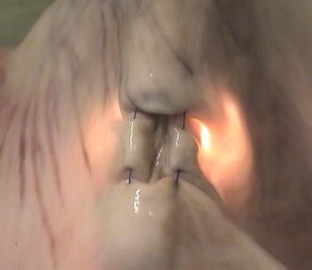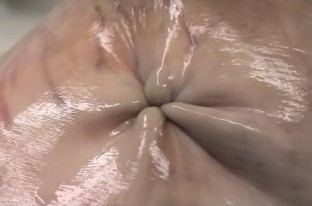 References
1.

Jagannath SB, Kantsevoy SV, Vaughn CA, Chung SS, Cotton PB, Gostout CJ, Hawes RH, Pasricha PJ, Scorpio DG, Magee CA, Pipitone LJ, Kalloo AN (2005) Peroral transgastric endoscopic ligation of fallopian tubes with long-term survival in a porcine model. Gastrointest Endosc 61: 449–453

2.

Kalloo AN, Singh VK, Jagannath SB, Niiyama H, Hill SL, Vaughn CA, Magee CA, Kantsevoy SV (2004) Flexible transgastric peritoneoscopy: a novel approach to diagnostic and therapeutic interventions in the peritoneal cavity. Gastrointest Endosc 60: 114–117

3.

Kantsevoy SV, Jagannath SB, Niiyama H, Chung SS, Cotton PB, Gostout CJ, Hawes RH, Pasricha PJ, Magee CA, Vaughn CA, Barlow D, Shimonaka H, Kalloo AN (2005) Endoscopic gastrojejunostomy with survival in a porcine model. Gastrointest Endosc 62: 287–292

4.

Kantsevoy SV, Hu B, Jagannath SB, Vaughn CA, Beitler DM, Chung SS, Cotton PB, Gostout CJ, Hawes RH, Pasricha PJ, Magee CA, Pipitone LJ, Talamini MA, Kalloo AN (2006) Transgastric endoscopic splenectomy Is it possible? Surg Endosc 20: 522–525

5.

Merrifield B, Wagh M, Thompson C (2004) Endoscopic partial hysterectomy in a porcine model using a novel per-oral transgastric approach. Am J Gastroenterol 99: S312

6.

Merrifield B, Wagh MS, Thompson C (2005) Clinical and pathological outcomes after endoscopic transgastric partial hysterectomy in a porcine model. Gastrointest Endosc 61: AB233

7.

Park PO, Bergstrom M, Ikeda K, Fritscher-Ravens A, Swain P (2005) Experimental studies of transgastric gallbladder surgery: cholecystectomy and cholecystogastric anastomosis (videos). Gastrointest Endosc 61: 601–606

8.

Swanstrom LL, Kozarek R, Pasricha PJ, Gross S, Birkett D, Park PO, Saadat V, Ewers R, Swain P (2005) Development of a new access device for transgastric surgery. J Gastrointest Surg 9: 1129–1136

9.

Wagh M, Merrifield B, Thompson C (2004) Endoscopic transgastric oopherectomy and partial tubectomy in a porcine model. Am J Gastroenterol 99: S306

10.

Wagh MS, Merrifield B, Thompson C (2005) Accuracy of endoscopic transgastric abdominal exploration in a porcine model with systematic organ identification. Gastrointest Endosc 61: AB243

11.

Wagh MS, Merrifield BF, Thompson CC (2005) Endoscopic transgastric abdominal exploration and organ resection: initial experience in a porcine model. Clin Gastroenterol Hepatol 3: 892–896

12.

Wagh MS, Merrifield B, Thompson C (2005) Endoscopic transgastric oopherectomy and tubectomy: survival studies in a porcine model. Gastrointest Endosc 61: AB243
About this article
Cite this article
Ryou, M., Pai, R., Sauer, J. et al. Evaluating an optimal gastric closure method for transgastric surgery. Surg Endosc 21, 677–680 (2007). https://doi.org/10.1007/s00464-006-9075-x
Received:

Revised:

Accepted:

Published:

Issue Date:
Keywords
Transgastric surgery

Gastric closure

Gastrotomy closure

Pursestring suture