Abstract
Background
The sentinel node (SN) concept has attracted considerable attention recently for the treatment of patients with early gastric cancer (EGC). This study evaluated the feasibility of laparoscopic SN navigation achieved by means of an infrared ray electronic endoscopy (IREE) system with indocyanine green (ICG) injection in patients with EGC.
Methods
Laparoscopic SN navigation was performed for 16 patients with preoperatively diagnosed EGC. After identification of SNs, routine laparoscopically assisted distal gastrectomy with lymphadenectomy was performed. Lymph nodes were examined histologically for metastasis by hematoxylin and eosin staining on one section of each node.
Results
One or more SNs and lymphatic basins were detected in all 16 patients. The average number of SNs detected was 2.9. Lymph node metastasis was found in 2 of the 16 patients (13%). In one of these two patients, lymph node metastasis was found in SNs. In the other patient, metastasis was found in a non-SN rather than a SN, but in the same lymphatic basin. The accuracy of this detection method was 94%, and there was one false-negative case. No adverse events occurred after injection of ICG.
Conclusion
Laparoscopic SN navigation by means of IREE combined with ICG injection is feasible for patients undergoing laparoscopic surgery for EGC.
This is a preview of subscription content, log in to check access.
Access options
Buy single article
Instant access to the full article PDF.
US$ 39.95
Price includes VAT for USA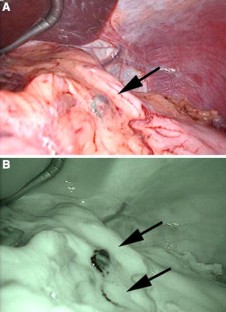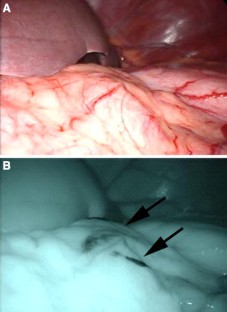 References
1.

Ajisaka H, Miwa K (2003) Micrometastases in sentinel nodes of gastric cancer. Br J Cancer 89: 676–680

2.

Cabanas RM (1977) An approach for the treatment of penile carcinoma. Cancer 39: 456–466

3.

Carlini M, Carboni F, Petric M, Santoro R, Guadagni F, Marandino F, Castelli M, Santoro E (2002) Sentinel node in gastric cancer surgery. J Exp Clin Cancer Res 21: 469–473

4.

Cox CE, Salud CJ, Cantor A, Bass SS, Peltz ES, Ebert MD, Nguyen K, Reintgen DS (2001) Learning curves for breast cancer sentinel lymph node mapping based on surgical volume analysis. J Am Coll Surg 193: 593–600

5.

Furukawa H, Hiratsuka M, Imaoka S, Ishikawa O, Kabuto T, Sasaki Y, Kameyama M, Ohigashi H, Nakano H, Yasuda T, Murata K (1999) Phase II study of limited surgery for early gastric cancer: segmental gastric resection. Ann Surg Oncol 6: 166–170

6.

Gotoda T, Yanagisawa A, Sasako M, Ono H, Nakanishi Y, Shimoda T, Kato Y (2000) Incidence of lymph node metastasis from early gastric cancer: estimation with a large number of cases at two large centers. Gastric Cancer 3: 219–225

7.

Hiratsuka M, Miyashiro I, Ishikawa O, Furukawa H, Motomura K, Ohigashi H, Kameyama M, Sasaki Y, Kabuto T, Ishiguro S, Imaoka S, Koyama H (2001) Application of sentinel node biopsy to gastric cancer surgery. Surgery 129: 335–340

8.

Isozaki H, Okajima K, Momura E, Ichinona T, Fujii K, Izumi N, Takeda Y (1996) Postoperative evaluation of pylorus-preserving gastrectomy for early gastric cancer. Br J Surg 83: 266–269

9.

Japanese Gastric Cancer Association (1998) Japanese classification of gastric carcinoma. 2nd English ed. Gastric Cancer 1: 10–24

10.

Kitagawa Y, Fujii H, Kumai K, Kubota T, Otani Y, Saikawa Y, Yoshida M, Kubo A, Kitajima M (2005) Recent advances in sentinel node navigation for gastric cancer: a paradigm shift of surgical management. J Surg Oncol 90: 147–151

11.

Kitano S, Iso Y, Moriyama M, Sugimachi K (1994) Laparoscopy-assisted Billroth I gastrectomy. Surg Laparosc Endosc 4: 146–148

12.

Lee JH, Ryu KW, Kim CG, Kim SK, Choi IJ, Kim YW, Chang HJ, Bae JM, Hong EK (2005) Comparative study of the subserosal versus submucosal dye injection method for sentinel node biopsy in gastric cancer. Eur J Surg Oncol 31: 965–968

13.

Miwa K, Kinami S, Taniguchi K, Fushida S, Fujimura T, Nonomura A (2003) Mapping sentinel nodes in patients with early-stage gastric carcinoma. Br J Surg 90: 178–182

14.

Narimiya N, Nimura H, Fujisaki J, Arakawa H, Isshi K, Tajiri H (2003) Observation of sentinel lymph nodes using an infrared ray electronic endoscopic system (in Japanese with English abstract). Gastroenterol Endosc 45: 2338–2345

15.

Nimura H, Narimiya N, Mitsumori N, Yamazaki Y, Yanaga K, Urashima M (2004) Infrared ray electronic endoscopy combined with indocyanine green injection for detection of sentinel nodes of patients with gastric cancer. Br J Surg 91: 575–579

16.

Ohgami M, Otani Y, Kumai K, Kubota T, Kim YI, Kitajima M (1999) Curative laparoscopic surgery for early gastric cancer: five years experience. World J Surg 23: 187–192

17.

Otani Y, Furukawa T, Kitagawa Y, Yoshida M, Saikawa Y, Kubota T, Kumai K, Matsui H, Kitajima M (2004) New method of laparoscopy-assisted function-preserving surgery for early gastric cancer: vagus-sparing segmental gastrectomy under sentinel node navigation. J Am Coll Surg 198: 1026–1031

18.

Sawai K, Takahashi T, Fujioka T, Minato H, Taniguchi H, Yamaguchi T (1995) Pylorus-preserving gastrectomy with radical lymph node dissection based on anatomical variations of the infrapyloric artery. Am J Surg 170: 285–288

19.

Shiraishi N, Adachi Y, Kitano S, Bandoh T, Katsuta T, Morimoto A (1999) Indication for and outcome of laparoscopy-assisted Billroth I gastrectomy. Br J Surg 86: 541–544

20.

Siewert JR, Sendler A (2000) Potential and futility of sentinel node detection for gastric cancer. Recent Results Cancer Res 157: 259–269

21.

Soetikno R, Kaltenbach T, Yeh R, Gotoda T (2005) Endoscopic mucosal resection for early cancers of the upper gastrointestinal tract. J Clin Oncol 23: 4490–4498

22.

Tonouchi H, Mohri Y, Tanaka K, Kobayashi M, Ohmori Y, Kusunoki M (2005) Laparoscopic lymphatic mapping and sentinel node biopsies for early-stage gastric cancer: the cause of false negativity. World J Surg 29: 418–421

23.

Weinberg J, Greaney EM (1950) Identification of regional lymph nodes by means of a vital staining dye during surgery of gastric cancer. Surg Gynecol Obstet 90: 561–567
About this article
Cite this article
Ishikawa, K., Yasuda, K., Shiromizu, A. et al. Laparoscopic sentinel node navigation achieved by infrared ray electronic endoscopy system in patients with gastric cancer. Surg Endosc 21, 1131–1134 (2007). https://doi.org/10.1007/s00464-006-9062-2
Received:

Accepted:

Published:

Issue Date:
Keywords
Early gastric cancer

Indocyanine green

Infrared ray electronic endoscopy system

Laparoscopy

Sentinel lymph node