Abstract
Background
Recently, some studies have suggested that sentinel node biopsy also can be applied to gastric cancer. The authors apply sentinel lymph node biopsy in laparoscopy assisted distal gastrectomy to perform it as safe limited surgery. Limited surgery is a procedure in which the extent of lesion resection and lymph node dissection is reduced. The authors demonstrate that intraoperative diagnosis of lymph node metastasis is useful in this respect.
Methods
The study was conducted with 38 patients (29 men and 9 women) who had a preoperative diagnosis of T1 tumor invasion. The patients had a mean age of 66.2 years. Patent blue (1%) was injected submucosally into four or five different sites around the primary tumor at 1 ml per site. Blue-stained lymphatics and lymph nodes could be seen by turning over the greater omentum and the lesser omentum extraperitoneally. If blue nodes were found, biopsy was performed.
Results
The mean number of blue nodes dissected was 2.5 ± 1.9. Intraoperative identification and biopsy of blue nodes could be performed for 35 (92.1%) of the 38 patients. Of the 35 patients in whom blue nodes were identified, 4 (9.7%) had metastases in blue nodes confirmed by intraoperative frozen-section diagnosis. Intraoperative frozen-section diagnosis was negative for blue node metastasis in 31 patients. Postoperative permanent section diagnosis also showed no evidence of lymph node metastasis in these 31 patients (100% accuracy, 0% false-negative rates).
Conclusions
The reported method allows observation of blue-stained lymphatics up to 2 h after patent blue injection. Sentinel node biopsy was performed in laparoscopy assisted distal gastrectomy, making it technically equivalent to open gastrectomy. Sentinel node biopsy can serve as a method to determine the appropriate use of laparoscopy assisted distal gastrectomy for management of T1 gastric cancer.
This is a preview of subscription content, log in to check access.
Access options
Buy single article
Instant access to the full article PDF.
US$ 39.95
Price includes VAT for USA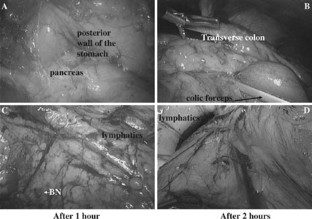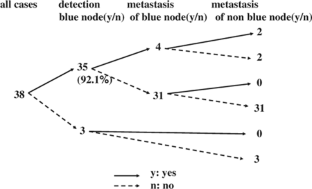 References
1.

Giuliano AE, Jones RC, Brennan M, Statman R (1997) Sentinel lymphadenectomy in breast cancer. J Clin Oncol 15: 2345–2350

2.

Giuliano AE, Kirgan DM, Guether V, Morton DL, et al (1994) Lymphatic mapping and sentinel lymphadenectomy for breast cancer. Ann Surg 220: 391–401

3.

Hiratsuka M, Miyashiro I, Ishikawa O, Furukawa H, Motomura K, et al (2001) Application of sentinel lymph node biopsy to gastric cancer surgery. Surgery 129: 335–340

4.

Japanese Gastric Cancer Association (1999) Japanese classification of gastric carcinoma. 13th ed. Kanehara & Co., Ltd., Tokyo

5.

Japanese Gastric Cancer Association (2001) JGCA gastric cancer treatment guidelines (for physicians). Kanehara & Co., Ltd., Tokyo

6.

Kang JC, Wanek LA, Essner R, Faries MB, Foshag LJ, Morton DL (2005) Sentinel lymphadenectomy does not increase the incidence of in-transit metastases in primary melanoma. J Clin Oncol 23: 4764–4770

7.

Kitagawa Y, Fujii H, Mukai M, Kubora T, Ando N, et al (2000) The role of the sentinel lymph node in gastrointestinal cancer. Surg Clin North Am 80: 1799–1809

8.

Lyman GH, Giuliano AE, Somerfield MR, Benson III AB, Bodurka DC, et al. (2005) American society of clinical oncology guideline recommendations for sentinel lymph node biopsy in early-stage breast cancer. J Clin Oncol 23: 7703–7720

9.

Miwa K (2000) Sentinel node concept and its application for cancer surgery. Nippon Geka Gakkai Zasshi 101: 307–310

10.

Miwa K, Kinami S, Taniguchi K, Fushida S, Fujimura T, Nonomura A (2003) Mapping sentinel nodes in patients with early-stage gastric carcinoma. Br J Surg 90: 178–182

11.

Morton DL, Wen DR, Wong JH, Cagle LA, Storm FK, et al (1992) Technical details of intraoperative lymphatic mapping for early stage melanoma. Arch Surg 127: 392–399

12.

Nimura H, Narimiya N, Mitsumori N, Yamazaki Y, Yanaga K, Urashima M (2004) Infrared ray electronic endoscopy combined with indocianin green injection for detection of sentinel nodes of patients with gastric cancer. Br J Surg 91: 575–579

13.

Rino Y, Imada T, Hasuo K, Takahashi M, Yoneyama K, Onodera S, Yoshikawa T, Shiozawa M, Kabara T, Yukawa H, Ohshima T, Kawamoto M, Takanashi Y (2002) Is sentinel lymph node navigation useful for laparoscopic gastrectomy? Jpn J Cancer Chemother 29: 2294–2297

14.

Rino Y, Imada T, Takahashi M, Hasuo K, Yoneyama K, Yoshikawa T, Kabara T, Yukawa H, Ohshima T, Shiozawa M, Ashida A, Takanashi Y (2000) Laparoscopic gastrectomy for early gastric cancer. Yokohama Igaku 53: 123–128

15.

Veronesi U, Paganelli G, Galimberti V, Viale G, Zurrida S, Bedoni M, et al (1997) Sentinel-node biopsy to avoid axillary dissection in breast cancer with clinically negative lymph-nodes. Lancet 349: 1864–1867
About this article
Cite this article
Rino, Y., Takanashi, Y., Harada, H. et al. Technique and assessment of sentinel lymph node biopsy usefulness in laparoscopy-assisted distal gastrectomy. Surg Endosc 20, 1887–1891 (2006). https://doi.org/10.1007/s00464-006-0043-2
Received:

Accepted:

Published:

Issue Date:
Key words:
Laparoscopy-assisted distal gastrectomy

Sentinel lymph node biopsy