Abstract
The primary management of colorectal cancer begins with preoperative diagnosis and the ability to stage the extent of the tumor burden clinically. Endoscopic approaches have been pivotal in this management strategy, and have given rise to endoscopic techniques allowing for primary resection and treatment of metastases. This advance has allowed for the continued development of pathologic staging as used in the tumor node metastasis (TNM) system. The next major milestone in the staging of large bowel cancer will be to blend current anatomic staging strategies with specific molecular markers that will refine subsets appropriate for targeted therapy.
This is a preview of subscription content, log in to check access.
Access options
Buy single article
Instant access to the full article PDF.
US$ 39.95
Price includes VAT for USA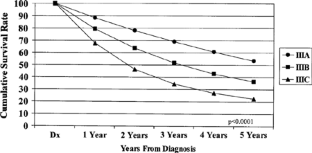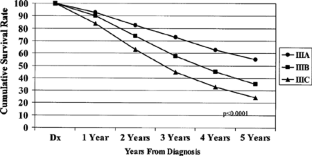 References
1.

Anwar S, Frayling IM, Scott NA, Carlson GL (2004) A systematic review of genetic influences on the prognosis of colorectal cancer. Br J Surg 91: 1275–1291

2.

Astler VB, Coller FA (1954) The prognostic significance of direct extension of carcinoma of the colon and rectum. Ann Surg 139: 846–852

3.

Bertagnolli M, Miedema B, Redston M, Dowell J, Niedzwiecki D, Fleshman J, Bem J, Mayer R, Zinner M, Compton C (2004) Sentinel node staging of resectable colon cancer: results of a multi-center study. Ann Surg 240: 624–630

4.

Compton CC, Fielding LP, Burgart LJ, Conley B, Cooper HS, Hamilton SR, Hammond ME, Henson DE, Hutter RV, Nagle RB, Nielsen ML, Sargent DJ, Taylor CR, Welton M, Willett C (2000) Prognostic factors in colorectal cancer. College of American Pathologists Consensus Statement 1999. Arch Path Lab Med 124: 979–994

5.

Denoix P (1944) Tumor, node, and metastasis (TNM). Bull Inst Nat Hyg (Paris) 1: 1–69

6.

Dukes CE, Bussey HJR (1958) The spread of rectal cancer and its effect on prognosis. Br J Cancer 12: 309–312

7.

Edmonson JM (1991) History of the instruments for gastrointestinal endoscopy. Gastrointest Endosc 37: S27–S56

8.

Eschrich S, Yang I, Bloom G, Kwong KY, Boulware D, Cantor A, Coppola D, Kruhoffer M, Aaltonen L, Orntoft TF, Quackenbush J, Yeatman TJ (2005) J Clin Oncol 23: 3526–3535

9.

Gilchrist RK, David VC (1947) A consideration of pathological factors influencing five-year survival in radical resection of the large bowel and rectum for carcinoma. Ann Surg 126: 421–438

10.

Goldstein NS (2002) Lymph node recoveries from 2,427 pT3 colorectal resection specimens spanning 45 years: recommendation for a minimum number of recovered lymph nodes based on predictive probabilities. Am J Surg Pathol 26: 179–189

11.

Gospodarowicz MK, Miller D, Groome PA, Greene FL, Logan PA, Sobin LH (2004) The process for continuous improvement of the TNM classification. Cancer 100: 1–5

12.

Greene FL, Page DL, Fleming ID, Fritz A, Balch CM, Haller DG, Morrow M (2002) AJCC cancer staging manual, edition 6. Springer-Verlag Publishing, New York

13.

Greene FL, Stewart AK, Norton HJ (2002) A new TNM staging strategy for node-positive (stage III) colon cancer: an analysis of 50,042 patients. Ann Surg 236: 416–421

14.

Greene FL, Stewart AK, Norton HJ (2004) New tumor-node-metastasis staging for node-positive (stage III) rectal cancer: an analysis. J Clin Oncol 22: 1778–1784

15.

Hutter RVP (1987) At last—worldwide agreement on the staging of cancer. Arch Surg 122: 1235–1239

16.

Jessup JM, Menck HR, Winchester DP, Hundahl SA, Murphy GP (1996) The National Cancer Data Base report on patterns of hospital reporting. Cancer 78: 1829–1837

17.

Kirklin JW, Dockerty MD, Waugh JW (1949) The role of peritoneal reflection in the prognosis of carcinoma of the rectum and sigmoid colon. Surg Gynec Obst 88: 326–332

18.

Merkel S, Mansmann U, Papadopoulos T, Wittekind C, Hohenberger W, Hermanek P (2001) The prognostic inhomogeneity of colorectal carcinomas stage III: a proposal for subdivision of stage III. Cancer 92: 2754–2759

19.

Muno AJ, Lain S, Lane DP (2005) P53 abnormalities and outcomes in colorectal cancer: a systematic review. Br J Cancer 92: 434–444

20.

Saha S, Bilchik A, Wiese D, Espinosa M, Badin J, Ganatra BK, Desai D, Kaushal S, Singh T, Arora M (2001) Ultrastaging of colorectal cancer by sentinel lymph node mapping technique: a multicenter trial. Ann Surg Oncol 8 (Suppl): 94–98

21.

Yasuda K, Adachi Y, Shiraishi N, Yamaguchi K, Hirabayashi Y, Kitano S (2001) Pattern of lymph node micrometastasis and prognosis of patients with colorectal cancer. Ann Surg Oncol 8: 300–304
About this article
Cite this article
Greene, F.L. Staging of colon and rectal cancer: from endoscopy to molecular markers. Surg Endosc 20, S475–S478 (2006). https://doi.org/10.1007/s00464-006-0005-8
Received:

Accepted:

Published:

Issue Date:
Keywords
Colorectal cancer staging

Endoscopic assessment

Molecular markers

TNM system