Abstract
Background
Laparoscopic Roux-en-Y gastric bypass (RYGBP) has been used increasingly more often in the past 10 years. The authors summarize their experience and safety/complications data based on 849 laparoscopic RYGBP procedures. They also evaluate the use of the Endopath trocar in terms of trocar-site hernias, bowel obstruction, and elimination of time-consuming fascial closure.
Methods
From July 2000 to December 2003, 849 laparoscopic RYGBP procedures were performed using a bladeless, 12-mm, visual entry trocar. The patients' average body mass index (BMI) was 53.2 kg/m2. The trocar ports (n = 3,744) were not closed. Perioperative and postoperative assessments were performed.
Results
In this study, 74% of the patients were retained for follow-up evaluation (mean, 10 months). Among these patients, no intraoperative bowel or vascular injuries, no mortality, and two trocar-site hernias (0.2%) were found. At 1 year, the mean excess weight loss was 73.4%.
Conclusions
The Endopath trocar system shows a trend toward reducing trocar-site hernias, decreasing bowel obstruction, and eliminating the need for time-consuming fascial closure, although further studies are needed to confirm these findings.
This is a preview of subscription content, log in to check access.
Access options
Buy single article
Instant access to the full article PDF.
US$ 39.95
Price includes VAT for USA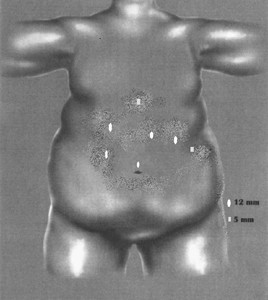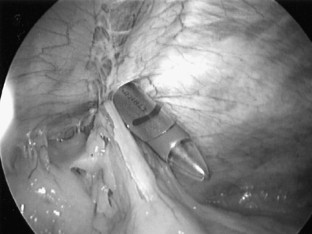 References
1.

Cottam DR, Nguyen NT, Eid GM, Schauer PR (2005) The impact of laparoscopy on bariatric surgery. Surg Endosc 19: 621–627

2.

Farkas DT, Vemulapalli P, Haider A, Lopes JM, Gibbs KE, Teixeira JA (2005) Laparoscopic Roux-en-Y gastric bypass is safe and effective in patients with a BMI ≥ 60. Obes Surg 15: 486–493

3.

Hallfeldt KK, Trupka A, Kalteis T, Stuetzle H (1999) Safe creation of pneumoperitoneum using an optical trocar. Surg Endosc 13: 306–307

4.

Higa KD, Ho T, Boone KB (2001) Laparoscopic Roux-en-Y gastric bypass: technique and 3-year follow-up. J Laparoendosc Adv Surg Tech A 11: 377–382

5.

Jirecek S, Drager M, Leitich H, Nagele F, Wenzl R (2002) Direct visual or blind insertion of the primary trocar: a retrospective survey of 1,546 cases. Surg Endosc 16: 626–629

6.

Lee WJ, Yu PJ, Wang W, Chen TC, Wei PL, Huang MT (2005) Laparoscopic Roux-en-Y versus mini-gastric bypass for the treatment of morbid obesity: a prospective randomized controlled clinical trial. Ann Surg 242: 20–28

7.

Liu CD, McFadden DW (2000) Laparoscopic port sites do not require fascial closure when nonbladed trocars are used. Am Surg 66: 853–854

8.

Matthews BD, Heniford BT, Sing RF (2001) Preperitoneal Richter hernia after a laparoscopic gastric bypass. Surg Laparosc Endosc Percutan Tech 11: 47–49

9.

McCarus SD, Zimberg SE (2004) Gynecological laparoscopy without trocar site closure: a multicenter trial. The journal of the American Association of Gynecologic Laparoscopists. Vol 11, No. 3, Suppl

10.

McKernan JB, Finley CR (2002) Experience with optical trocar in performing laparoscopic procedures. Surg Laparosc Endosc Percutan Tech 12: 96–99

11.

National Institutes of Health, National Heart, Lung, and Blood Institute (1995) Clinical guidelines on the identification, evaluation, and treatment of overweight and obesity in adults. Executive Summary. Accessed October 2, 2005 at http://www.nhlbi.nih.gov/guidelines/obesity/ob_xsum.htm

12.

Olbers T, Fagevik-Olsen M, Maleckas A, Lonroth H (2005) Randomized clinical trial of laparoscopic Roux-en-Y gastric bypass versus laparoscopic vertical banded gastroplasty for obesity. Br J Surg 92: 557–562

13.

Oliak D, Ballantyne GH, Davies RJ, Wasielewski A, Schmidt HJ (2002) Short-term results of laparoscopic gastric bypass in patients with BMI ≥ 60. Obes Surg 12: 643–647

14.

Oliak D, Ballantyne GH, Weber P, Wasielewski A, Davies RJ, Schmidt HJ (2003) Laparoscopic Roux-en-Y gastric bypass: defining the learning curve. Surg Endosc 17: 405–408

15.

Philips PA, Amaral JF (2001) Abdominal access complications in laparoscopic surgery. J Am Coll Surg 192: 525–535

16.

Podnos YD, Jimenez JC, Wilson SE, Stevens CM, Nguyen NT (2003) Complications after laparoscopic gastric bypass: a review of 3464 cases (review). Arch Surg 138: 957–961

17.

Reddy RM, Riker A, Marra D, Thomas R, Brems JJ (2002) Open Roux-en-Y gastric bypass for the morbidly obese in the era of laparoscopy. Am J Surg 184: 611–615

18.

Shalhav AL, Barret E, Lifshitz DA, Stevens LH, Gardner TA, Lingman JE (2002) Transperitoneal laparoscopic renal surgery using blunt 12-mm trocar without fascial closure. J Endourol 16: 43–46

19.

String A, Berber E, Foroutani A, Macho JR, Pearl JM, Siperstein AE (2001) Use of the optical access trocar for safe and rapid entry in various laparoscopic procedures. Surg Endosc 15: 570–573

20.

Wolf JS Jr (1997) Laparoscopic access with a visualizing trocar. Tech Urol 3: 34–37
About this article
Cite this article
Rosenthal, R.J., Szomstein, S., Kennedy, C.I. et al. Direct visual insertion of primary trocar and avoidance of fascial closure with laparoscopic Roux-en-Y gastric bypass. Surg Endosc 21, 124–128 (2007). https://doi.org/10.1007/s00464-005-0823-0
Received:

Accepted:

Published:

Issue Date:
Keywords
Laparoscopic surgery

Morbid obesity

Optically guided trocar insertion

Roux-en-Y gastric bypass

Trocar

Trocar-site closure