Abstract
Background
Process measures describing the generation of movement are useful for evaluation and performance feedback purposes. This study aimed to identify process measures that differ between novice and advanced laparoscopists while completing a suturing skill.
Methods
A group of junior and a group of senior residents and fellows in surgery (n = 6) placed 10 laparoscopic sutures in a synthetic model. Process measures were quantified using an opto-electric motion/force sensor assembly that recorded: instrument rotation, applied forces, time, and time delays between force application and instrument rotation.
Results
Advanced trainees showed increased instrument rotation, higher peak applied force, and faster performance compared to novices (all p < .01). However, over trials, only novices showed adaptations for instrument rotation and total time (interactions at p < .01) with no adaptation for the force application. The difference between the moments of force application and instrument rotation was not sensitive to participant training.
Conclusions
Movement process measures can enhance our understanding of early adaptation processes and how such factors might be used as feedback to facilitate skill acquisition.
This is a preview of subscription content, log in to check access.
Access options
Buy single article
Instant access to the full article PDF.
US$ 39.95
Price includes VAT for USA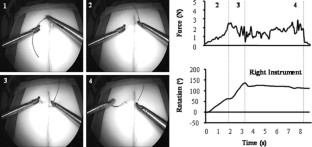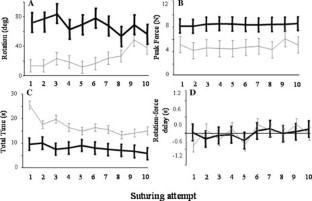 References
1.

Aggarwal R, Hance J, Darzi A (2004) Surgical education and training in the new millennium. Surg Endosc 18: 1409–1410

2.

Aggarwal R, Moorthy K, Darzi A (2004) Laparoscopic skills training and assessment. Br J Surg 91: 1549–1558

3.

Datta V, Chang A, Mackay S, Darzi A (2002) The relationship between motion analysis and surgical technical assessments. Am J Surg 184: 70–73

4.

Datta V, Mackay S, Mandalia M, Darzi A (2001) The use of electromagnetic motion tracking analysis to objectively measure open surgical skill in the laboratory-based model. J Am Coll Surg 193: 479–485

5.

Dubrowski A, Sidhu R, Park J, Carnahan H (2005) Quantification of motion characteristics and forces applied to tissues during suturing. Am J Surg 190: 131–136

6.

Fitts PM, Posner MI (1967) Human performance. Belmont CA, Books: Cole Publishing

7.

Gallagher AG, Satava RM (2002) Virtual reality as a metric for the assessment of laparoscopic psychomotor skills. Learning curves and reliability measures. Surg Endosc 16: 1746–1752

8.

Gentile AM (1972) A working model of skill acquisition with application to teaching. Quest, Monograph 17: 3–23

9.

Gentile AM (2000) Skill acquisition: action, movement, and neuromotor processes. In Carr JH, Shepherd RB (eds), Movement Science: Foundations for Physical Therapy, Rockville, MD, Aspen Publishing, 111–187

10.

Hore J, Watts S, Tweed D (1996) Errors in the control of joint rotations associated with inaccuracies in overarm throws. J Neurophysiol 75: 1013–1025

11.

Hore J, Watts S, Tweed D, Miller B (1996) Overarm throws with the nondominant arm: kinematics of accuracy. J Neurophysiol 76: 3693–3704

12.

Latash ML, Gelfand IM, Li Z-M, Zatsiorsky VM (1998) Changes in the force-sharing pattern induced by modifications of visual feedback during force production by a set of fingers. Exp Brain Res 123: 255–262

13.

Perkins N, Starkes JL, Lee TD, Hutchison C (2002) Learning to use minimal access surgical instruments and 2-dimensional remote visual feedback: how difficult is the task for novices? Adv Health Sci Educ 7: 117–131

14.

Rosser JC, Rosser LE, Savalgi RS (1997) Skill acquisition and assessment for laparoscopic surgery. Arch Surg 132: 200–204

15.

Schmidt RA, Lee TD. (2005) Motor Control and Learning: A Behavioral Emphasis. Champaign, IL, Human Kinetics

16.

Scott DJ, Valentine RJ, Bergen PC, Rege RV, Laycock R, Tesfay ST, Jones DB (2000) Evaluating surgical competency with the American Board of Surgery In-Training Examination, skill testing, and intraoperative assessment. Surgery 128: 613–622

17.

Guadagnoli MA, Lee TD (2004) Challenge point: a framework for conceptualizing the effects of various practice conditions in motor learning. J Mot Behav 36: 212–224
Acknowledgments
This research was supported by separate grants from the Natural Science and Engineering Research Council awarded to A.D. and H.C.
About this article
Cite this article
Dubrowski, A., Larmer, J.C., Leming, J.K. et al. Quantification of process measures in laparoscopic suturing. Surg Endosc 20, 1862–1866 (2006). https://doi.org/10.1007/s00464-005-0759-4
Received:

Accepted:

Published:

Issue Date:
Keywords
Movement

Forces

Surgical education

Evaluation

Technical skills