Abstract
Background
The Gore suture passer instrument is an ideal reusable device for various laparoscopic procedures albeit with a few drawbacks. The needle is not self-retracting inside the sheath and this leads to incomplete (manual) retraction of the needle, causing bending and breakage of the needle tip. The intracorporeal orientation of the suture grasper is difficult to maintain because the needle and suture grasper is fully rotational inside the handle.
Methods
We rectified these drawbacks by inserting a spring below the connecting nut in the handle component to make the needle self-retracting. The needle and suture grasper was stabilized by a screw in the main body of the handle to fit in a longitudinal slot cut on the brass connecting nut.
Results
Our modification made the needle and suture grasper self-retracting inside the sheath and stabilize the needle during the insertion. We have used this modified suture passer on 80 patients without breakage and bending of the needle.
Conclusion
This modification has made this device user friendly, steady, and has reduced the operation time.
This is a preview of subscription content, log in to check access.
Access options
Buy single article
Instant access to the full article PDF.
US$ 39.95
Price includes VAT for USA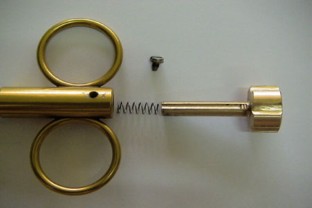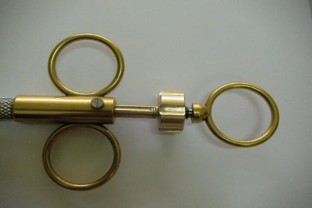 References
1.

Costanza MJ, Heniford BT, Arca MJ, Mayes JT, Gagner M (1998) Laparoscopic repair of recurrent ventral hernias. Am Surg 64: 1121–1127

2.

Leblanc KA (2004) Laparoscopic incisional and ventral hernia repair: complications—how to avoid and handle. Hernia 8: 323–331

3.

Phillips E, Dardano AN, Saxe A (1997) Laparoscopic repair of abdominal hernias using an ePTFE patch—a modification of a previously described technique. J Soc Laparoendosc Surg 1: 277–279

4.

Salameh JR (2005) Suture passer tip breakage during laparoscopic ventral hernia repair. Surg Laparosc Endosc Percut Tech 15: 112–114

5.

Varghese TK, Denham DW, Dawes LG, Murayama KM, Prystowsky JB, Joehl RJ (2002) Laparoscopic ventral hernia repair: an initial institutional experience. J Surg 105: 115–118
About this article
Cite this article
Golash, V. Modification of Gore suture passer instrument. Surg Endosc 20, 1619–1620 (2006). https://doi.org/10.1007/s00464-005-0673-9
Received:

Accepted:

Published:

Issue Date:
Keywords