Abstract
Background
Jejunal pouch interposition (JPI) is known as a useful gastric replacement procedure after total gastrectomy. The JPI procedure, however, has not been applicable to laparoscopically assisted total gastrectomy (LATG) because of its technical complexity and difficulty. This study aimed to describe our modified LATG/JPI technique, and to evaluate its feasibility, safety, and early postoperative functional outcome.
Methods
Between September 2002 and August 2003, LATG/JPI was attempted for five patients (3 men and 2 women) with early gastric cancers in the upper portion of the stomach. The mean age of the patients was 57 years, and their BMI was 21 kg/m2. Using a 5-port technique, the gastric arteries were laparoscopically clipped and divided with adequate lymphatic dissection. After completion of gastric resection, the anvil of a circular stapling device was placed in the esophageal stump. An 8-cm minilaparotomy then was performed, and the 12-cm pouch was created extracorporeally in the "reverse U" fashion. The stapled pouch-esophagostomy was performed under laparoscopic monitoring. The remainder of the procedure was accomplished under direct vision.
Results
All cases were managed laparoscopically without any complications. The mean operating time was 407 min, and the blood loss was 279 ml. All the patients showed rapid and uneventful recovery. Postoperative studies, including dual scintigraphy, showed that all jejunal pouches were satisfactorily functioning.
Conclusions
This study showed LATG/JPI to be feasible and safe. With technical modifications, LATG/JPI can become a potentially effective option for improving patients' quality of life after total gastrectomy.
This is a preview of subscription content, log in to check access.
Access options
Buy single article
Instant access to the full article PDF.
US$ 39.95
Price includes VAT for USA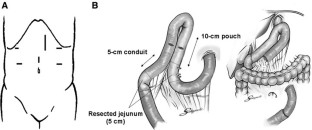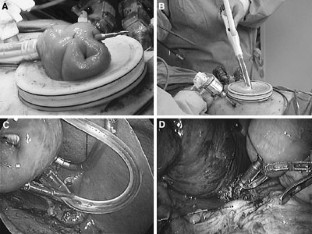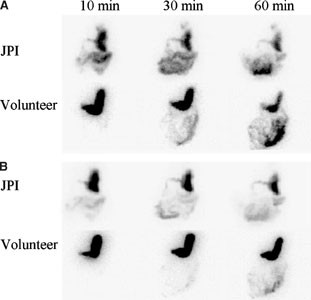 References
1.

Adachi Y, Shiraishi N, Shiromizu A, Bandoh T, Aramaki M, Kitano S (2000) Laparoscopic assisted Billroth I gastrectomy compared with conventional open gastrectomy. Arch Surg 135: 806–810

2.

Adachi Y, Suematsu T, Shiraishi N, Katsuta T, Morimoto A, Kitano S, Akazawa K (1999) Quality of life after laparoscopically assisted Billroth I gastrectomy. Ann Surg 229: 49–54

3.

Asao T, Osouchi Y, Nakabayashi T, Haga N, Mochiki E, Kuwano H (2001) Laparoscopically assisted total or distal gastrectomy with lymph node dissection for early gastric cancer. Br J Surg 88: 128–132

4.

Dulucq JL, Wintringer P, Perissat J, Mahajna A (2005) Completely laparoscopic total and partial gastrectomy for benign and malignant diseases: a single institute's prospective analysis. J Am Coll Surg 200: 191–197

5.

Horiuchi T, Shimomatsuya T, Chiba Y (2001) Laparoscopically assisted pylorus-preserving gastrectomy. Surg Endosc 15: 325–328

6.

Kitano S, Iso Y, Moriyama M, Sugimachi K (1994) Laparoscopy-assisted Billroth I gastrectomy. Surg Laparosc Endosc 4: 146–148

7.

Mochiki E, Kamimura H, Haga N, Asao T, Kuwano H (2002) The technique of laparoscopically assisted total gastrectomy with jejunal interposition for early gastric cancer. Surg Endocs 16: 540–544

8.

Schwartz A, Buchler M, Usinger K, Rieger H, Glasbrenner B, Friess H, Kunz R, Beger GH (1996) Importance of the duodenal passage and pouch volume after total gastrectomy and reconstruction with the Ulm pouch: prospective randomized clinical study. World J Surg 20: 60–67

9.

Tono C, Terashima M, Takagane A, Abe K (2003) Ideal reconstruction after gastrectomy by the interposition of a jejunal pouch considered by emptying time. World J Surg 27: 1113–1118

10.

Uyama I, Sugioka A, Fujita J, Komori Y, Matsui H, Hasumi A (1999) Laparoscopic total gastrectomy with distal pancreatosplenectomy and D2 lymphadenectomy for advanced gastric cancer. Gastric Cancer 2: 230–234

11.

Yumiba T, Kawahara H (2002) Impact of esophageal bile exposure on the genesis of reflux esophagitis in the absence of gastric acid after total gastrectomy. Am J Gastroenterol 97: 1647–1652
About this article
Cite this article
Omori, T., Nakajima, K., Endo, S. et al. Laparoscopically assisted total gastrectomy with jejunal pouch interposition. Surg Endosc 20, 1497–1500 (2006). https://doi.org/10.1007/s00464-005-0613-8
Received:

Accepted:

Published:

Issue Date:
Keywords
Jejunal pouch interposition

Laparoscopic surgery

Pouch function

Reconstruction

Total gastrectomy