Abstract
Background
Simulated minimal access surgery has improved recently as both a learning and assessment tool. The construct validation of a novel simulator, ProMis, is described for use by residents in training.
Methods
ProMis is a surgical simulator that can design tasks in both virtual and actual reality. A pilot group of surgical residents ranging from novice to expert completed three standardized tasks: orientation, dissection, and basic suturing. The tasks were tested for construct validity. Two experienced surgeons examined the recorded tasks in a blinded fashion using an objective structured assessment of technical skills format (OSATS: task-specific checklist and global rating score) as well as metrics delivered by the simulator.
Results
The findings showed excellent interrater reliability (Cronbach's α of 0.88 for the checklist and 0.93 for the global rating). The median scores in the experience groups were statistically different in both the global rating and the task-specific checklists (p < 0.05). The scores for the orientation task alone did not reach significance (p = 0.1), suggesting that modification is required before ProMis could be used in isolation as an assessment tool.
Conclusions
The three simulated tasks in combination are construct valid for differentiating experience levels among surgeons in training. This hybrid simulator has potential added benefits of marrying the virtual with actual, and of combining simple box traits and advanced virtual reality simulation.
This is a preview of subscription content, log in to check access.
Access options
Buy single article
Instant access to the full article PDF.
US$ 39.95
Price includes VAT for USA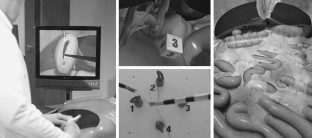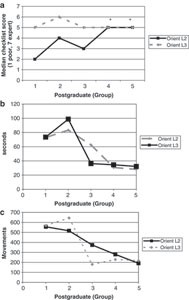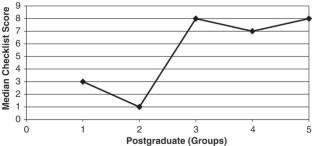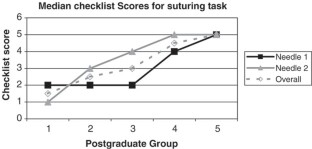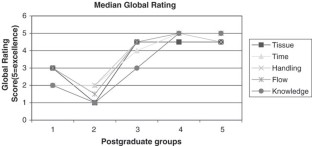 References
1.

Aggarwal R, Undre S, Moorthy K, Vincent C, Darzi A (2004) The simulated operating theatre: comprehensive training for surgical teams. Qual Saf Health Care 13(Suppl 1): i27–i32

2.

Barnes RW (1987) Surgical handicraft: teaching and learning surgical skills. Am J Surg 153: 422–427

3.

Broe D, Ridgway PF, Johnson S, Tierney S, Conlon KC (2004) Validation of a novel hybrid surgical simulator. EAES forum, Barcelona, 2004

4.

Datta V, Bann S, Beard J, Mandalia M, Darzi A (2004) Comparison of bench test evaluations of surgical skill with live operating performance assessments. J Am Coll Surg 199: 603–606

5.

Datta V, Chang A, Mackay S, Darzi A (2002) The relationship between motion analysis and surgical technical assessments. Am J Surg 184: 70–73

6.

Datta V, Mackay S, Mandalia M, Darzi A (2001) The use of electromagnetic motion tracking analysis to objectively measure open surgical skill in the laboratory-based model. J Am Coll Surg 193: 479–485

7.

Faulkner H, Regehr G, Martin J, Reznick R (1996) Validation of an objective structured assessment of technical skill for surgical residents. Acad Med 71: 1363–1365

8.

Gonzalez R, Bowers SP, Smith CD, Ramshaw BJ (2004) Does setting specific goals and providing feedback during training result in better acquisition of laparoscopic skills? Am Surg 70: 35–39

9.

Martin JA, Reznick RK, Rothman A, Tamblyn RM, Regehr G (1996) Who should rate candidates in an objective structured clinical examination? Acad Med 71: 170–175

10.

Reznick R, Regehr G, MacRae H, Martin J, McCulloch W (1997) Testing technical skill via an innovative "bench station" examination. Am J Surg 173: 226–230

11.

Ridgway PF, Ziprin P, Datta VK, Khan MS, Bann SD, Peck DH, Darzi AW, Bouchier-Hayes D (2002) Laboratory-based validation of a novel suture technique for wound closure. Ann Plast Surg 49: 291–296
About this article
Cite this article
Broe, D., Ridgway, P.F., Johnson, S. et al. Construct validation of a novel hybrid surgical simulator. Surg Endosc 20, 900–904 (2006). https://doi.org/10.1007/s00464-005-0530-x
Received:

Accepted:

Published:

Issue Date:
Keywords
Construct

Hybrid

Simulation

Surgery

Training

Validity