Abstract
Background
Transrectal ultrasound (TRUS) is the most sensitive and accurate technique for preoperative staging and follow-up of rectal cancer. One of the most relevant problems of this technique is that the assessment of TRUS is possible only during real-time examination. Furthermore, interpretation of the ultrasound findings is difficult and requires long experience. We show the development of a new, cost-effective software solution for off-line examination and documentation of transrectal ultrasound.
Methods
The ultrasound device is connected to a frame-grabber card in a standard PC. Video capturing is done using a freeware software solution and various video codecs. The whole examination course is recorded. The examiner only has to concentrate on producing an artifact-free realization of the examination.
Results
The software solution offers a flexible review of each individual "frame" of the investigation on the personal computer, very similar to CT and MRI scans. Infiltration depth and lymph node status can be assessed at any time, independently of the investigation and the investigator. The picture quality is excellent even if a lossy codec is used. It is not necessary to do definitive assessment of the TRUS during the examination.
Conclusions
This new technique gives a cost-effective possibility for high-quality off-line staging, re-examination, re-evaluation, and documentation of rectal cancer. TRUS becomes an examiner-independent objective examination technique for staging and follow-up of rectal cancer.
This is a preview of subscription content, log in to check access.
Access options
Buy single article
Instant access to the full article PDF.
US$ 39.95
Price includes VAT for USA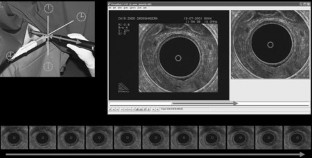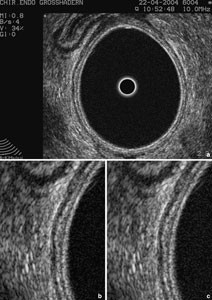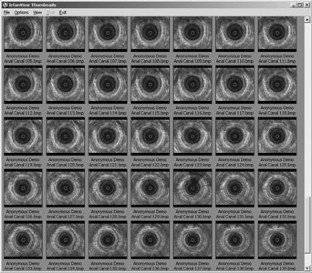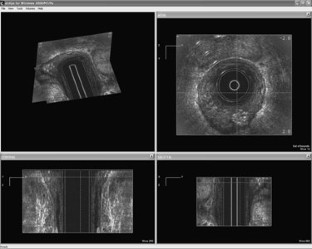 References
1.

Adams DR, Blatchford GJ, Lin KM, Ternent CA, Thorson AG, Christensen MA (1999) Use of preoperative ultrasound staging for treatment of rectal cancer. Dis Colon Rectum 42: 159–166

2.

ben Rudiak-Gould (2001) Huffyuv v. 2.1.1. http://www.math. berkeley.edu/∼benrg/huffyuv.html

3.

Carmody BJ, Otchy DP (2000) Learning curve of transrectal ultrasound. Dis Colon Rectum 43: 193–197

4.

Garcia-Aguilar J, Pollack J, Lee SH, Hernandez de AnE, Mellgren A, Wong WD, Finne CO, Rothenberger DA, Madoff RD (2002) Accuracy of endorectal ultrasonography in preoperative staging of rectal tumors. Dis Colon Rectum 45: 10–15

5.

Glaser F, Kuntz C, Schlag P, Herfarth C (1993) Endorectal ultrasound for control of preoperative radiotherapy of rectal cancer. Ann Surg 217: 64–71

6.

Karson TH, Zepp RC, Chandra S, Morehead A, Thomas JD (1996) Digital storage of echocardiograms offers superior image quality to analog storage, even with 20:1 digital compression: results of the Digital Echo Record Access Study. J Am Soc Echocardiogr 9: 769–778

7.

Kim JC, Yu CS, Jung HY, Kim HC, Kim SY, Park SK, Kang GH, Lee MG (2001) Source of errors in the evaluation of early rectal cancer by endoluminal ultrasonography. Dis Colon Rectum 44: 1302–1309

8.

Kwok H, Bissett IP, Hill GL (2000) Preoperative staging of rectal cancer. Int J Colorectal Dis 15: 9–20

9.

Lee A (2004) VirtualDub. http://www.virtualdub.org/index

10.

Lohnert MS, Doniec JM, Henne-Bruns D (2000) Effectiveness of endoluminal sonography in the identification of occult local rectal cancer recurrences. Dis Colon Rectum 43: 483–491

11.

Marusch F, Koch A, Schmidt U, Zippel R, Kuhn R, Wolff S, Pross M, Wierth A, Gastinger I, Lippert H (2002) Routine use of transrectal ultrasound in rectal carcinoma: results of a prospective multicenter study. Endoscopy 34: 385–390

12.

Mascagni D, Corbellini L, Urciuoli P, Di Matteo G (1989) Endoluminal ultrasound for early detection of local recurrence of rectal cancer. Br J Surg 76: 1176–1180

13.

Mullick R (2003) Multi-dimensional volume visualization and analysis software, co-developed by the National Institutes of Health (NIH) and the National University of Singapore (NUS) under CRADA (CACR-645). http://www.cc.nih.gov/cip/software/etdips/

14.

Novell F, Pascual S, Viella P, Trias M (1997) Endorectal ultrasonography in the follow-up of rectal cancer. Is it a better way to detect early local recurrence? Int J Colorectal Dis 12: 78–81

15.

Orrom WJ, Wong WD, Rothenberger DA, Jensen LL, Goldberg SM (1990) Endorectal ultrasound in the preoperative staging of rectal tumors. A learning experience. Dis Colon Rectum 33: 654–659

16.

Pegasus Imaging Corporation (2001) PICVideo Motion JPEG. http://www.jpg.com/

17.

Ramirez JM, Mortensen NJ, Takeuchi N, Humphreys MM (1994) Endoluminal ultrasonography in the follow-up of patients with rectal cancer. Br J Surg 81: 692–694

18.

Rotondano G, Esposito P, Pellecchia L, Novi A, Romano G (1997) Early detection of locally recurrent rectal cancer by endosonography. Br J Radiol 70: 567–571

19.

Santoro G, Di Falco G (2004) Atlas of endocanal and endorectal ultrasonography. Spinger-Verlag, Milan, Italy

20.

Skiljan I (2004) IrfanView. http://www.irfanview.com/

21.

Slone RM, Muka E, Pilgram TK (2003) Irreversible JPEG compression of digital chest radiographs for primary interpretation: assessment of visually lossless threshold. Radiology 228: 425–429

22.

Tarantino D, Bernstein MA (2002) Endoanal ultrasound in the staging and management of squamous-cell carcinoma of the anal canal: potential implications of a new ultrasound staging system. Dis Colon Rectum 45: 16–22

23.

Tschmelitsch J, Glaser K, Schwarz C, Judmair G, Bodner E (1992) Endosonography (ES) in the diagnosis of recurrent cancer of the rectum. J Ultrasound Med 11: 149–153
Acknowledgments
We thank Heidi Leicht for her assistance in manuscript preparation.
About this article
Cite this article
Weidenhagen, R., Strauss, T., Gruetzner, K.U. et al. Development of a cost-effective system for digital off-line analysis of transrectal ultrasound. Surg Endosc 20, 487–494 (2006). https://doi.org/10.1007/s00464-005-0352-x
Received:

Accepted:

Published:

Issue Date:
Keywords
Transrectal

Ultrasound

Digital

Documentation

Cost-effective