Abstract
Background
Laparoscopic Heller myotomy is the standard operation for achalasia. The incidence of esophageal perforation is approximately 5% to 10%. Data about the safety and utility of robotically assisted Heller myotomy (RAHM) are scarce. The aim of this study was to assess the efficacy and safety of RAHM for the treatment of esophageal achalasia.
Methods
From a prospectively maintained database, demographic data, symptoms, esophagograms, manometries, and perioperative data from all the RAHMs performed between September 2002 and February 2004 were analyzed.
Results
A total of 54 patients underwent RAHM, including 26 men. The mean age of these patients was 43 years (range, 14–75 years). Dysphagia was present in 100% of the patients. Of the 54 patients, 26 (48%) had undergone previous treatment including pneumatic dilation (17 patients), Botox injections (4 patients), or both of these treatments (5 patients). The dissection was performed laparoscopically, and the myotomy was performed with robotic assistance. The operative time, including the robot setup time, averaged 162 min (range, 62–210 min). Blood loss averaged 24 ml. No mucosal perforations were observed. The hospital length of stay was 1.5 days. There were no deaths. At 17 months, 93% of the patients had relief of their dysphagia.
Conclusions
The findings showed RAHM to be safe and effective, with a 0% incidence of perforation and relief of symptoms for 91% of the patients.
This is a preview of subscription content, log in to check access.
Access options
Buy single article
Instant access to the full article PDF.
US$ 39.95
Price includes VAT for USA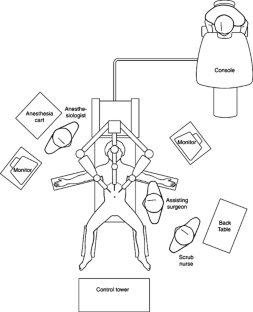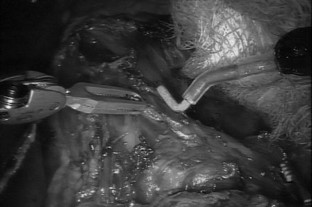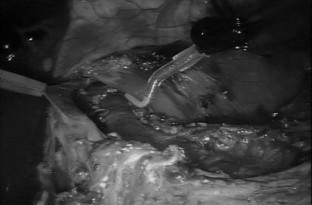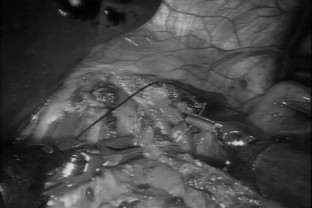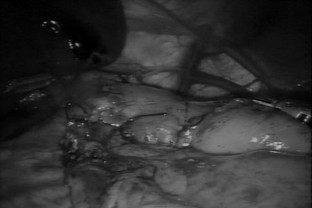 References
1.

Bloomston M, Serafini F, Boyce HW, Rosemurgy AS (2002) The "learning curve" in videoscopic Heller myotomy. J Laparoendosc Surg 6: 41–47

2.

Bloomston M, Serafini F, Rosemurgy AS (2001) Videoscopic Heller myotomy as first-line therapy for severe achalasia. Am Surg 67: 1105–1109

3.

Bonavina L, Rosati R, Segalin A, Peracchia A (1995) Laparoscopic Heller–Dor operation for the treatment of oesophageal achalasia: technique and early results. Ann Chir Gynaecol 84: 165–168

4.

Chaer RA, Jacobsen G, Elli F, Harris J, Goldstein A, Horgan S (2004) Robotic-assisted laparoscopic pediatric Heller's cardiomyotomy. J Laparoendosc Adv Surg Tech A 14: 270–273

5.

Csendes A, Braghetto I, Henriquez A, Cortes C (1989) Late results of a prospective randomised study comparing forceful dilatation and oesophagomyotomy in patients with achalasia. Gut 30: 299–304

6.

Donahue PE, Horgan S, Liu KJ, Madura JA (2002) Floppy Dor fundoplication after esophagocardiomyotomy for achalasia. Surgery 132: 716–722, discussion 722–723

7.

Donahue PE, Teresi M, Patel S, Schlesinger PK (1999) Laparoscopic myotomy in achalasia: intraoperative evidence for myotomy of the gastric cardia. Dis Esophagus 12: 30–36

8.

Finley RJ, Clifton JC, Stewart KC, Graham AJ, Worsley DF (2001) Laparoscopic Heller myotomy improves esophageal emptying and the symptoms of achalasia. Arch Surg 136: 892–896

9.

Goldblum JR, Whyte RI, Orringer MB, Appelman HD (1994) Achalasia: a morphologic study of 42 resected specimens. Am J Surg Pathol 18: 327–337

10.

Heller E (1913) Extramucöse Cardioplastie beim chronischen Cardiospasmus mit Dilatation des Oesophagus. Mitt Grengeb Med Chir 2: 141–149

11.

Horgan S, Hudda K, Eubanks T, McAllister J, Pellegrini CA (1999) Does botulinum toxin injection make esophagomyotomy a more difficult operation? Surg Endosc 13: 576–579

12.

Oelschlager BK, Chang L, Pellegrini CA (2003) Improved outcome after extended gastric myotomy for achalasia. Arch Surg 138: 490–495, discussion 495–497

13.

Patti MG, Feo CV, Arcerito M, De Pinto M, Tamburini A, Diener U, Gantert W, Way LW (1999) Effects of previous treatment on results of laparoscopic Heller myotomy for achalasia. Dig Dis Sci 44: 2270–2276

14.

Patti MG, Fisichella PM, Perretta S, Galvani C, Gorodner MV, Robinson T, Way LW (2003) Impact of minimally invasive surgery on the treatment of esophageal achalasia: a decade of change. J Am Coll Surg 196: 698–703, discussion 703–705

15.

Patti MG, Pellegrini CA, Horgan S, Arcerito M, Omelanczuk P, Tamburini A, Diener U, Eubanks TR, Way LW (1999) Minimally invasive surgery for achalasia: an 8-year experience with 168 patients. Ann Surg 230: 587–593, discussion 593–594

16.

Pellegrini CA, Wetter LA, Patti M, Leichter R, Mussan G, Mori T, Bernstein G, Way L (1992) Initial experience with a new approach for the treatment of achalasia. Ann. Surg 216: 291–296

17.

Rakita S, Bloomston M, Villadolid D, Thometz D, Zervos E, Rosemurgy A (2005) Esophagotomy during laparoscopic Heller myotomy cannot be predicted by preoperative therapies and does not influence long-term outcome. J Gastrointest Surg 9: 159–164

18.

Richards WO, Torquati A, Holzman MD, Khaitan L, Byrne D, Lutfi R, Sharp KW (2004) Heller myotomy versus Heller myotomy with Dor fundoplication for achalasia: a prospective randomized double-blind clinical trial. Ann Surg 240: 405–412, discussion 412–415

19.

Sharp KW, Khaitan L, Scholz S, Holzman MD, Richards WO (2002) 100 consecutive minimally invasive Heller myotomies: lessons learned. Ann Surg 235: 631–638, discussion 638–639

20.

Shimi S, Nathanson LK, Cuschieri A (1991) Laparoscopic cardiomyotomy for achalasia. J R Coll Surg Edinb 36: 152–154

21.

Spiess AE, Kahrilas PJ (1998) Treating achalasia: from whalebone to laparoscope. JAMA 280: 638–642

22.

Vaezi MF, Richter JE (1998) Current therapies for achalasia: comparison and efficacy. J Clin Gastroenterol 21–35

23.

West RL, Hirsch DP, Bartelsman JF, de Borst J, Ferwerda G, Tytgat GN, Boeckxstaens GE (2002) Long-term results of pneumatic dilation in achalasia followed for more than 5 years. Am J Gastroenterol 97: 1346–1351

24.

Willis T (1672) Pharmaceutice Rationalis: Sive Diatriba de Medicamentorum: Operationibus in Humano Corpore. Hagae-Comitis, London

25.

Zaninotto G, Costantini M, Molena D, Buin F, Carta A, Nicoletti L, Ancona E (2000) Treatment of esophageal achalasia with laparoscopic Heller myotomy and Dor partial anterior fundoplication: prospective evaluation of 100 consecutive patients. J Gastrointest Surg 4: 282–289

26.

Zaninotto G, Costantini M, Molena D, Portale G, Costantino M, Nicoletti L, Ancona E (2001) Minimally invasive surgery for esophageal achalasia. J Laparoendosc Adv Surg Tech 11: 351–359
Acknowledgment
This study was supported in part by a grant provided by Intuitive Surgical Company.
About this article
Cite this article
Galvani, C., Gorodner, M.V., Moser, F. et al. Laparoscopic Heller myotomy for achalasia facilitated by robotic assistance. Surg Endosc 20, 1105–1112 (2006). https://doi.org/10.1007/s00464-005-0272-9
Received:

Accepted:

Published:

Issue Date:
Keywords
Achalasia

Esophageal perforation

Heller myotomy

Robotic surgery