Abstract
Background:
The increasing number of routinely performed laparoscopic operations causes the surgeons' "screen work" time to rise constantly. A new ergonomic workload on the surgeons' upper spine and shoulders is created as a result of the standard screen height position on top of the laparoscopy towers.
Methods:
Eight surgeons in the authors' surgical department were evaluated for the inclination/reclination angle of their cervical spine when using the laparoscopy towers in the authors' department and also at their favorable screen height.
Results:
The laparoscopy towers used in the authors' department made 3° to 14° reclination of the cervical spine necessary. The interviewed surgeons preferred a position of slight inclination, with a median of 160 cm measured from the central screen height to the floor.
Conclusion:
Monitors of laparoscopy towers should be adapted to the surgeon's preferred screen height: at eye level frontally with a neutral or slight inclination of the cervical spine. The authors suggest a central screen height of 160 cm, with the monitor positioned in front of the surgeon. Newer equipment from the industry should be provided.
This is a preview of subscription content, log in to check access.
Access options
Buy single article
Instant access to the full article PDF.
US$ 39.95
Price includes VAT for USA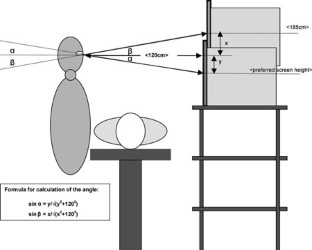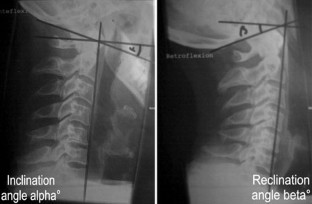 References
1.

Berguer R, Forkey DL, Smith WD (1999) Ergonomic problems associated with laparoscopic surgery. Surg Endosc 13: 466–468

2.

Berguer R, Forkey DL, Smith WD (2001) The effect of laparoscopic instrument working angle on surgeons' upper extremity workload. Surg Endosc 15:1027–1029

3.

Berguer R, Gerber S, Kilpatrick G, Remler M, Beckley D (1999) A comparison of forearm and thumb muscle electromyographic responses to the use of laparoscopic instruments with either a finger grasp or a palm grasp. Ergonomics 42: 1634–1645

4.

Berguer R, Rab GT, Abu-Ghaida H, Alarcon A, Chung J (1997) A comparison of surgeons' posture during laparoscopic and open surgical procedures. Surg Endosc 11: 139–142

5.

Berguer R, Smith WD, Chung YH (2001) Performing laparoscopic surgery is significantly more stressful for the surgeon than open surgery. Surg Endosc 15: 1204–1207

6.

Berquer R, Smith WD, Davis S (2002) An ergonomic study of the optimum operating table height for laparoscopic surgery. Surg Endosc 16: 416–421

7.

Brown SI, White C, Wipat K, Hanna GB, Frank TG, Cuschieri A (2004) Characterizing the "gold standard" image for laparoscopic surgery. Surg Endosc 18: 1192–1195

8.

Hanna GB, Shimi S, Cuschieri A (1997) Influence of direction of view, target-to-endoscope distance, and manipulation angle on endoscopic knot tying. Br J Surg 84: 1460–1464

9.

Hanna GB, Shimi SM, Cuschieri A (1998) Task performance in endoscopic surgery is influenced by location of the image display. Ann Surg 227: 481–484

10.

Matern U, Faist M, Kehl K, Giebmeyer C, Buess G (2005) Monitor position in laparoscopic surgery. Surg Endosc 19: 436–440; Epub Jan 10, 2005

11.

Matern U, Kuttler G, Giebmeyer C, Waller P, Faist M (2004) Ergonomic aspects of five different types of laparoscopic instrument handles under dynamic conditions with respect to specific laparoscopic tasks: an electromyographic-based study. Surg Endosc 18: 1231–1241

12.

Smith WD, Berguer R, Nguyen NT (2005) Monitor height affects surgeons' stress level and performance on minimally invasive surgery tasks. Stud Health Technol Inform 111: 498–501

13.

Veelen MA, Jakimowicz JJ, Goossens RH, Meijer DW, Bussmann JB (2002) Evaluation of the usability of two types of image display systems during laparoscopy. Surg Endosc 16: 674–8, Epub December 31, 2001
About this article
Cite this article
Zehetner, J., Kaltenbacher, A., Wayand, W. et al. Screen height as an ergonomic factor in laparoscopic surgery. Surg Endosc 20, 139–141 (2006). https://doi.org/10.1007/s00464-005-0251-1
Received:

Accepted:

Published:

Issue Date:
Keywords
Ergonomic settings

Laparoscopy

Screen height