Abstract
This report describes the authors' early outcomes with implantable gastric stimulation (IGS) used to achieve weight loss in patients with a low body mass index (BMI). After prescreening of potential candidates with a selection algorithm, 24 patients (21 women and 3 men) with a low BMI (30–34.9) underwent IGS implantation at two centers. The patients had a mean age of 43 years (range, 32–60 years), a mean BMI of 33 (range, 30–36), and a mean weight of 92 kg (range, 80–117 kg). At this writing, 6 months postoperatively, there have been no serious adverse events related to the device. The mean percentage of excess weight loss (EWL) was 5.9%, with three patients explanted because of noncompliance. The mean waist circumference decreased 5.8%, which was significant (p = 0.009). A subset of nine patients (37.5%) had an EWL exceeding 10% (mean, 20.1%). A subset of low BMI patients lost a clinically significant amount of weight with IGS within 6 months. Further study is required for better identification of potential candidates for this novel approach.
This is a preview of subscription content, log in to check access.
Access options
Buy single article
Instant access to the full article PDF.
US$ 39.95
Price includes VAT for USA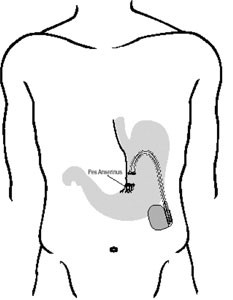 References
1.

DeMaria EJ, Sugerman HJ, Kellum JM (2002) Results of 281 consecutive total laparoscopic Roux-en-Y gastric bypasses to treat morbid obesity. Ann Surg 235: 640–647

2.

Luca MD, Segato G, Busetto L, Favretti F, Aigner F, Weiss H, Gheldere C, Gaggiotti G, Himpens J, Liamo J, Scheyer M, Toppino M, Zurmeyer EL, Bottani G, Penthaler H (2004) Progress in implantable gastric stimulation: summary of results of the European multicenter study. Obes Surg 14: S33–S39

3.

Mason EE, Doherty C, Cullen JJ (1998) Vertical gastroplasty: evolution of vertical banded gastroplasty. World J Surg 22: 919–924

4.

NIH Consensus Statement. (1991) Gastrointestinal surgery for severe obesity. Ann Intern Med 115: 956

5.

Obrien PE, Brown WA, Smith A (1999) Prospective study of a laparoscopically placed adjustable gastric band in the treatment of obesity. Br J Surg 85: 113–118

6.

Schauer PR, Ikramuddin S, Gourash W (2000) Outcomes after laparoscopic Roux-en-Y gastric bypass for morbid obesity. Ann Surg 232: 515–529

7.

Shikora SA (2004) Implantable gastric stimulation for the treatment of severe obesity. Obes Surg 14: 545–548
Additional information
Presented at the Society of American Gastrointestinal and Endoscopic Surgeons (SAGES) meeting, Fort Lauderdale, FL, April 2005
About this article
Cite this article
Champion, J.K., Williams, M., Champion, S. et al. Implantable gastric stimulation to achieve weight loss in patients with a low body mass index. Surg Endosc 20, 444–447 (2006). https://doi.org/10.1007/s00464-005-0223-5
Received:

Accepted:

Published:

Issue Date:
Keywords
Bariatric surgery

Implantable gastric stimulation

Weight loss