Abstract
Background
The authors have previously demonstrated that insulin-like growth factor binding protein-3 (IGFBP-3) is depleted in plasma for 1 to 3 days after major open surgery (OS), but not after laparoscopic surgery (LS). After surgery, IGFP-3 cleavage occurs rapidly and is likely attributable to altered plasma proteolytic activity. This study aimed to assess plasma proteolysis after both open and closed colorectal resection and, if possible, to identify a protease/protease inhibitor system affected by surgery.
Methods
Plasma from 88 patients with colorectal cancer (stages I–III) who underwent resection was obtained preoperatively (pre-OP) and on postoperative days (POD) 1 to 3. Plasma proteolytic activity was assessed via zymography. On the basis of the results, specific protease and protease inhibitor concentrations were next measured via enzyme-linked immunoassay (ELISA). Statistical analysis was performed using Wilcoxon's test.
Results
Early after surgery, zymography showed a predominant band representing a 92-kDa gelatinase corresponding to a proform of matrix metalloproteinase-9 (MMP-9), a protease known to cleave IGFBP-3. In OS patients, the mean concentration of plasma MMP-9 was significantly higher on POD 1 than at pre-OP (p < 0.003). On POD 2 and 3, no differences were noted. In the LS group, the mean levels of MMP-9 before and after surgery were comparable. The levels of a natural MMP-9 inhibitor, tissue inhibitor of metalloproteinase-1 (TIMP-1), also were measured. In the OS group, the level of TIMP-1 was significantly higher on POD 1 (p < 0.0003) and POD 2 (p < 0.01) and 3 (p < 0.01) than at pre-OP. In the LS group, a smaller but significant increase in TIMP-1 levels was found between the pre-OP sample and the POD 1 (p < 0.01) and POD 2 (p < 0.01) samples. No difference was noted on POD 3 (p = 0.1).
Conclusions
Open surgery, but not laparoscopic surgery, is accompanied by a short-lived significant increase in MMP-9 levels, which likely accounts for the decrease in IGFBP-3 levels observed after OS. The transitory nature of MMP-9 imbalance may be attributable to the increase in TIMP-1 levels postoperatively.
This is a preview of subscription content, log in to check access.
Access options
Buy single article
Instant access to the full article PDF.
US$ 39.95
Price includes VAT for USA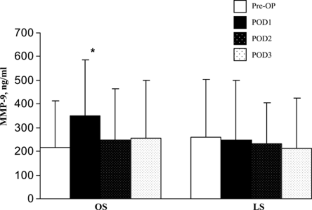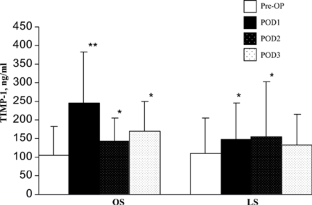 References
1.

Allendorf JD, Bessler M, Kayton ML, Oesterling SD, Treat MR, Nowygrod R, Whelan RL (1995) Increased tumor establishment and growth after laparotomy vs laparoscopy in a murine model. Arch Surg 130: 649–653

2.

Aparicio T, Kermorgant S, Dessirier V, Lewin MJ, Lehy T (1999) Matrix metalloproteinase inhibition prevents colon cancer peritoneal carcinomatosis development and prolongs survival in rats. Carcinogenesis 20: 1445–1451

3.

Dallas SL, Rosser JL, Mundy GR, Bonewald LF (2002) Proteolysis of latent transforming growth factor-beta (TGF-beta )–binding protein-1 by osteoclasts: a cellular mechanism for release of TGF-beta from bone matrix. J Biol Chem. 277: 21352–21360

4.

Descamps FJ, Van den Steen PE, Martens E, Ballaux F, Geboes K, Opdenakker G (2003) Gelatinase B is diabetogenic in acute and chronic pancreatitis by cleaving insulin. FASEB J 17: 887–889

5.

Dubois B, Peumans WJ, Van Damme EJ, Van Damme J, Opdenakker G (1998) Regulation of gelatinase B (MMP-9) in leukocytes by plant lectins. FEBS Lett 8: 275–278

6.

Fowlkes JL, Enghild JJ, Suzuki K, Nagase H (1994) Matrix metalloproteinases degrade insulin-like growth factor–binding protein-3 in dermal fibroblast cultures. J Biol Chem 269: 25742–25746

7.

Holten-Andersen MN, Christensen IJ, Nielsen HJ, Stephens RW, Jensen V, Nielsen OH, Sorensen S, Overgaard J, Lilja H, Harris A, Murphy G, Brunner N (2002) Total levels of tissue inhibitor of metalloproteinases 1 in plasma yield high diagnostic sensitivity and specificity in patients with colon cancer. Clin Cancer Res 8: 156–164

8.

Kallakury BV, Karikehalli S, Haholu A, Sheehan CE, Azumi N, Ross JS (2001) Increased expression of matrix metalloproteinases 2 and 9 and tissue inhibitors of metalloproteinases 1 and 2 correlate with poor prognostic variables in renal cell carcinoma. Clin Cancer Res 7: 3113–3119

9.

Kirman I, Cekic V, Poltaratskaia N, Asi Z, Bessler M, Huang EH, Forde KA, Whelan RL (2002) Plasma from patients undergoing major open surgery stimulates in vitro tumor growth: lower insulin-like growth factor–binding protein 3 levels may, in part, account for this change. Surgery 132: 186–192

10.

Kirman I, Cekic V, Poltoratskaia N, Sylla P, Jain S, Forde KA, Whelan RL (2004) Open surgery induces a dramatic decrease in circulating intact IGFBP-3 in patients with colorectal cancer not seen with laparoscopic surgery. Surg Endosc 19: 55–59

11.

Kridel SJ, Chen E, Kotra LP, Howard EW, Mobashery S, Smith JW (2001) Substrate hydrolysis by matrix metalloproteinase-9. J Biol Chem 276: 20572–20578

12.

Lozonschi L, Sunamura M, Kobari M, Egawa S, Ding L, Matsuno S (1999) Controlling tumor angiogenesis and metastasis of C26 murine colon adenocarcinoma by a new matrix metalloproteinase inhibitor, KB-R7785, in two tumor models. Cancer Res 59: 1252–1258

13.

Manes S, Llorente M, Lacalle RA, Gomez-Mouton C, Kremer L, Mira E, Martinez-AC (1999) The matrix metalloproteinase-9 regulates the insulin-like growth factor–triggered autocrine response in DU-145 carcinoma cells. J Biol Chem 274: 6935–6945

14.

Matsuyama A, Sakai N, Ishigami M, Hiraoka H, Kashine S, Hirata A, Nakamura T, Yamashita S, Matsuzawa Y (2003) Matrix metalloproteinases as novel disease markers in Takayasu arteritis. Circulation 108: 1469–1473

15.

Nielsen BS, Timshel S, Kjeldsen L, Sehested M, Pyke C, Borregaard N, Dano K (1996) 92 kDa type IV collagenase (MMP-9) is expressed in neutrophils and macrophages but not in malignant epithelial cells in human colon cancer. Int J Cancer 65: 57–62

16.

Shankavaram UT, DeWitt DL, Wahl LM (1998) Lipopolysaccharide induction of monocyte matrix metalloproteinases is regulated by the tyrosine phosphorylation of cytosolic phospholipase A2. J Leukoc Biol 64: 221–227

17.

Sheu BC, Hsu SM, Ho HN, Lien HC, Huang SC, Lin RH (2001) A novel role of metalloproteinase in cancer-mediated immunosuppression. Cancer Res 61: 237–242

18.

Stumpf M, Klinge U, Wilms A, Zabrocki R, Rosch R, Junge K, Krones C, Schumpelick V (2005) Changes of the extracellular matrix as a risk factor for anastomotic leakage after large bowel surgery. Surgery 137: 229–234

19.

Swallow CJ, Murray MP, Guillem JG (1996) Metastatic colorectal cancer cells induce matrix metalloproteinase release by human monocytes. Clin Exp Metastasis 14: 3–11

20.

Takino T, Koshikawa N, Miyamori H, Tanaka M, Sasaki T, Okada Y, Seiki M, Sato H (2003) Cleavage of metastasis suppressor gene product KiSS-1 protein/metastin by matrix metalloproteinases. Oncogene 22: 4617–4626

21.

Tarlton JF, Vickery CJ, Leaper DJ, Bailey AJ (1997) Postsurgical wound progression monitored by temporal changes in the expression of matrix metalloproteinase-9. Br J Dermatol 137: 506–516

22.

Tchetverikov I, Lard LR, DeGroot J, Verzijl N, TeKoppele JM, Breedveld FC, Huizinga TW, Hanemaaijer R (2003) Matrix metalloproteinases-3, -8, -9 as markers of disease activity and joint damage progression in early rheumatoid arthritis. Ann Rheum Dis 62: 1094–1099

23.

Trocme C, Gaudin P, Berthier S, Barro C, Zaoui P, Morel F (1998) Human B lymphocytes synthesize the 92-kDa gelatinase, matrix metalloproteinase-9. J Biol Chem 273: 20677–20684

24.

Tsuchiya Y, Sawada S, Yoshioka I, Ohashi Y, Matsuo M, Harimaya Y, Tsukada K, Saiki I (2003) Increased surgical stress promotes tumor metastasis. Surgery 133: 547–555

25.

Van Den Steen PE, Wuyts A, Husson SJ, Proost P, Van Damme J, Opdenakker G (2003) Gelatinase B/MMP-9 and neutrophil collagenase/MMP-8 process the chemokines human GCP-2/CXCL6, ENA-78/CXCL5 and mouse GCP-2/LIX and modulate their physiological activities. Eur J Biochem 270: 3739–3749

26.

Ylisirnio S, Hoyhtya M, Makitaro R, Paaakko P, Risteli J, Kinnula VL, Turpeenniemi-Hujanen T, Jukkola A (2001) Elevated serum levels of type I collagen degradation marker ICTP and tissue inhibitor of metalloproteinase (TIMP) 1 are associated with poor prognosis in lung cancer. Clin Cancer Res 7: 1633–1637
About this article
Cite this article
Kirman, I., Jain, S., Cekic, V. et al. Altered plasma matrix metalloproteinase-9/tissue metalloproteinase-1 concentration during the early postoperative period in patients with colorectal cancer. Surg Endosc 20, 482–486 (2006). https://doi.org/10.1007/s00464-005-0222-6
Received:

Accepted:

Published:

Issue Date:
Keywords
Colonic neoplasms

Matrix metalloproteinase

Metalloproteinase inhibitor

Surgery