Abstract
Background
The role of laparoscopic surgery for malignant gallbladder tumors remains uncertain. This study compared the surgical results of laparoscopic versus conventional open cholecystectomy for patients with early-stage gallbladder carcinoma and examined the role of laparoscopic surgery for early gallbladder carcinomas.
Methods
Data for the treatment of gallbladder carcinomas were gathered from Chang Gung Memorial Hospital (Linkou, Taiwan). A retrospective analysis of 40 patients with either stage 0 or stage 1 gallbladder carcinoma was performed. The patients were categorized into two groups on the basis of cholecystectomy procedures. The long-term outcomes for the two groups were compared.
Results
During the follow-up period, which ranged from 6.5 to 197.6 months, four patients in the conventional open cholecystectomy group encountered tumor recurrence, and one patient in the laparoscopic cholecystectomy group experienced distant tumor recurrence (p = 0.216). No local port-site tumor recurrence was identified in patients who underwent laparoscopic cholecystectomy. The overall 5-year survival rate in this series was 87.1%. A comparison of survival rates between the two groups demonstrated no significant difference (p = 0.340).
Conclusion
The laparoscopic cholecystectomy procedure did not adversely influence the prognosis of patients with early-stage gallbladder carcinomas. Furthermore, meticulous removal of gallbladders during laparoscopic surgery, in which early gallbladder carcinoma can be managed successfully using laparoscopic cholecystectomy, achieved a satisfactory surgical result and a low port-site tumor recurrence rate.
This is a preview of subscription content, log in to check access.
Access options
Buy single article
Instant access to the full article PDF.
US$ 39.95
Price includes VAT for USA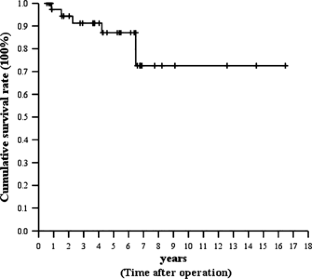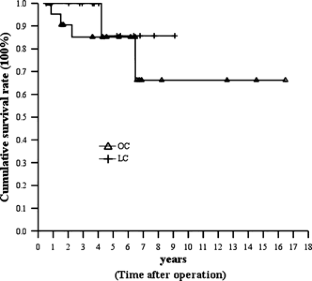 References
1.

American Joint Committee on Cancer (2002) AJCC cancer staging manual. 6th ed. Springer-Verlag, New York, pp 145–149

2.

Bouvy ND, Marquet RL, Jeekel J, Bonjer HJ (1997) Laparoscopic surgery is associated with less tumor growth stimulation than conventional surgery: an experimental study. Br J Surg 84: 358–361

3.

Champault G, Taffinder N, Ziol M, Riskalla H, Catheline JMC (1997) Cells are present in the smoke created during laparoscopic surgery. Br J Surg 84: 993–995

4.

Chao TC, Jeng LB, Jan YY, Hwang TL, Wang CS, Chen MF (1998) Concurrent primary carcinoma of the gallbladder and acute cholecystitis. Hepatogastroenterology 45: 921–926

5.

Clair DG, Lautz DB, Brooks DC (1993) Rapid development of umbilical metastases after laparoscopic cholecystectomy for unsuspected gallbladder carcinoma. Surgery 113: 355–358

6.

Darabos N, Stare R (2004) Gallbladder cancer: laparoscopic and classic cholecystectomy. Surg Endosc 18: 144–147

7.

Donohue JH, Steward AK, Menck HR (1998) The national cancer data base report on carcinoma of the gallbladder, 1989–1995. Cancer 83: 2618–2628

8.

Fong Y, Brennan M, Turnbull A, Colt DG, Blumgart LH (1993) Gallbladder cancer discovered during laparoscopic cholecystectomy: potential for iatrogenic tumor dissemination. Arch Surg 128: 1054–1056

9.

Kapoor VK (2001) Incidental gallbladder carcinoma. Am J Gastroenterol 96: 627–629

10.

Kondo S, Nimura Y, Hayakawa N, Kamiya J, Nagino M, Uesaka K (2002) Extensive surgery for carcinoma of the gallbladder. Br J Surg 89: 179–184

11.

Kraas E, Frauenschuh D, Farke S (2002) Intraoperative suspicious of gallbladder carcinoma in laparoscopic surgery: what we do? Dig Surg 19: 489–493

12.

Lee KF, Wong J, Li JC, Lai PB (2004) Polypoid lesions of the gallbladder. Am J Surg 188: 186–190

13.

Liu KJ, Richter HM, Cho MJ, Jarad J, Nadimpalli V, Donahue PE (1997) Carcinoma involving the gallbladder in elderly patients presenting with acute cholecystitis. Surgery 122: 748–754

14.

Miyazaki M, Ito H, Nakagawa K, Ambiru S, Shimizu H, Okuno A, Nozawa S, Nukui Y, Yoshitomi H, Furuya S, Kusashio K, Nakajima N (1999) Does aggressive surgical resection improve the outcome in advanced gallbladder carcinoma? Hepatogastroenterology 46: 2128–2132

15.

Miyazaki M, Itoh H, Ambiru S, Shimizu H, Togawa A, Gohchi E, Nakajima N, Suwa T (1996) Radical surgery for advanced gallbladder carcinoma. Br J Surg 83:478–481

16.

Nakamura S, Sakaguchi S, Suzuki S, Muro H (1989) Aggressive surgery for carcinoma of gallbladder. Surgery 106: 467–473

17.

Nduka CC, Monson JRT, Menzies-Gow N, Darzi A (1994) Abdominal wall metastases following laparoscopy. Br J Surg 81: 648–652

18.

Ricardo AE, Feig BW, Ellis LM, Hunt KK, Curley SA, Macfadyen BV, Mansfield PF (1997) Gallbladder cancer and trocar-site recurrences. Am J Surg 174: 619–622

19.

Shirai Y, Yoshida K, Tsukada K, Muto T (1992) Inapparent carcinoma of the gallbladder: an appraisal of a radical second operation after simple cholecystectomy. Ann Surg 215: 326–331

20.

Shirai Y, Yoshida K, Tsukada K, Muto T, Watanabe H (1992) Early carcinoma of the gallbladder. Eur J Surg 158: 545–548

21.

Wakai T, Shirai Y, Yokoyama N, Nagakura S, Watanabe H, Hatakeyama K (2001) Early gallbladder carcinoma does not warrant radical resection. Br J Surg 88: 675–678

22.

Wu JS, Brasfield EB, Guo LW, Ruiz M, Connett JM, Philpott GW, Jones DB, Fleshman JW (1997) Implantation of colon cancer at trocar sites is increased by low-pressure pneumoperitoneum. Surgery 122: 1–7

23.

Yeh CN, Jan YY, Chao TC, Chen MF (2001) Laparoscopic cholecystectomy for polypoid lesions of the gallbladder: a clinicopathologic study. Surg Laparosc Endosc Percutan Tech 11: 176–181

24.

Z'graggen K, Birrer S, Maurer CA, Wehrli H, Klaiber C, Baer HU (1998) Incidence of port-site recurrence after laparoscopic cholecystectomy for preoperatively unsuspected gallbladder carcinoma. Surgery 124: 831–838
About this article
Cite this article
Chan, K., Yeh, T., Jan, Y. et al. Laparoscopic cholecystectomy for early gallbladder carcinoma: long-term outcome in comparison with conventional open cholecystectomy. Surg Endosc 20, 1867–1871 (2006). https://doi.org/10.1007/s00464-005-0195-5
Received:

Accepted:

Published:

Issue Date:
Keywords
Early gallbladder carcinoma

Laparoscopic cholecystectomy

Open cholecystectomy

Port-site tumor recurrence