Abstract
Background
Groin hernia is an uncommon surgical pathology in females. The efficacy of the endoscopic approach for the repair of female groin hernia has yet to be examined. The current study was undertaken to compare the clinical outcomes of female patients who underwent open and endoscopic totally extraperitoneal inguinal or femoral hernioplasty (TEP).
Methods
From July 1998 to June 2004, 108 female patients who underwent elective repair of groin hernia were recruited. The patients were divided into TEP (n = 30) and open groups (n = 78) based on the type of operation. Clinical data and outcome parameters were compared between the two groups.
Results
The mean ages and hernia types were comparable between the two groups. All TEPs were successfully performed. The mean operative times were 52 min for unilateral TEP and 51 min for open repair. The difference was not statistically significant. Comparisons of the length of hospital stay, postoperative morbidity, pain score, and time taken to resume normal activities showed no significant differences between the two groups. A single patient in the TEP group experienced recurrence of hernia.
Conclusions
The findings show equivalent postoperative outcomes after TEP and open repair of groin hernia in female patients. Because the wound scar after open repair is well concealed beneath the pubic hair and no superior clinical benefits are observed after TEP, open repair appears to be the technique of choice for the management of primary groin hernia in females. The TEP approach should be reserved for female patients with recurrent or multiple groin hernia.
This is a preview of subscription content, log in to check access.
Access options
Buy single article
Instant access to the full article PDF.
US$ 39.95
Price includes VAT for USA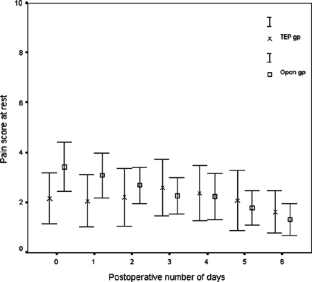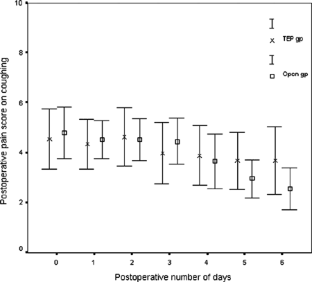 References
1.

Andersson B, Hallen M, Leveau P, Bergenfelz A, Westerdahl J (2003) Laparoscopic extraperitoneal inguinal hernia repair versus open mesh repair: a prospective randomized controlled trial. Surgery 133: 464–472

2.

Colak T, Akca T, Kanik A, Aydin S (2003) Randomized clinical trial comparing laparoscopic totally extraperitoneal approach with open mesh repair in inguinal hernia. Surg Laparosc Endosc Percutan Tech 13: 191–195

3.

Glassow F, (1973) An evaluation of the strength of the posterior wall of the inguinal canal in women. Br J Surg 60: 342–344

4.

Grant AM, Scott NW, O'Dwyer PJ, MRC Laparoscopic Groin Hernia Trial Group (2004) Five-year follow-up of a randomized trial to assess pain and numbness after laparoscopic or open repair of groin hernia. Br J Surg 91: 1570–1574

5.

Hernendez-Richter T, Schardey HM, Rau HG, Schildberg FW, Meyer G (2000) The femoral hernia: an ideal approach for the transabdominal preperitoneal technique (TAPP). Surg Endosc 14: 736–740

6.

Lau H, (2003) Preperitoneal collection after endoscopic extraperitoneal inguinal hernioplasty in a patient with malignant ascites. JSLS 7: 173–175

7.

Lau H, Patil NG (2004) Acute pain after endoscopic totally extraperitoneal (TEP) inguinal hernioplasty: multivariate analysis of predictive factors. Surgical Endoscopy 18: 92–96

8.

Mikkelsen T, Bay-Nielsen M, Kehlet H (2002) Risk of femoral hernia after inguinal herniorrhaphy. Br J Surg 89: 486–488

9.

Munschi IA, Wantz GE (1996) Management of recurrent and perivascular femoral hernias by giant prosthetic reinforcement of the visceral sac. J Am Coll Surg 182: 417–422

10.

Nyhus LM (1993) Individualization of hernia repair: a new era. Surgery 114: 1–2

11.

Robinson ME, Riley JL III, Brown FF, Gremillion H (1998) Sex differences in response to cutaneous anesthesia: a double-blind randomized study. Pain 77: 143–149

12.

Rutkow IM, (1998) Epidemiologic, economic, and sociologic aspect of hernia surgery in the United States in the 1990s. Surg Clin North Am 78: 941–951

13.

Tok EC, Ertunc D, Dilek U, Pata O, Erdogan O, Aydin S (2004) The prevalence of stress incontinence among women operated on for abdominal wall hernias. Acta Obstet Gynecol Scand 83: 962–964

14.

Woodward AM, Choe EU, Flint LM, Ferrara JJ (1998) The incidence of secondary hernias diagnosed during laparoscopic total extraperitoneal inguinal herniorrhaphy. J Laparoendosc Adv Surg Tech A 8: 33–38

15.

Yalamarthi S, Kumar S, Stapleton E, Nixon SJ (2004) Laparoscopic totally extraperitoneal mesh repair for femoral hernia. J Laparoendsoc Adv Surg Tech A 14: 358–361
Acknowledgments
The authors acknowledge the kind assistance of Dr. T. C. Tan in editing the manuscript.
Additional information
The abstract was presented at the Scientific Session of the Society of American Gastrointestinal and Endoscopic Surgeons (SAGES) 2005, 13–16 April 2005 at Fort Lauderdale, Florida
About this article
Cite this article
Lau, H., Patil, N.G. & Yuen, W.K. Is endoscopic totally extraperitoneal hernioplasty justified for the repair of groin hernia in female patients?. Surg Endosc 19, 1544–1548 (2005). https://doi.org/10.1007/s00464-005-0101-1
Received:

Accepted:

Published:

Issue Date:
Keywords
Female

Femoral hernia

Inguinal hernia

Inguinal herniorrhaphy

Laparoscopy