Abstract
Background
Preoperative procedures are often necessary to localize pulmonary nodules during thoracoscopic resection in order to reduce the necessity of resorting to thoracotomy. The aim of this report is to describe the strategy we developed to limit preoperative techniques without reducing the thoracoscopic success rate of localization.
Methods
Between January 2000 and December 2003, 183 patients underwent video thoracoscopic resection of small pulmonary nodules. The patients were divided into two groups on the basis of the radiological features of the nodule. The subjects in group 1 were operated on directly, and endothoracic ultrasonography was performed when necessary. The subjects in group 2 underwent preoperative radionuclide labeling of the nodule.
Results
In group 1, 112 out of 119 nodules (94%) were localized. Twenty-five out of 32 lesions, neither visible nor palpable, were found by endothoracic ultrasonography. In group 2, we localized 62 out of 64 nodules (97%).
Conclusions
Currently, we cannot completely avoid preoperative labeling techniques for thoracoscopic resection of small pulmonary nodules. However, correct patient selection may limit this necessity, without an increased conversion rate to thoracotomy, if endothoracic ultrasonography is available.
This is a preview of subscription content, log in to check access.
Access options
Buy single article
Instant access to the full article PDF.
US$ 39.95
Price includes VAT for USA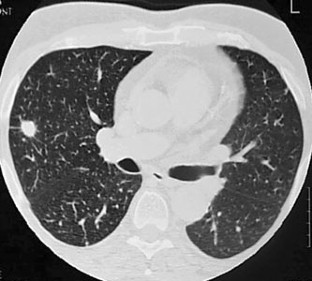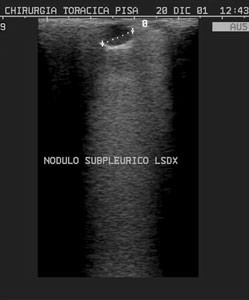 References
1.

Blum J, Handmaker H, Lister-James J, Rinne N, the Neo-Tect Solitary Pulmonary Nodule Study Group (2000) A multicenter trail with a somatostatin analog 99Tc depreotide in the evaluation of solitary pulmonary nodules. Chest 117: 1232–1238

2.

Chella A, Lucchi M, Ambrogi MC, Menconi G, Melfi FMA, Gonfiotti A, Boni G, Angeletti CA (2000) A pilot study of the role of Tc-99 radionuclide in localization of pulmonary nodular lesions for thoracoscopic resection. Eur J Cardio-Thorac Surg 18: 17–21

3.

Daghighian F, Mazziotta JC, Hoffman EJ, Shenderov P, Eshaghinan B, Siegel S, Phelps ME (1994) Intraoperative beta probe: a device for detecting tissue labeled with positron or electron isotopes during surgery. Med Phys 21: 153–157

4.

De Kerviler E, Gossot D, Frija J (1996) Localization techniques for the thoracoscopic resection of pulmonary nodules. Int Surg 81: 241–244

5.

Demmy TL, Wagner-Mann CC, James MA, Curtis JJ, Schmaltz RA, Walls JT (1997) Feasibility of mathematical models to predict success in video-assisted thoracic surgery lung nodule excision. Am J Surg 174: 20–23

6.

Greenfield AL, Steiner RM, Liu JB, Cohn HE, Goldberg BB, Rawool MN, Merton DA (1997) Sonographic guidance for the localization of peripheral nodules during thoracoscopy. Am J Roentgenol 168: 1057–1060

7.

Horan TA, Pinheiro PM, Araujo LM, Santiago FF, Rodriguez MR (2002) Massive gas embolism during pulmonary nodule hook wire localization. Ann Thorac Surg 73: 1647–1649

8.

Jimenez MF (2001) Prospective study on video-assisted thoracoscopic surgery in the resection of pulmonary nodules: 209 cases from the Spanish Video-Assisted Thoracic Surgery Study Group. Eur J Cardio-Thorac Surg 19: 562–565

9.

Kerviler E, Gossot D, Celerier M, Frija J (1998) Limitations of intraoperative sonography for the localization of pulmonary nodules during thoracoscopy. Am J Roentgenol 170: 214–215

10.

Kunazawa S, Ando A, Yasui K, Mitani M, Hiraki Y, Shimizu N, Hamanaka D, Kojima K (1998) Localization of pulmonary nodules for thoracoscopic resection: experience with a system using a short hookwire and suture. Am J Roentgenol 170: 332–334

11.

Lizza N, Eucher P, Haxhe JP, De Wispelare LF, Johnson PM, Delaunois L (2001) Thoracoscopic resection of pulmonary nodules after computer tomography-guided coil labelling. Ann Thorac Surg 71: 986–988

12.

Mack MJ, Hazelrigg SR, Landreneau RJ, Acuff TE (1993) Thoracoscopy for the diagnosis of the indetermined solitary pulmonary nodule. Ann Thorac Surg 56: 825–832

13.

Moon SW, Wang YP, Jo KH, Kwack MS, Kim SW, Kwon OK, Jang HS (1999) Fluoroscopy-aided thoracoscopic resection of pulmonary nodule localized with contrast media. Ann Thorac Surg 68: 1815–1820

14.

Pastorino U (2002) History of the surgical management of pulmonary metastases and development of the International Registry. Semin Thorac Cardiovasc Surg 14: 18–28

15.

Santambrogio R, Montorsi M, Bianchi P, Mantovani A, Ghelma F, Mezzetti M (1999) Intraoperative ultrasound during thoracoscopic procedures for solitary pulmonary nodules. Ann Thorac Surg 68: 218–222

16.

Shennib H, Bret P (1993) Intraoperative transthoracic ultrasonographic localization of occult lung lesions. Ann Thorac Surg 55: 767–769

17.

Shulkin AN (1993) Management of the indetermined solitary pulmonary nodule: a pneumologist's view. Ann Thorac Surg 56: 743–744

18.

Suzuki K, Nagai K, Yoshida J, Ohmatsu H, Takahashi K, Nishimura M, Nishiwaki J (1999) Video assisted thoracoscopic surgery for small indeterminate pulmonary nodules: indications for preoperative marking. Chest 115: 563–568

19.

Vandoni RE, Cuttat JF, Wicky S, Suter M (1998) CT-guided methylene-blue labelling before thoracoscopic resection of pulmonary nodules. Eur J Cardio-Thorac Surg 14: 265–270

20.

Wicky S, Mayor B, Schnyder P (1997) Methylene blue localizations of pulmonary nodules under CT-guidance: a new procedure used before thoracoscopic resections. Int Surg 82: 15–17
About this article
Cite this article
Ambrogi, M.C., Dini, P., Boni, G. et al. A strategy for thoracoscopic resection of small pulmonary nodules. Surg Endosc 19, 1644–1647 (2005). https://doi.org/10.1007/s00464-005-0087-8
Received:

Accepted:

Published:

Issue Date:
Keywords
Pulmonary nodule

Tecnectium-99m aggregated albumin

Endothoracic ultrasonography

Thoracoscopy

Lung tumor