Abstract
Background
Portal venous and mesenteric blood flow are reduced by 40–60% in humans and animals during laparoscopic surgery compared to laparotomy. Little is known about whether these intraabdominal micro- and macrocirculatory changes are associated with alterations in the hepatic energy metabolism.
Methods
We operated on male Sprague-Dawley rats, performing either laparoscopy (CO2, 6 mmHg; n = 27) or laparotomy (n = 28), and compared the results with two control groups: intraperitoneal (i.p.) endotoxin administration (n = 28, positive control) and anesthesia only (n = 28, negative control). We investigated the impact of the two different surgical techniques on daily food intake, body weight gain, glycogen content in the liver, levels of blood glucose, and liver function tests (LFTs) on postoperative days 1, 2, 4, and 8. Local (hepatic) and systemic inflammatory responses (interleukin-6 and tumor necrosis factor-α) during the postoperative time course were also determined. Data were analyzed using the Kruskal-Wallis test or univariate analysis of variance.
Results
Body weight gain, food intake, liver and spleen weights, as well as LFTs [except aspartate aminotransferase (AST)] did not differ among the four groups. The significant increase in the AST level following laparoscopy compared to the anesthesia-only group was found on postoperative days 1 and 2; however, a similar difference was not detected after laparotomy or i.p. endotoxin injection. Laparoscopy showed no alterations in the hepatic glycogen stores compared to anesthesia only, whereas laparotomy and endotoxinemia significantly reduced the hepatic glycogen stores on postoperative days 2 and 4. The systemic postoperative inflammatory response did not differ between laparotomy and laparoscopy, but it was higher in both groups than in anesthesia only. In rats treated with endotoxin, the systemic inflammatory response was even higher than in the two surgical groups. The hepatic inflammatory response did not differ between the four groups.
Conclusion
This study shows a significant postoperative decrease in the hepatic glycogen content after laparotomy and i.p. endotoxin injection but not after laparoscopy. Food intake and inflammatory response cannot explain this difference between the two surgical groups, which suggests that alterations in the postsurgical hormonal stress response are the most likely explanation for these findings.
This is a preview of subscription content, log in to check access.
Access options
Buy single article
Instant access to the full article PDF.
US$ 39.95
Price includes VAT for USA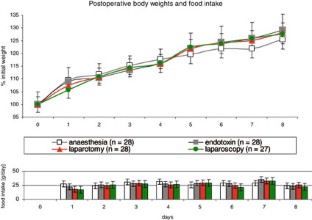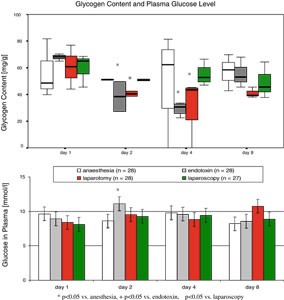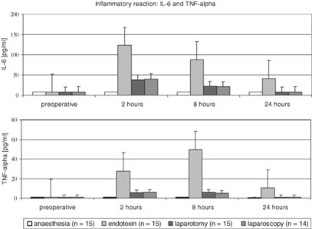 References
1.

Allendorf JDF, Bessler M, Whelan RL, Trokel M, Laird DA, Terry MB, et al (1997) Postoperative immune function varies inversely with the degree of surgical trauma in a murine model. Surg Endosc Ultrasound Interventional Techniques 11: 427–430

2.

Bellon JM, Manzano L, Bernardos L, Ga-Honduvilla N, Larrad A, Bujan J, et al (1997) Cytokine levels after open and laparoscopic cholecystectomy. Eur Surg Res 29: 27–34

3.

Belloni AS, Rebuffat P, Gottardo G, Meneghelli V, Coi A, Mazzocchi G, et al (1988) A morphometric study of the effects of short-term starvation on rat hepatocytes. J Submicrosc Cytol Pathol 20: 751–757

4.

Berguer R, Gutt C, Stiegmann GV (1993) Laparoscopic surgery in the rat—description of a new technique. Surg Endosc Ultrasound Interventional Techniques 7: 345–347

5.

Bollen M, Keppens S, Stalmans W (1998) Specific features of glycogen metabolism in the liver. Biochem J 336: 19–31

6.

Bozkurt P, Kaya G, Altintas F, Yeker Y, Hacibekiroglu M, Emir H, et al (2000) Systemic abdominal stress response during operations for acute abdominal pain performed via laparoscopy or laparotomy in children. Anaesthesia 55: 5–9

7.

Brockman RP, Manns JG (1976) Effect of trauma on plasma glucagon and insulin concentrations in sheep. Can J Comp Med 40: 5–8

8.

Buday AZ, Lang CH, Bagby GJ, Spitzer JJ (1986) Glycogen-synthase and phosphorylase activities during glycogen repletion in endotoxemic rats. Circulatory Shock 19: 149–163

9.

Burpee SE, Kurian M, Murakame Y, Benevides S, Gagner M (2002) The metabolic and immune response to laparoscopic vs open liver resection. Surg Endosc Other Interventional Techniques 16: 899–904

10.

Casteleijn E, Kuiper J, Vanrooij HCJ, Kamps JAAM, Koster JF, Vanberkel TJC (1988) Endotoxin stimulates glycogenolysis in the liver by means of intercellular communication. J Biol Chem 263: 6953–6955

11.

Chernow B, Alexander HR, Smallridge RC, Thompson WR, Cook D, Beardsley D, et al (1987) Hormonal responses to graded surgical stress. Arch Internal Med 147: 1273–1278

12.

De Pedro N, Delgado MJ, Gancedo B, Alonso-Bedate M (2003) Changes in glucose, glycogen, thyroid activity and hypothalamic catecholamines in tench by starvation and refeeding. J Comp Physiol B Biochem Syst Environ Physiol 173: 475–481

13.

Dexter SPL, Vucevic M, Gibson J, McMahon MJ (1999) Hemodynamic consequences of high- and low-pressure capnoperitoneum during laparoscopic cholecystectomy. Surg Endosc Ultrasound Interventional Techniques 13: 376–381

14.

Engin A, Bozkurt S, Ersoy E, Oguz M, Gokcora N (1998) Stress hyperglycemia in minimally invasive surgery. Surg Laparosc Endosc 8: 435–437

15.

Gao WS, Bentley RC, Madden JF, Clavien PA (1998) Apoptosis of sinusoidal endothelial cells is a critical mechanism of preservation injury in rat liver transplantation. Hepatology 27: 1652–1660

16.

Gitzelmann CA, Mendoza-Sagaon M, Talamini MA, Ahmad SA, Pegoli W, Paidas CN (2000) Cell-mediated immune response is better preserved by laparoscopy than laparotomy. Surgery 127: 65–71

17.

Glantzounis GK, Tselepis AD, Tambaki AP, Trikalinos TA, Manataki AD, Galaris DA, et al (2001) Laparoscopic surgery-induced changes in oxidative stress markers in human plasma. Surg Endosc Other Interventional Techniques 15: 1315–1319

18.

Gutt CN, Heinz P, Kaps W, Paolucci V (1997) The phagocytosis activity during conventional and laparoscopic operations in the rat—a preliminary study. Surg Endosc Ultrasound Interventional Techniques 11: 899–901

19.

Halevy A, Golddeutch R, Negri M, Lin G, Shlamkovich N, Evans S, et al (1994) Are elevated liver-enzymes and bilirubin levels significant after laparoscopic cholecystectomy in the absence of bile-duct injury. Ann Surg 219: 362–364

20.

Jacobi CA, Wenger F, Opitz I, Muller JM (2002) Immunologic changes during minimally invasive surgery. Dig Surg 19: 459–463

21.

Junghans T, Bohm B, Grundel K, Schwenk W, Muller JM (1997) Does pneumoperitoneum with different gases, body positions, and intraperitoneal pressures influence renal and hepatic blood flow? Surgery 121: 206–211

22.

Karayiannakis AJ, Makri GG, Mantzioka A, Karousos D, Karatzas G (1997) Systemic stress response after laparoscopic or open cholecystectomy: a randomized trial. Br J Surg 84: 467–471

23.

Keogh C, Fong YM, Marano MA, Seniuk S, He W, Barber A, et al (1990) Identification of a novel tumor necrosis factor-alpha/cachectin from the livers of burned and infected rats. Arch Surg 125: 79–85

24.

Kohli V, Selzner M, Madden JF, Bentley RC, Clavien PA (1999) Endothelial cell and hepatocyte deaths occur by apoptosis after ischemia–reperfusion injury in the rat liver. Transplantation 67: 1099–1105

25.

Krahenbuhl L, Hagenbuch B, Berardi S, Schafer M, Krahenbuhl S (1999) Rapid normalization of hepatic glycogen metabolism in rats with long-term bile duct ligation after biliodigestive anastomosis. J Hepatol 31: 656–663

26.

Krahenbuhl L, Talos C, Reichen J, Krahenbuhl S (1996) Progressive decrease in tissue glycogen content in rats with long-term cholestasis. Hepatology 24: 902–907

27.

Lang C, Schafer M, Varga L, Zimmermann A, Krahenbuhl S, Krahenbuhl L (2002) Hepatic and skeletal muscle glycogen metabolism in rats with short-term cholestasis. J Hepatol 36: 22–29

28.

Lang CH, Bagby GJ, Spitzer JJ (1985) Glucose kinetics and body-temperature after lethal and nonlethal doses of endotoxin. Am J Physiol 248: R471–R478

29.

Lau JY, Lo SY, Ng EK, Lee DW, Lam YH, Chung SC (1998) A randomized comparison of acute phase response and endotoxemia in patients with perforated peptic ulcers receiving laparoscopic or open patch repair. Am J Surg 175: 325–327

30.

Lausten SB, Grofte T, Andreasen F, Vilstrup H, Jensen SL (1999) Effects of laparotomy vs pneumoperitoneum on the hepatic catabolic stress response in ambulatory and stationary settings in pigs. Surg Endosc Ultrasound Interventional Techniques 13: 390–396

31.

Lausten SB, Ibrahim TM, El Sefi T, Jensen LS, Gesser B, Larsen CG, et al (1999) Systemic and cell-mediated immune response after laparoscopic and open cholecystectomy in patients with chronic liver disease. A randomized, prospective study. Dig Surg 16: 471–477

32.

Leander P, Mansson S, Pettersson G (2000) Glycogen content in rat liver. Importance for CT and MR imaging. Acta Radiol 41: 92–96

33.

Leighton T, Pianim N, Liu SY, Kono M, Klein S, Bongard F (1992) Effectors of hypercarbia during experimental pneumoperitoneum. Am Surg 58: 717–721

34.

Lemaire LCJM, Van der Poll T, Van Lanschot JB, Endert E, Buurman WA, Van Deventer SJH, et al (1998) Minimally invasive surgery induces endotoxin tolerance in the absence of detectable endotoxemia. J Clin Immunol 18: 414–420

35.

Lin E, Calvano SE, Lowry SF (2000) Inflammatory cytokines and cell response in surgery. Surgery 127: 117–126

36.

Lust WD, Passonneau JV, Crites SK (1975) Measurement of glycogen in tissues by amylo-alpha-1,4-alpha-1,6-glucosidase after destruction of preexisting glucose. Anal Biochem 68: 328–331

37.

Nguyen NT, Goldman CD, Ho HS, Gosselin RC, Singh A, Wolfe BM (2002) Systemic stress response after laparoscopic and open gastric bypass. J Am Coll Surg 194: 557–566

38.

Ordemann J, Jacobi CA, Schwenk W, Stosslein R, Muller JM (2001) Cellular and humoral inflammatory response after laparoscopic and conventional colorectal resections—results of a prospective randomized trial. Surg Endosc Ultrasound Interventional Techniques 15: 600–608

39.

Schafer M, Krahenbuhl L (2001) Effect of laparoscopy on intra-abdominal blood flow. Surgery 129: 385–389

40.

Schafer M, Sagesser H, Reichen J, Krahenbuhl L (2001) Alterations in hemodynamics and hepatic and splanchnic circulation during laparoscopy in rats. Surg Endosc Ultrasound Interventional Techniques 15: 1197–1201

41.

Schilling MK, Redaelli C, Krahenbuhl L, Signer C, Buchler MW (1997) Splanchnic microcirculatory changes during CO2 laparoscopy. J Am Coll Surg 184: 378–382

42.

Schmandra TC, Kim ZG, Gutt CN (2001) Effect of insufflation gas and intraabdominal pressure on portal venous flow during pneumoperitoneum in the rat. Surg Endosc Other Interventional Techniques 15: 405–408

43.

Skullman S, Ihse I, Larsson J (1990) Influence of malnutrition on regeneration and composition of the liver in rats. Acta Chir Scand 156: 717–722

44.

Tan M, Xu FF, Peng JS, Li DM, Chen LH, Ly BJ, et al (2003) Changes in the level of serum liver enzymes after laparoscopic surgery. World J Gastroenterol 9: 364–367

45.

Teoh NC, Farrell GC (2003) Hepatic ischemia reperfusion injury: pathogenic mechanisms and basis for hepatoprotection. J Gastroenterol Hepatol 18: 891–902

46.

Wu FPK, Sietses C, von Blomberg BME, van Leeuwen PAM, Meijer S, Cuesta MA (2003) Systemic and peritoneal inflammatory response after laparoscopic or conventional colon resection in cancer patients—a prospective, randomized trial. Dis Colon Rectum 46: 147–155
Acknowledgments
This study was supported by grants from the Swiss National Science Foundation to L.K. (32-61486.00) and S.K. (31-59812.99). We also thank Prof. J. Reichen, Director of the Institute of Clinical Pharmacology, University of Berne, Switzerland, in laboratory of which the entire experiment has been performed and Ms. S. Jakob and Mr. H. Sägesser for technical assistance.
About this article
Cite this article
Richter, B., Inderbitzin, D., Lang, C. et al. Hepatic carbohydrate metabolism in rats after laparotomy and laparoscopy. Surg Endosc 19, 1475–1482 (2005). https://doi.org/10.1007/s00464-005-0001-4
Keywords
Laparoscopy

Surgery

Liver

Glycogen

Endotoxin

Surgical trauma