Abstract
Background
Gastrojejunal strictures following laparoscopic Roux-en-Y gastric bypass (LRYGBP) present with dysphagia, nausea, and vomiting. Diagnosis is made by endoscopy and/or radiographic studies. Therapeutic options include endoscopic dilation and surgical revision.
Methods
Of 369 LRYGBP performed, 19 patients developed anastomotic stricture (5.1%). One additional patient was referred from another facility. Pneumatic balloons were used for initial dilation in all patients. Savary-Gilliard bougies were used for some of the subsequent dilations.
Results
Flexible endoscopy was diagnostic in all 20 patients allowing dilation in 18 (90%). Two patients did not undergo endoscopic dilation because of anastomotic obstruction and ulcer. The median time to stricture development was 32 days (range: 17–85). Most patients (78%) required more than two dilations. The complication rate was 1.6% (one case of microperforation). At a mean follow-up of 21 months, all patients were symptom-free.
Conclusions
Gastrojejunostomy stricture following LRYGBP is associated with substantial morbidity and patient dissatisfaction. Based on our experience, we propose a clinical grading system and present our strategy for managing gastrojejunal strictures.
This is a preview of subscription content, log in to check access.
Access options
Buy single article
Instant access to the full article PDF.
US$ 39.95
Price includes VAT for USA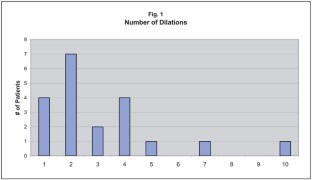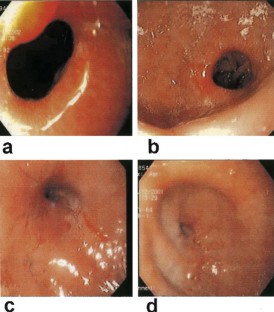 References:
1.

J Ahmad J Martin S Ikramuddin P Schauer A Slivka (2003) ArticleTitleEndoscopic balloon dilation of gastroenteric anastomotic stricture laparoscopic gastric bypass Endoscopy 35 725–728 Occurrence Handle1:STN:280:DC%2BD3szptVGgug%3D%3D Occurrence Handle12929018

2.

CA Barba MS Butensky M Lorenzo R Newman (2003) ArticleTitleEndoscopic dilation of gastroesophageal anastomosis stricture after gastric bypass Surg Endosc 17 416–420 Occurrence Handle1:STN:280:DC%2BD3s7gs1egsw%3D%3D Occurrence Handle12457221

3.

A Blachar MP Federle KM Pealer S Ikramuddin PR Schauer (2002) ArticleTitleGastrointestinal complications of laparoscopic Roux-en-Y gastric bypass surgery: clinical and imaging findings Radiology 223 625–632 Occurrence Handle12034927

4.

TK Byrne (2001) ArticleTitleComplications of surgery for obesity Surg Clin North Am 81 1181–1193 Occurrence Handle1:STN:280:DC%2BD3Mrkt1Cisg%3D%3D Occurrence Handle11589251

5.

RE Clouse (1996) ArticleTitleComplications of endoscopic gastrointestinal dilation techniques Gastrointest Endosc Clin North Am 6 323–341 Occurrence Handle1:STN:280:BymB2M3hvVU%3D

6.

CA Cullinane LM Flint JJ Ferrara (1996) ArticleTitleIatrogenic esophageal pseudodiverticulum: a case report Am Surg 62 973–975 Occurrence Handle1:STN:280:ByiD2M%2FpvVI%3D Occurrence Handle8895725

7.

VF Eckardt G Kanzler T Westermeier (1997) ArticleTitleComplications and their impact after pneumatic dilation for achalasia: Prospective long-term follow-up study Gastrointest Endosc 45 349–353 Occurrence Handle1:STN:280:ByiA3cfgvVM%3D Occurrence Handle9165313

8.

MR Go P Muscarella Suffix2nd BJ Needleman CH Cook WS Melvin (2004) ArticleTitleEndoscopic management of stomal stenosis after Roux-en-Y gastric bypass Surg Endosc 18 56–59 Occurrence Handle1:STN:280:DC%2BD2c%2FosVSmsA%3D%3D Occurrence Handle14625732

9.

KD Higa KB Boone T Ho (2000) ArticleTitleComplications of the laparoscopic Roux-en-Y gastric bypass: 1,040 patients—what have we learned? Obes Surg 10 509–513 Occurrence Handle10.1381/096089200321593706 Occurrence Handle1:STN:280:DC%2BD3M7ks1WjtQ%3D%3D Occurrence Handle11175957

10.

KD Higa T Ho KB Boone (2001) ArticleTitleLaparoscopic Roux-en-Y gastric bypass: Technique and 3-year follow-up J Laparoendosc Adv Surg Tech A 11 377–382 Occurrence Handle1:STN:280:DC%2BD38%2Fos1Gltw%3D%3D Occurrence Handle11814129

11.

BD Matthews RF Sing MH DeLegge JL Ponsky BT Heniford (2000) ArticleTitleInitial results with a stapled gastrojejunostomy for the laparoscopic isolated Roux-en-Y gastric bypass Am J Surg 179 476–481 Occurrence Handle1:STN:280:DC%2BD3cvlt1aquw%3D%3D Occurrence Handle11004334

12.

GK McLean RF LeVeen (1989) ArticleTitleShear stress in the performance of esophageal dilation: comparison of balloon dilation and bougienage Radiology 172 983–986 Occurrence Handle1:STN:280:BiaA28jptVc%3D Occurrence Handle2772214

13.

NguyenNT CM Stevens BM Wolfe (2003) ArticleTitleIncidence and outcome of anastomotic stricture after laparoscopic gastric bypass J Gastrointest Surg 7 997–1003 Occurrence Handle14675709

14.

PK Papasavas PF Caushaj JT McCormick RF Quinlin FD Hayetian J Maurer JJ Kelly DJ Gagne (2003) ArticleTitleLaparoscopic management of complications following laparoscopic Roux-en-Y gastric bypass for morbid obesity Surg Endosc 17 610–614 Occurrence Handle10.1007/s00464-002-8826-6 Occurrence Handle1:STN:280:DC%2BD3s7nvFGqsw%3D%3D Occurrence Handle12582772

15.

RA Perugini R Mason DR Czerniach YW Novitsky S Baker DE Litwin JJ Kelly (2003) ArticleTitlePredictors of complication and suboptimal weight loss after laparoscopic Roux-en-Y gastric bypass: a series of 188 patients Arch Surg 138 541–545 Occurrence Handle10.1001/archsurg.138.5.541 Occurrence Handle12742960

16.

DM Sataloff CP Lieber UL Seinige (1990) ArticleTitleStrictures following gastric stapling for morbid obesity. Results of endoscopic dilatation Am Surg 56 167–174 Occurrence Handle1:STN:280:By%2BC1MnntFM%3D Occurrence Handle2316938

17.

PR Schauer S Ikramuddin W Gourash R Ramanathan J Luketich (2000) ArticleTitleOutcomes after laparoscopic Roux-en-Y gastric bypass for morbid obesity Ann Surg 232 515–529 Occurrence Handle10.1097/00000658-200010000-00007 Occurrence Handle1:STN:280:DC%2BD3M%2Fhs1eitA%3D%3D Occurrence Handle10998650

18.

B Schirmer C Erenoglu A Miller (2002) ArticleTitleFlexible endoscopy in the management of patients undergoing Roux-en-Y gastric bypass Obes Surg 12 634–638 Occurrence Handle12448383

19.

RD Stahl RA Sherer CE Seevers D Johnston (2000) ArticleTitleComparison of 21 vs 25 mm gastrojejunostomy in the gastric bypass procedure—early results Obes Surg 10 540–542 Occurrence Handle1:STN:280:DC%2BD3M7ks1Wisw%3D%3D Occurrence Handle11175962
About this article
Cite this article
Goitein, D., Papasavas, P.K., Gagné, D. et al. Gastrojejunal strictures following laparoscopic Roux-en-Y gastric bypass for morbid obesity. Surg Endosc 19, 628–632 (2005). https://doi.org/10.1007/s00464-004-9135-z
Received:

Accepted:

Published:

Issue Date:
Keywords
Gastric bypass

Strictures

Endoscopy

Dilation

Bariatric surgery

Morbid obesity.