Abstract
Background
Minimally invasive surgical techniques expose surgeons to a variety of occupational hazards that may promote musculoskeletal disorders. Telerobotic systems for minimally invasive surgery may help to reduce these stressors. The objective of this study was to compare manual and telerobotic endoscopic surgery in terms of postural and mental stress.
Methods
Thirteen participants with no experience as primary surgeons in endoscopic surgery performed a set of simulated surgical tasks using two different techniques — a telerobotic master — slave system and a manual endoscopic surgery system. The tasks consisted of passing a soft spherical object through a series of parallel rings, suturing along a line 5 -cm long, running a 32-in ribbon, and cannulation. The Job Strain Index (JSI) and Rapid Upper Limb Assessment (RULA) were used to quantify upper extremity exposure to postural and force risk factors. Task duration was quantified in seconds. A questionnaire provided measures of the participants' intuitiveness and mental stress.
Results
The JSI and RULA scores for all four tasks were significantly lower for the telerobotic technique than for the manual one. Task duration was significantly longer for telerobotic than for manual tasks. Participants reported that the telerobotic technique was as intuitive as, and no more stressful than, the manual technique.
Conclusions
Given identical tasks, the time to completion is longer using the telerobotic technique than its manual counterpart. For the given simulated tasks in the laboratory setting, the better scores for the upper extremity postural analysis indicate that telerobotic surgery provides a more comfortable environment for the surgeon without any additional mental stress.
This is a preview of subscription content, log in to check access.
Access options
Buy single article
Instant access to the full article PDF.
US$ 39.95
Price includes VAT for USA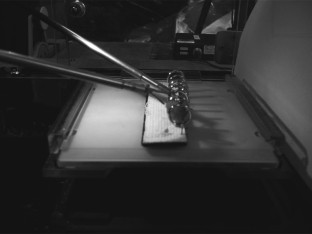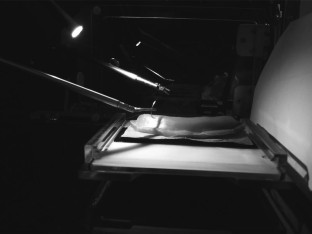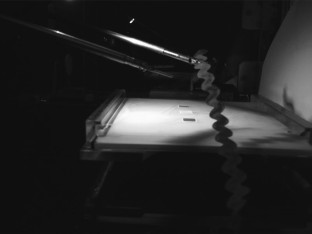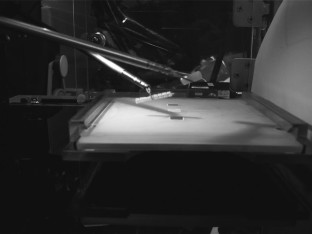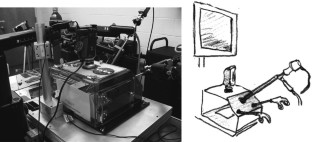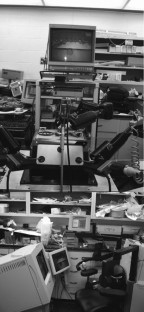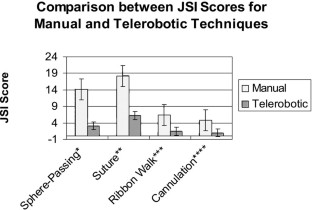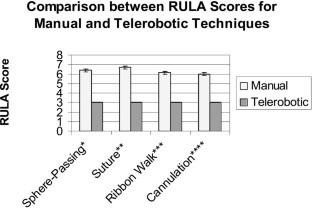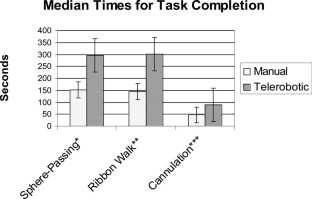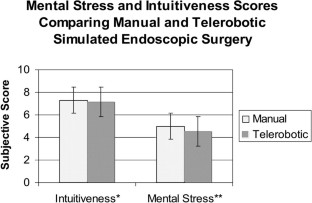 References
1.

Anonymous (2003) Introduction: the da Vinci Surgical System: seven degrees of freedom. Available at: http://training.instusurg.com. Accessibility verified on 27 July 2003

2.

GH Ballantyne (2002) ArticleTitleRobotic surgery, telerobotic surgery, telepresence, and telementoring Surg Endosc 16 1389–1402 Occurrence Handle10.1007/s00464-001-8283-7 Occurrence Handle12140630

3.

R Berguer WD Smith YH Chung (2001) ArticleTitlePerforming endoscopic surgery is significantly more stressful for the surgeon than open surgery Surg Endosc 15 1204–1207 Occurrence Handle10.1007/s004640080030 Occurrence Handle11727101

4.

RA Buckingham RO Buckingham (1995) ArticleTitleRobots in operating theatres BMJ 311 1479–1482 Occurrence Handle8520340

5.

KA Hemal M Srinivas AR Charles (2001) ArticleTitleErgonomic problems associated with laparoscopy J Endourol 15 499–503 Occurrence Handle10.1089/089277901750299294 Occurrence Handle11465329

6.

J Marescaux MK Smith D Folscher F Jamali B Malassagne J Leroy (2001) ArticleTitleTelerobotic laparoscopic cholecystectomy: initial clinical experience with 25 patients Ann Surg 1 1–7 Occurrence Handle10.1097/00000658-200107000-00001

7.

L McAtamney EN Corlett (1993) ArticleTitleRULA: a survey method for the investigation of work-related upper limb disorders Appl Ergon 24 91–99 Occurrence Handle10.1016/0003-6870(93)90080-S Occurrence Handle15676903

8.

JS Moore A Garg (1995) ArticleTitleThe strain index: a proposed method to analyze jobs for risk of distal upper extremity disorders Am Ind Hyg Assoc J 56 443–458 Occurrence Handle7754975

9.

NT Nguyen (2001) ArticleTitleAn ergonomic evaluation of surgeons' axial skeletal and upper extremity movements during endoscopic and open surgery Am J Surg 182 720–724 Occurrence Handle10.1016/S0002-9610(01)00801-7 Occurrence Handle11839346

10.

D Nio WA Bemelman KT den Boer Particleden MS Dunker DJ Gouma TM Gulik (2002) ArticleTitleEfficiency of manual vs robotically (Zeus) assisted endoscopic surgery in the performance of standardized tasks Surg Endosc 16 412–415 Occurrence Handle10.1007/s00464-001-9012-y Occurrence Handle11928018

11.

N Rucker JS Moore (2002) ArticleTitlePredictive validity of the strain index in manufacturing facilities Appl Occup Environ Hyg 17 63–73 Occurrence Handle10.1080/104732202753306177 Occurrence Handle11800408

12.

KM Russell TJ Broderick EJ Demaria SN Kothari RC Merrell (2001) ArticleTitleLaparoscopic telescope with Alpha port and Aesop to view open surgical procedures J Laparoendosc Adv Surg Tech 11 213–218 Occurrence Handle10.1089/109264201750539727

13.

ML Urich RA Underwood JW Standeven NJ Soper JR Engsberg (2002) ArticleTitleAssessment of fatigue, monitor placement, and surgical experience during simulated endoscopic surgery Surg Endosc 16 635–639 Occurrence Handle10.1007/s00464-001-8151-5 Occurrence Handle11972204
Acknowledgements
This work was partially supported by a grant from NASA. We thank Lucian Panait, MD, Chuck Blocher, and Brian Le for their technical assistance in carrying out the laboratory phase of the study.
Additional information
The view expressed in this article are those of the authors and do not reflect the official policy or position of the US Air Force, the Department of Defense, or the US government.
About this article
Cite this article
Lee, E.C., Rafiq, A., Merrell, R. et al. Ergonomics and human factors in endoscopic surgery: a comparison of manual vs telerobotic simulation systems. Surg Endosc 19, 1064–1070 (2005). https://doi.org/10.1007/s00464-004-8213-6
Received:

Accepted:

Published:

Issue Date:
Keywords
Endoscopic techniques

Robotics

Ergonomics

Minimally invasive surgery