Abstract
Background
Laparoscopic common bile duct exploration (LCBDE) has proved to be a safe, cost-effective way to treat common bile duct (CBD) stones. Despite this, LCBDE has not gained widespread adoption by surgeons. The technique has proved difficult to master, and damage to the fragile choledochoscope by grasping forceps and passage through the port valves has been problematic. Cases involving large, impacted, or multiple stones have required conversion to open exploration of CBD.
Methods
The Multichannel Instrument Guide (MIG) is introduced as a solution for these problems. The MIG is a J-shaped plastic extrusion with three lumens. It is flexible and can be straightened for insertion through a 10-mm port. The MIG facilitates insertion of a flexible 2.8- to 3.2-mm choledochoscope into the CBD. At the same time, additional tools such as balloon or irrigation catheters and lithotripters can be introduced into the CBD. These can be manipulated under video guidance via the choledochoscope. This procedural multitasking allows for a more efficient LCBDE. The authors describe their initial experience using the MIG for 23 patients.
Results
Of the 23 patients who underwent LCBDE procedures, 20 had stones in the CBD. Multiple stones were present in 48% of the patients; impacted stones were present in 26% of the patients; and stones larger than 1 cm were present in 26% of the patients. A 95% stone clearance rate was achieved. Difficult cases with large, impacted or multiple stones were resolved using the MIG. Two choledochoscopes were damaged; one during surgery and one during cleaning and storage.
Conclusions
The MIG has demonstrated significant advantages over previously described techniques. The device secures biliary tract access and allows procedural multitasking while protecting the delicate and expensive equipment. Subsequently, a simplified technique algorithm can be followed that may encourage more surgeons to adopt the routine performance of LCBDE.
This is a preview of subscription content, log in to check access.
Access options
Buy single article
Instant access to the full article PDF.
US$ 39.95
Price includes VAT for USA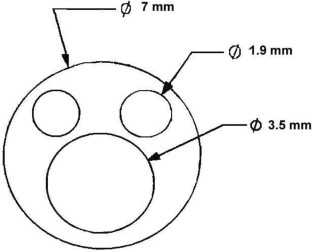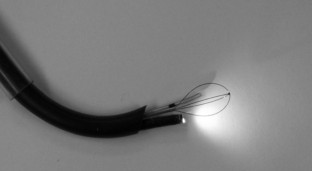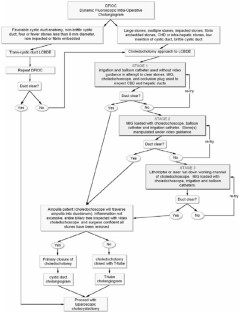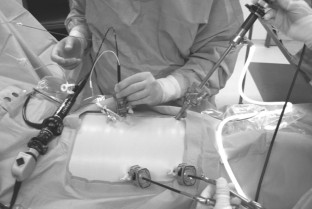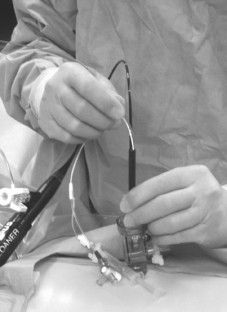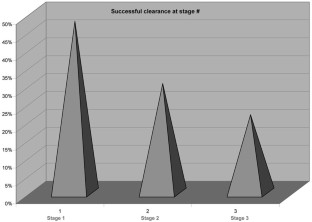 References
1.

JM Beal (1984) ArticleTitleHistorical perspective of gallstone disease Surg Gynecol Obstet 158 181–189 Occurrence Handle1:STN:280:BiuC387ptlI%3D Occurrence Handle6364426

2.

G Berci L Morgenstern (1994) ArticleTitleLaparoscopic management of common bile duct stones Surg Endosc 8 1168–1175 Occurrence Handle10.1007/BF00187358 Occurrence Handle1:STN:280:ByqC3cfnsV0%3D Occurrence Handle7809799

3.

Centers for Disease Control and Prevention, National Center for Health Statistics, Division of Health Care Statistics, Hospital Care Statistics Branch: Retreived February 24, 2003 at http//www.cdc.gov/nchs/data/tables/2002/02hus095.pdf.

4.

P Cotton G Lehman J Vennes JE Geenen RCG Russell WC Meyers C Liguory N Nick (1991) ArticleTitleEndoscopic sphincterotomy complications and their management: an attempt at consensus Gastrointest Endosc 37 383–393 Occurrence Handle1:STN:280:By6A3c7kt1M%3D Occurrence Handle2070995

5.

A Cuscheri E Lezoche M Morino (1999) ArticleTitleEAES multicenter prospective randomized trial comparing two-stage versus single-stage management of patients with gallstone disease and ductal calculi Surg Endosc 13 952–957 Occurrence Handle10.1007/s004649901145 Occurrence Handle1:STN:280:DyaK1MvlslGisw%3D%3D Occurrence Handle10526025

6.

ML Freeman DB Nelson S Sherman et al. (1996) ArticleTitleComplications of endoscopic biliary sphincterotomy N Engl J Med 335: 909–918 Occurrence Handle10.1056/NEJM199609263351301

7.

D Geenen J Geenen F Jafri et al. (1998) ArticleTitleThe role of surveillance endoscopic retrograde cholangiopancreatography in preventing episodic cholangitis in patients with recurrent common bile duct stones Endoscopy 30 18–20 Occurrence Handle1:STN:280:DyaK1c3gvFamuw%3D%3D Occurrence Handle9548038

8.

DI Giurgiu DR Margulies BJ Carroll et al. (1999) ArticleTitleLaparoscopic common bile duct exploration: long-term outcome Arch Surg 134 839–844 Occurrence Handle10.1001/archsurg.134.8.839 Occurrence Handle1:STN:280:DyaK1MzntFCjtA%3D%3D Occurrence Handle10443806

9.

F Glen CK McShervey (1975) Calculus biliary disease MM Ravitch (Eds) Current problems in surgery. Year Book Medical . Chicago 1–38

10.

K Hakamada M Sasaki M Endoh et al. (1997) ArticleTitleLate development of bile duct cancer after sphincteroplasty: a ten- to twenty-two-year follow-up study Surgery 121 488–492 Occurrence Handle10.1016/S0039-6060(97)90101-X Occurrence Handle1:STN:280:ByiB1cjgsFc%3D Occurrence Handle9142145

11.

S Ideda M Tanaka S Matsumoto et al. (1998) ArticleTitleEndoscopic sphincterotomy: long-term results in 408 patients with complete follow-up Endoscopy 20 3–17

12.

InstitutionalAuthorNameNational Institutes of Health Consensus Development Conference Statement on Gallstones and Laparoscopic Cholecystectomy. (1993) ArticleTitle   Am J Surg 165 390–396

13.

AM Paganni F Feliciotti M Guerrieri et al. (2001) ArticleTitleLaparoscopic common bile duct exploration J Laparoendosc Adv Surg Tech 11 391–400 Occurrence Handle10.1089/10926420152761923

14.

JB Petelin (1993) ArticleTitleClinical results of common bile duct exploration Endosc Surg 1 125–129 Occurrence Handle1:STN:280:ByuA3s3mt1M%3D

15.

R Poon C Yeung C Liu W Yuen C Lo A Tang S Fan (2003) ArticleTitleIntravenous bolus somatostatin after diagnostic cholangiopancreatography reduces the incidence of pancreatitis associated with therapeutic endoscopic retrograde cholangiopancreatography procedures: a randomized controlled trial Gut 52 1768–1773 Occurrence Handle10.1136/gut.52.12.1768 Occurrence Handle1:CAS:528:DC%2BD2cXhtlSgug%3D%3D Occurrence Handle14633959

16.

M Rhodes L Sussman L Cohen MP Louis (1998) ArticleTitleRandomized trial of laparoscopic exploration of common bile duct versus postoperative endoscopic retrograde cholangiography for common bile duct stones Lancet 351 159–161 Occurrence Handle10.1016/S0140-6736(97)09175-7 Occurrence Handle1:STN:280:DyaK1c7htFGhsA%3D%3D Occurrence Handle9449869

17.

R Ricardi S Islam JJ Canete PL Arcand ME Stoker (2003) ArticleTitleEffectiveness and long-term results of laparoscopic common bile duct exploration Surg Endosc 17 19–22 Occurrence Handle10.1007/s00464-002-8925-4 Occurrence Handle12399840

18.

ME Stoker (1995) ArticleTitleCommon bile duct exploration in the era of laparoscopic surgery Arch Surg 130 265–269 Occurrence Handle1:STN:280:ByqC1MvhvFQ%3D Occurrence Handle7887793

19.

R Strong (1999) ArticleTitleLate bile duct cancer complicating biliary-enteric anastomosis for benign disease Am J Surg 177 472–474

20.

M Tanaka S Takahata H Konomi et al. (1998) ArticleTitleLong-term consequence of endoscopic sphincterotomy for bile duct stones Gastrointest Endosc 48 465–469 Occurrence Handle1:STN:280:DyaK1M%2FkvVKksQ%3D%3D Occurrence Handle9831833

21.

D Vaira C Ainley S Willimas et al. (1989) ArticleTitleEndoscopic sphincterotomy in 1,000 Patients Lancet ii 431–434 Occurrence Handle10.1016/S0140-6736(89)90602-8
About this article
Cite this article
Wenner, D.E., Whitwam, P., Rosser, J. et al. A stone extraction facilitation device to achieve an improved technique for performing LCBDE. Surg Endosc 19, 120–125 (2005). https://doi.org/10.1007/s00464-004-8130-8
Received:

Accepted:

Published:

Issue Date:
Keywords
Choledocholithiasis

Intraoperative cholangiogrami

Laparoscopic cholecystectomy

Laparoscopic common bile duct exploration

Choledochoscopy

Multichannel Instrument Guide