Abstract
Background
Capnoperitoneum (CP) compromises hemodynamic function during laparoscopy. Three therapeutic concepts were evaluated with an aim to minimize the hemodynamic reaction to CP: First, a controlled increase of intrathoracic blood volume (ITBV) by intravenous fluids; second, partially reduced sympathetic activity by the β1-blocker esmolol; and third, a decrease in mean arterial pressure (MAP) by the vasodilator sodium nitroprusside.
Methods
For this study, 43 pigs were assigned to treatment with fluid and sodium nitroprusside (group A) or with esmolol (group B). In both groups, the pigs were assigned to head-up, head-down, or supine position, resulting in three different subgroups. Invasive hemodynamic monitoring was established including left heart catheter and cardiac oxygen lung water determination (COLD) measurements. Measurements were documented before CP with the animals in supine position, after induction of a 14-mmHg CP with the animals in each body position, after a 10% reduction in MAP by vasodilation, and after an increase in ITBV of about 30% by infusion of 6% hydroxyethylstarch solution.
Results
Increasing ITBV improved hemodynamic function in all body positions during CP. Esmolol reduced cardiac output and myocardial contractility. Sodium nitroprusside did not improve hemodynamic function in any body position.
Conclusions
Optimizing volume load is effective for minimizing hemodynamic changes during CP in the head-up and in head-down positions. In general, β1-blockers cannot be recommended because they might additionally compromise myocardial contractility and suppress compensatory reaction of the sympathetic nerve system. Vasodilation has not improved hemodynamic parameters during CP.
This is a preview of subscription content, log in to check access.
Access options
Buy single article
Instant access to the full article PDF.
US$ 39.95
Price includes VAT for USA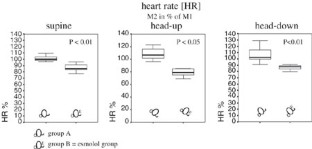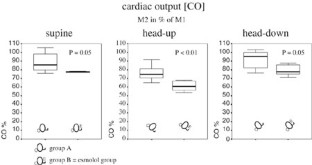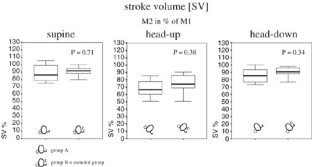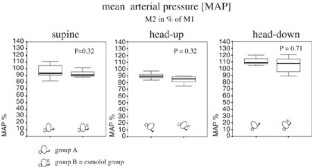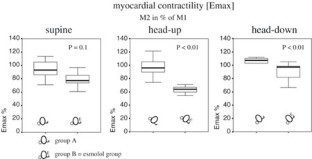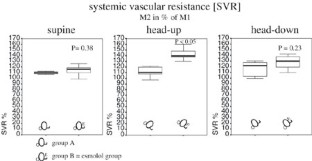 References
1.

Alishahi S, Francis N, Crofts S, Duncan L, Bickel A, Cuschieri A (2001) Central and peripheral adverse hemodynamic changes during laparoscopic surgery and their reversal with a novel intermittent sequential pneumatic compression device. Ann Surg 233: 176–186

2.

Dexter SP, Vucevic M, Gibson J, McMahon MJ (1999) Hemodynamic consequences of high- and low-pressure capnoperitoneum during laparoscopic cholecystectomy. Surg Endosc 13: 376–381

3.

Feig BW, Berger DH, Dougherty TB, Dupuis JF, Hsi B, Hickey RC, Ota DM (1994) Pharmacologic intervention can reestablish baseline hemodynamic parameters during laparoscopy. Surgery 116: 733–741

4.

Goodale RL, Beebe DS, McNevin MP, Boyle M, Letourneau JG, Abrams JH, Cerra F (1993) Hemodynamic, respiratory, and metabolic effects of laparoscopic cholecystectomy. Am J Surgery 166: 533–537

5.

Hachenberg T, Ebel C, Czorny M, Thomas H, Wendt M (1998) Intrathoracic and pulmonary blood volume during CO2-pneumoperitoneum in humans. Acta Anaesthesiol Scand 42: 794–798

6.

Haxby EJ, Gray MR, Rodriguez C, Nott D, Springall M, Mythen M (1997) Assessment of cardiovascular changes during laparoscopic hernia repair using oesophageal Doppler. Br J Anaesth 78: 515–519

7.

Jorgensen JO, Lalak NJ, North L, Hanel K, Hunt DR, Morris DL (1994) Venous stasis during laparoscopic cholecystectomy. Surg Laparosc Endosc 4: 128–133

8.

Joris J, Chiche JD, Canivet JL, Jaquet NJ, Legros JJ, Lamy ML (1998) Hemodynamic changes induced by laparoscopy and their endocrine correlates: effects of clonidine. JACC 32: 1389–1396

9.

Joris JL, Noirot DP, Legrand MJ, Jacquet NJ, Lamy ML (1993) Hemodynamic changes during laparoscopic cholecystectomy. Anesth Analg 76: 1067–1071

10.

Junghans T, Böhm B, Boueke T, Huscher D (2000) Die intravenöse Volumensubstitution vermindert die hämodynamischen Auswirkungen des Pneumoperitoneums. Minim Invasive Chirurg 9: 127–130

11.

Junghans T, Böhm B, Gründel K, Schwenk W (1997) Effects of pneumoperitoneum with carbon dioxide, argon, or helium on hemodynamic and respiratory function. Arch Surg 132: 272–278

12.

Junghans T, Böhm B, Haase O, Fritzmann J, Zuckermann-Becker H (2002) Conventional monitoring and intravascular volume measurement can lead to different therapy after upper gastrointestinal tract surgery. Intensive Care Med 28: 1273–1275

13.

Koivusalo AM, Scheinin M, Tikkanen I, Yli Suomu T, Ristkari S, Laakso J, Lindgren L (1998) Effects of esmolol on haemodynamic response to CO2 pneumoperitoneum for laparoscopic surgery. Acta Anaesthesiol Scand 42: 510–517

14.

Kraut EJ, Anderson JT, Safwat A, Barbosa R, Wolfe BM (1999) Impairment of cardiac performance by laparoscopy in patients receiving poitive end-expiratory pressure. Arch Surg 134: 76–80

15.

Laisalmi M, Koivusalo AM, Valta P, Tikkanen I, Lindgren L (2001) Clonidine provides opioid-sparing effect, stable hemodynamics, and renal integrity during laparoscopic cholecystectomy. Surg Endosc 15: 1331–1335

16.

Marathe US, Lilly RE, Silvestry SC, Schauer PR, Davis JW, Pappas TN, Glower DD (1996) Alterations in hemodynamics and left ventricular contractility during carbon dioxide pneumoperitoneum. Surg Endosc 10: 974–978

17.

McLaughlin JG, Scheeres DE, Dean RJ, Bonnell BW (1995) The adverse hemodynamic effects of laparoscopic cholecystectomy [see comments]. Surg Endosc 9: 121–124

18.

Millard JA, Hill BB, Cook PS, Fenoglio ME, Stahlgren LH (1993) Intermittent sequential pneumatic compression in prevention of venous stasis associated with pneumoperitoneum during laparoscopic cholecystectomy. Arch Surg 128: 914–919

19.

Schwenk W, Bohm B, Junghans T, Hofmann H, Müller JM (1998) Intermittent sequential compression of the lower limbs prevents venous stasis in laparoscopic and conventional colorectal surgery. Dis Colon Rectum 40: 1056–1062

20.

Schwenk W, Böhm B, Fügener A, Müller JM (1998) Intermittent pneumatic sequential compression (ISC) of the lower extremities prevents venous stasis during laparoscopic cholecystectomy: a prospective randomized study. Surg Endosc 12: 7–11

21.

Takeuchi M, Odake M, Takaoka H, Hayashi Y, Yokohama M (1992) Comparison between preload recruitable stroke work and the end systolic pressure-volume relationship in man. Eur Heart J 13 (Suppl E): 80–84

22.

Takeuchi M, Takaoka H, Odake M, Hayashi Y, Hata K, Yokohama M (1992) Assessment of left ventricular function using a conductance catheter in the human heart. Jpn Circ J 56: 730–734

23.

Tuppurainen T, Mäkinen J, Salonen M (2002) Reducing the risk of systemic embolization during gynecologic laparoscopy. Acta Anaesthesiol Scand 46: 37–42

24.

Wallace DH, Serpell MG, Baxter JN, O'Dwyer PJ (1997) Randomized trial of different insufflation pressures for laparoscopic cholecystectomy. Br J Surg 84: 455–458

25.

Zuckerman R, Gold M, Jenkins P, Rauscher LA, Jones M, Heneghan S (2001) The effects of pneumoperitoneum and patient position on hemodynamics during laparoscopic cholecystectomie. Surg-Endosc 15: 562–565
Acknowledgment
The study was supported by the German Research Foundation (DFG JU 364/2-1).
About this article
Cite this article
Junghans, T., Modersohn, D., Dörner, F. et al. Systematic evaluation of different approaches for minimizing hemodynamic changes during pneumoperitoneum. Surg Endosc 20, 763–769 (2006). https://doi.org/10.1007/s00464-004-2231-2
Received:

Accepted:

Published:

Issue Date:
Keywords
Fluid Management

Hemodynamic

Laparoscopy

Pathophysiology

Penumoperitoneum

Therapy