Abstract
Background
Although the advent of hand-assisted laparoscopic donor nephrectomy (HLDN) has had a positive impact on the donor pool, there is still some concern about its safety. The aim of this study was to assess the impact of a change in surgical access to live-donor nephrectomy on donor-related complication rates, the renal function of the donor, and the graft function of the recipient.
Methods
At our hospital, HLDN was introduced in 1998. Thereafter, we compared 49 consecutive donors undergoing open donor nephrectomy (ODN) between 1987 and 2002 with 57 consecutive donors undergoing HLDN between 1998 and 2002. Donor renal and recipient graft functions were assessed by measuring creatinine levels and urine output, with the addition of warm and cold ischemia time and dialysis requirements in the latter group. Data are presented as means (±SD) and analyzed with the Student t-test or Fisher's exact test.
Results
The ODN and HLDN donors were comparable for age, gender, body mass index, renovascular anatomy, and preoperative creatinine. Estimated blood loss (370 ± 280 vs 168 ± 160 ml, p < 0.0001), time to resumption of oral intake (1.7 ± 0.5 vs 1.3 ± 0.7 days, p = 0.01), duration of intravenous narcotic requirements (23 ± 0.7 vs 1.7 ± 1.0 days, p < 0.0001), and hospital stay (4.2 ± 1.4 vs 2.9 ± 1.3 days, p < 0.0001) were significantly decreased after HLDN. There were no significant differences between ODN and HLDN in operating time (204 ± 46 vs 202 ± 49 min), donor-related complication rates (12.2% vs 14%), or donor renal and recipient graft functions.
Conclusion
The introduction of HLDN to an established renal transplant program led to an improved short-term outcome without any increase in donor-related complication rates or delay in recipient graft function.
This is a preview of subscription content, log in to check access.
Access options
Buy single article
Instant access to the full article PDF.
US$ 39.95
Price includes VAT for USA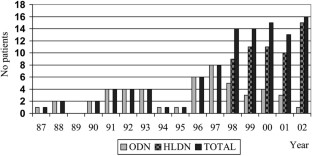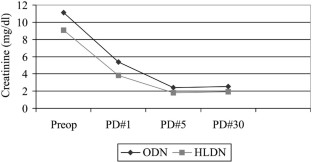 References
1.

ST Bartlett (2002) ArticleTitleLaparoscopic donor nephrectomy after seven years Am J Transplant 2 896–897 Occurrence Handle10.1034/j.1600-6143.2002.21004.x Occurrence Handle12482140

2.

FC Finelli E Góngora TM Sasaki JA Light (2001) ArticleTitleA survey: the prevalence of laparoscopic donor nephrectomy at large U.S transplant centers. Transplantation 71 1862–1864 Occurrence Handle1:STN:280:DC%2BD3MvgtFeisw%3D%3D

3.

JL Flowers S Jacobs E Cho A Morton WF Rosenberger D Evans AL Imbembo ST Bartlett (1997) ArticleTitleComparison of open and laparoscopic live donor nephrectomy Ann Surg 226 483–490 Occurrence Handle10.1097/00000658-199710000-00009 Occurrence Handle1:STN:280:DyaK1c%2Fht1Srsw%3D%3D Occurrence Handle9351716

4.

IS Gill LR Kavoussi RV Clayman R Ehrlich R Evans G Fuchs A Gersham et al. (1995) ArticleTitleComplications of laparoscopic nephrectomy in 185 patients: a multi-institutional review J Urol 154 479–483 Occurrence Handle10.1097/00005392-199508000-00037 Occurrence Handle1:STN:280:ByqA3szjsVc%3D Occurrence Handle7609110

5.

TH Hsu LM Su LE Ratner BJ Trock LR Kavoussi (2003) ArticleTitleImpact of renal artery multiplicity on outcomes of renal donors and recipients in laparoscopic donor nephrectomy Urology 61 323–327 Occurrence Handle10.1016/S0090-4295(02)02124-6 Occurrence Handle12597939

6.

SC Jacobs E Cho BJ Dunkin JL Flowers E Schweitzer C Cangro J Fink et al. (2000) ArticleTitleLaparoscopic live donor nephrectomy: the University of Maryland 3-year experience J Urol 164 1494–1499 Occurrence Handle10.1097/00005392-200011000-00009 Occurrence Handle1:STN:280:DC%2BD3M%2FjtFGktw%3D%3D Occurrence Handle11025690

7.

B Philosophe PC Kuo EJ Schweitzer AC Farney JW Lim LB Johnson S Jacobs et al. (1999) ArticleTitleLaparoscopic versus open donor nephrectomy: comparing ureteral complications in the recipients and improving the laparoscopic technique Transplantation 68 497–502 Occurrence Handle10.1097/00007890-199908270-00009 Occurrence Handle1:STN:280:DyaK1MvgvVarsQ%3D%3D Occurrence Handle10480406

8.

LE Ratner LJ Ciseck RG Moore FG Cigarroa HS Kaufman LR Kavoussi (1995) ArticleTitleLaparoscopic live donor nephrectomy Transplantation 60 1047–1049 Occurrence Handle1:STN:280:BymD28jotVc%3D Occurrence Handle7491680

9.

LE Ratner LR Kavoussi M Sroka J Hiller R Weber PG Schulam R Montgomery (1997) ArticleTitleLaparoscopic assisted live donor nephrectomy—a comparison with the open approach Transplantation 63 229–233 Occurrence Handle10.1097/00007890-199701270-00009 Occurrence Handle1:STN:280:ByiC2s3itlw%3D Occurrence Handle9020322

10.

LE Ratner RA Montgomery WR Maley C Cohen J Burdick KD Chavin DS Kittur et al. (2000) ArticleTitleLaparoscopic live donor nephrectomy: the recipient Transplantation 69 2319–2323 Occurrence Handle10.1097/00007890-200006150-00016 Occurrence Handle1:STN:280:DC%2BD3czisVCrtg%3D%3D Occurrence Handle10868632

11.

LE Ratner RA Montgomery LR Kavoussi (2001) ArticleTitleLaparoscopic live donor nephrectomy: a review of the first 5 years Urol Clin North Am 28 709–719 Occurrence Handle1:STN:280:DC%2BD38%2Fms1OjtA%3D%3D Occurrence Handle11791488

12.

S Shafizadeh JR McEvoy C Murray GM Baillie E Ashcraft T Sill J Rogers et al. (2000) ArticleTitleLaparoscopic donor nephrectomy: impact on an established renal transplant program Am Surg 66 1132–1135 Occurrence Handle1:STN:280:DC%2BD3M%2FptlGhtw%3D%3D Occurrence Handle11149584

13.

DP Slakey JC Hahn E Rogers JC Rice PM Gauthier G Ruiz-Deya (2002) ArticleTitleSingle-center analysis of living donor nephrectomy: hand-assisted laparoscopic, pure laparoscopic, and traditional open Prog Transplant 12 206–211 Occurrence Handle12371047

14.

H Troidl W Spangenberger A Dietrich E Neugebauer (1991) ArticleTitleLaparoskopische Cholecystectomie. Erste Erfahrungen und Ergebnisse bei 300 Operationen: eine prospective Beobachtungs studie Chirurg 62 257–265 Occurrence Handle1:STN:280:By6A3MjgtFw%3D Occurrence Handle1830541

15.

C Troppmann K Wiesman JP McVicar BM Wolfe RV Perez (2001) ArticleTitleIncreased transplantation of kidneys with multiple renal arteries in the laparoscopic live donor nephrectomy era Arch Surg 136 897–907 Occurrence Handle10.1001/archsurg.136.8.897 Occurrence Handle1:STN:280:DC%2BD3MvmtVOiuw%3D%3D Occurrence Handle11485525

16.

JS Wolf RM Merion AB Leichtman DA Campbell SuffixJr JC Magee JD Punch JG Turcotte et al. (2001) ArticleTitleRandomized controlled trial of hand-assisted laparoscopic versus open surgical live donor nephrectomy Transplantation 72 284–290 Occurrence Handle10.1097/00007890-200107270-00021 Occurrence Handle11477354
Acknowledgment
We thank Ricardo Santos, MD, for his assistance during chart review.
About this article
Cite this article
Raftopoulos, Y., Nghiem, D.D., Gignac, M. et al. The impact of introducing laparoscopic donor nephrectomy to an established renal transplant program. Surg Endosc 18, 1519–1523 (2004). https://doi.org/10.1007/s00464-003-9220-8
Received:

Accepted:

Published:

Issue Date:
Keywords
Kidney transplantation

Laparoscopic nephrectomy

Live-donor nephrectomy

Open nephrectomy