Abstract
Background
An obstructing primary lung cancer is a challenging disease frequently requiring endobronchial interventional therapy. A variety of interventional modalities, including Nd:YAG laser, stenting, photodynamic therapy (PDT), and endoluminal brachytherapy, are utilized to relieve airway obstruction and bleeding. The aim of this study is to compare the effect on patient survival of bronchoscopic palliation for lung cancer utilizing one interventional modality compared to the use of combination of modalities to relieve the airway problem.
Methods
We reviewed our longitudinal experience with interventional bronchoscopy in 75 patients who underwent 176 procedures for the management of endobronchial lung cancer between 1994 and 2002. Indication for intervention was hemoptysis in 24 patients (32%) and airway obstruction in the remaining. Six patients died within 30 days from the first intervention and were excluded. Forty of the surviving 69 patients (58%) were treated with a single interventional modality (group A). In 29 patients (42%) a multimodality endoscopic treatment was utilized (group B). Single-modality treatment in group A included Nd-YAG laser in 60%, stent in 17%, brachytherapy in 20%, and PDT in 3%. A variety of combinations of the aforementioned modalities were used in group B to enhance airway patency. Patient data were compared with the Student's t-test and chi-square test. Survival analysis and the log rank test were used to compare difference in survival between the two groups. A p-value of 0.05 was considered significant.
Results
There were 46 males and 23 females, with a mean age of 67 years. The tumor was located in the trachea 9%, in the carina in 7%, and primary bronchial in 84%. Two patients had complications due to stent malposition. There was no significant difference between the two groups in relation to age, gender, tumor location, histology, and type of previous cancer therapy. There was a significant improvement in survival for the multimodality group (p = 0.04). The 1- and 3-year cumulative survival rate for groups A and B was 51.3% versus 50% and 2.3% versus 22%, respectively.
Conclusions
Improvement in survival can be seen with diligent airway surveillance after interventional bronchoscopy and liberal use of a variety of endobronchial treatment modalities for airway obstruction or bleeding. Physicians involved in the management of this difficult problem should be versed in the use of all available treatment modalities to enhance therapeutic outcome.
This is a preview of subscription content, log in to check access.
Access options
Buy single article
Instant access to the full article PDF.
US$ 39.95
Price includes VAT for USA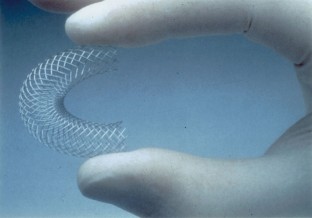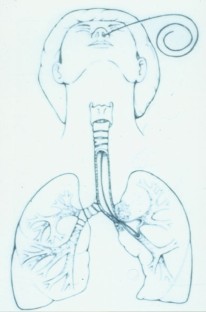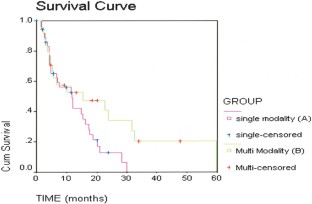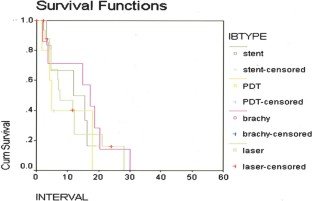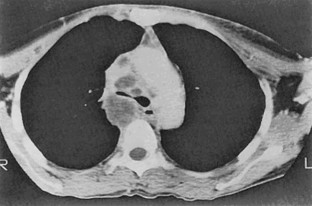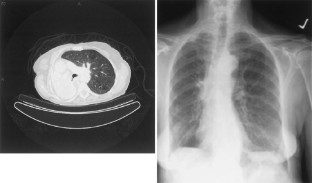 References
1.

TV Boxen M Muller B Vemmans P Postmus T Sutedja (1999) ArticleTitleNd Yag laser vs bronchoscopic electrocautery for palliation of symptomatic airway obstruction. A cost effectiveness study. Chest 116 1108–1112 Occurrence Handle10.1378/chest.116.4.1108

2.

S Cavalieri F Venuta P Foccoli C Toninelli B Face ParticleLa (1996) ArticleTitleEndoscopic treatment of malignant airway obstructions in 2,008 patients. Chest 110 1536–1542 Occurrence Handle10.1378/chest.110.6.1536

3.

A Chella MC Ambrogi A Ribechini et al. (2000) ArticleTitleCombined Nd-YAG laser/HDR brachytherapy versus Nd-YAG laser only in malignant central airway involvement: a prospective randomized study. Lung Cancer 27 169–175 Occurrence Handle1:STN:280:DC%2BD3c7msFWmuw%3D%3D Occurrence Handle10.1016/S0169-5002(99)00102-6

4.

DA Cortese JH Kinsey (1982) ArticleTitleEndoscopic management of lung cancer with hematoporphyrin derivative phototherapy. Mayo Clin Proc 57 . Occurrence Handle7109683

5.

DA Cortese JH Kinsey (1984) ArticleTitleHematopophyrin derivate phototherapy in the treatment of bronchogenic carcinoma. Chest 86 8–13 Occurrence Handle1:STN:280:DyaL2c3jsFWgsA%3D%3D Occurrence Handle10.1378/chest.86.1.8

6.

JF Dumon S Shapshay J. Bourcereau S Cavaliere B. Meric N Garbi J Beamis (1984) ArticleTitlePrinciples for safety in appplication of neodymium-YAG laser in bronchology. Chest 86 163–168 Occurrence Handle1:STN:280:DyaL2c3mtVOgug%3D%3D Occurrence Handle10.1378/chest.86.2.163

7.

P Goldstraw G Ladas (1996) Endobronchial stenting. U Sigwart (Eds) Endoluminal stenting WB Saunders Philadelphia

8.

EL Kaplan Meier (1958) ArticleTitleNonparametric estimation from incomplete observations. J Am Statist Assoc 53 457–481 Occurrence Handle10.1080/01621459.1958.10501452

9.

A Katayama T Konishi M Hiraishi K Mafune M Makuuchi (1998) ArticleTitleA combination of laser therapy, radiation therapy, and stent placement for the palliation of complete malignant bronchial obstruction. Surg Endosc 12 1419–1423 Occurrence Handle1:STN:280:DyaK1M%2FktVWhtA%3D%3D Occurrence Handle10.1007/s004649900872

10.

BP Khanavcar P Stern W Albert JA Nakhosteen (1991) ArticleTitleComplications associated with brachytharapy—alone or with laser—in lung cancer. Chest 99 1062–1065 Occurrence Handle10.1378/chest.99.5.1062

11.

P Lee E Kupeli A Mehta (2002) ArticleTitleTherapeutic bronchoscopy in lung cancer. Clin Chest Med 23 241–256 Occurrence Handle10.1016/S0272-5231(03)00075-3

12.

HN Macha KO Becker HP Kemmer (1994) ArticleTitlePattern of failure and survival in endobronchial laser resection. Chest 105 1668–1672 Occurrence Handle1:STN:280:DyaK2c3msFGhsA%3D%3D Occurrence Handle10.1378/chest.105.6.1668

13.

MJ Magee M Klain PF Ferson RJ Keenan RJ. Landreneau (1994) ArticleTitleNasotracheal jet ventilation for rigid endoscopy. Ann Thorac Surg 57 1031–1032 Occurrence Handle1:STN:280:DyaK2c3hvFyrtA%3D%3D Occurrence Handle10.1016/0003-4975(94)90236-4

14.

DJ Mathisen HC Grillo (1989) ArticleTitleEndoscopic relief of malignant airway obstruction. Ann Thorac Surg 48 469–475 Occurrence Handle1:STN:280:DyaK3c%2FisFGjsg%3D%3D Occurrence Handle10.1016/S0003-4975(10)66842-7

15.

CF Mountain (1997) ArticleTitleRevision in the international system for staging lung cancer. . 111 1710–1717 Occurrence Handle1:STN:280:DyaK2szjtVOguw%3D%3D Occurrence Handle9187198

16.

JR Sonett RJ Keenan PF Ferson BP Griffith RD Landreneau (1995) ArticleTitleEndobronchial management of benign, malignant, and lung transplantation airway stenoses. Ann Thorac Surg 59 1417–1422 Occurrence Handle1:STN:280:DyaK2M3ovFOlsg%3D%3D Occurrence Handle10.1016/0003-4975(95)00216-8

17.

A Steptoe J Wardle W Cui et al. (2002) ArticleTitleAn international comparison of tobacco smoking, beliefs and risk awareness in university students from 23 countries. Addiction 97 1561–1571 Occurrence Handle10.1046/j.1360-0443.2002.00269.x

18.

AG Villanueva TCM Lo JF Beamis SuffixJr (1995) ArticleTitleEndobronchial brachytherapy. Clin Chest Med 16 445–454 Occurrence Handle1:STN:280:DyaK28%2FoslCmtQ%3D%3D Occurrence Handle8521699

19.

RS Wilson (1987) Anesthetic management for tracheal reconstruction. HC Grillo H Eschapasse (Eds) International trends in general thoracic surgery, vol 2, Major challenges. WB Saunders Philadelphia 3–12

20.

DE Wood (2001) ArticleTitleAirway stenting. Chest Surg Clin North Am 11 841–861 Occurrence Handle1:STN:280:DC%2BD38%2FlsFaisg%3D%3D

21.

DE Wood (2002) ArticleTitleManagement of malignant tracheobronchial obstruction. Surg Clin N Am 82 612–642 Occurrence Handle10.1016/S0039-6109(02)00025-7
Acknowledgments
The following members of the Division of General Thoracic Surgery of the Allegheny General Hospital helped in collection of data and should be acknowledged: Susan Bartley, RN; Robin Macherey, RN; and Tibetha Santucci, RN.
About this article
Cite this article
Santos, R.S., Raftopoulos, Y., Keenan, R.J. et al. Bronchoscopic palliation of primary lung cancer: Single or multimodality therapy?. Surg Endosc 18, 931–936 (2004). https://doi.org/10.1007/s00464-003-9202-x
Received:

Accepted:

Published:

Issue Date:
Keywords
Interventional bronchoscopy

Survival

Palliation

Laser

Treatment strategy