Abstract
Background: We describe a modification of the technique for laparoscopic jejunostomy in patients with stenosis of the upper gastrointestinal tract and assess the patients outcomes with this enteral access. Methods: In a retrospective study of 80 patients, we evaluated the outcome of a modified technique for the laparoscopic placement of a jejunostomy catheter into the proximal jejunum. Standard laparoscopy equipment and ready-to-use jejunostomy catheters were used. After the creation of a pneumoperitoneum, the proximal jejunal loop was fixed to the parietal peritoneum. The jejunum was then punctured with a split needle, and the catheter (9F) was pushed into the jejunum. Finally, the catheter was secured with an additional purse-string suture. The external fixation was performed with nonabsorbable sutures. Enteral nutritional support with a polymeric enteral diet was initiated after fluoroscopic control on the first postoperative day at a rate of 20 ml/h. The flow rate was increased progressively until the nutritional goal of 60–80 ml/h was reached on the 3rd or 4th postoperative day. Results: In all patients (n = 80), the placement site of the catheter was correct, and all patients were able to receive enteral nutrition on the 1st postoperative day. There were no intraoperative complications. The mean operating time was 51 min. Two patients developed a localized infection at the catheter site; one patient developed an abscess; and three patients had catheter obstructions. Conclusions: Patients in need of intermediate or long-term enteral nutrition may benefit from laparoscopic catheter jejunostomy. The technique described is safe, effective, and less invasive than alternative techniques of laparoscopic jejunostomy.
This is a preview of subscription content, log in to check access.
Access options
Buy single article
Instant access to the full article PDF.
US$ 39.95
Price includes VAT for USA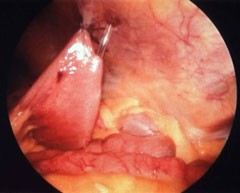 References
1

MH Albrink J Foster AS Rosemurgy LC Carey (1992) ArticleTitleLaparoscopic feeding jejunostomy: also a simple technique. Surg Endosc 6 259–260 Occurrence Handle1:STN:280:ByyC3c3htFE%3D Occurrence Handle1465736

2

QY Duh LW Way (1993) ArticleTitleLaparoscopic jejunostomy using T-fasteners as retractors and anchors. Arch Surg 128 105–110 Occurrence Handle1:STN:280:ByyC3MbisVM%3D Occurrence Handle8418772

3

QY Duh AL Senekozlieff-Englehart YS Choe AE Siperstein K Rowland LW Way (1999) ArticleTitleLaparoscopic gastrostomy and jejunostomy. Arch Surg 134 1151–156

4

LM Ellis DB Evans D Martin DM Ota (1992) ArticleTitleLaparoscopic feeding jejunostomy tube in oncology patients. Surg Oncol 1 245–249 Occurrence Handle1:STN:280:ByuD2szksFA%3D Occurrence Handle1341257

5

R Gedaly P Briceno R Ravelo K Weisinger (1997) ArticleTitleLaparoscopic jejunostomy with an 18-mm trocar. Surg Laparosc Endosc 5 420–422 Occurrence Handle10.1097/00019509-199710000-00012

6

M Hotokezaka RB Adams AD Miller RW McCallum BD Schirmer (1996) ArticleTitleLaparoscopic percutaneous jejunostomy for long term enteral access. Surg Endosc 10 1008–1011 Occurrence Handle10.1007/s004649900225 Occurrence Handle1:STN:280:ByiD38%2FhsVU%3D Occurrence Handle8864096

7

NT Nguyen PR Schauer BM Wolfe HS Ho JD Luketich (2000) ArticleTitleLaparoscopic needle catheter jejunostomy. Br J Surg 87 482–483 Occurrence Handle10.1046/j.1365-2168.2000.01415.x Occurrence Handle1:STN:280:DC%2BD3c3itlWjtg%3D%3D Occurrence Handle10759747

8

JC Rosser EB Rodas J Blancaflor RL Prosst LE Rosser RR Salem (1999) ArticleTitleA simplified technique for laparoscopic jejunostomy and gastrostomy tube placement. Am J Surg 177 61–65 Occurrence Handle10.1016/S0002-9610(98)00298-0 Occurrence Handle10037310

9

MG Sarr (1999) ArticleTitleAppropriate use, complications and advantages demonstrated in 500 consecutive needle catheter jejunostomies. Br J Surg 86 557–561 Occurrence Handle10.1046/j.1365-2168.1999.01084.x Occurrence Handle1:STN:280:DyaK1M3jtlOrsw%3D%3D Occurrence Handle10215836

10

M Senkal KH Bauer M Kemen . Zumtobel (1998) ArticleTitleLaparoskopische Feinnadelkatheterjejunostomie. Zentralbl Chir 123 1306–1308 Occurrence Handle1:STN:280:DyaK1M%2FpslGhug%3D%3D Occurrence Handle9880853

11

J Tapia R Murguia G Garcia PE de los Monteros E Onate (1999) ArticleTitleJejunostomy: techniques, indications, and complications. World J Surg 23 596–602 Occurrence Handle1:STN:280:DyaK1M3ksVOrsA%3D%3D Occurrence Handle10227930
About this article
Cite this article
Senkal, M., Koch, J., Hummel, T. et al. Laparoscopic needle catheter jejunostomy: modification of the technique and outcome results . Surg Endosc 18, 307–309 (2004). https://doi.org/10.1007/s00464-003-9060-6
Received:

Accepted:

Published:

Issue Date:
Keywords
Laparoscopic jejunostomy

Enteral nutrition

Feeding tubes