Abstract
Background: Using flexible endoscopic methods, hydrogel prostheses can be safely placed, retained for long periods of time, and removed from the esophageal submucosa of pigs. This new technique may have future applications in the treatment of gastroesophageal reflux disease in selected situations. Methods: In a controlled, prospective trial, farm pigs (n = 28) or Sinclair mini-swine (n = 18) underwent sequential placements of 2–13 pliable, radio-opaque hydrogel prostheses into the submucosa of the esophagus during a single endoscopy session. A novel endoscope-overtube device was used. Followup endoscopy and/or fluoroscopy sessions were video-recorded at 6-week, 12-week, 6-month, and yearly intervals. The endoscopic removal of hydrogels was tested in vivo. Necropsy specimens were inspected for signs of chronic inflammation. Results: Overall, 98% of delivery attempts were successful (288/293). Only three hydrogels were lost after 6 weeks. Short-term animals (n = 36) retained 88% of hydrogels for periods up to 6 months. Intact hydrogels (n = 12) were easily removed from four animals at endoscopy. Long-term subjects had two or three hydrogels per animal, using either a beveled-needle device (six pigs) or a trocar design (four pigs). Trocar design: nine of nine prostheses retained at 3 years (100%). Needle design: nine of 10 prostheses retained at 3 years (90%). No significant adverse event occurred. Growth curves were similar between groups. All hydrogels remained pliable to gross inspection upon in vivo removal or necropsy. Pathology showed minimal fibrosis and no chronic inflammation. Conclusions: A novel endoscopic overtube device allows for the successful delivery of multiple hydrogel prostheses with acceptable safety and long term retention rates. These hydrogel prostheses can also be easily removed from the submucosal space of the esophagus.
This is a preview of subscription content, log in to check access.
Access options
Buy single article
Instant access to the full article PDF.
US$ 39.95
Price includes VAT for USA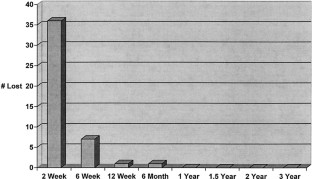 References
1

J Devieri A Pastorelli H Louis V de Maertelaer G Lehman M Cicala O Le Moine D Silverman G Costamagna (2002) ArticleTitleEndoscopic implantation of a biopolymer in the lower esophageal sphincter for gastroesophageal reflux: a pilot study. Gastrointest Endosc 55 335–341 Occurrence Handle10.1067/mge.2002.121596 Occurrence Handle11868005

2

JK DiBiase I Adromis EM Quigley (2000) ArticleTitleEfficacy of radiofrequency energy delivery to the lower esophageal sphincter in the treatment of GERD [abstract]. Gastrointest Endosc 5 AB96

3

PR Dong JE McKay DP Link JP McGahan (1997) ArticleTitlePermanent ureteral occlusion with use of liquid polyacrylonitrile. J Vase Interv Radiol 8 655–657 Occurrence Handle1:STN:280:ByiA2snkslA%3D

4

DW Easter M Yurek H Summers G Johnson (2001) ArticleTitleEndoscopic prosthesis augmentation of the lower esophageal sphincter in swine. Am J Surg 182 697–701 Occurrence Handle10.1016/S0002-9610(01)00817-0 Occurrence Handle1:STN:280:DC%2BD387gvVWhug%3D%3D Occurrence Handle11839341

5

CJ Filipi GA Lehman RI Rothstein I Raijman GV Stiegmann JP Waring JG Hunter CJ Gostout SA Edmundowicz DP Dunne PA Watson DA Cornet (2001) ArticleTitleTransoral, flexible endoscopic suturing for treatment of GERD: a multicenter trial. Gastrointest Endosc 53 416–422 Occurrence Handle10.1067/mge.2001.113502 Occurrence Handle1:STN:280:DC%2BD3MvkslGjtQ%3D%3D Occurrence Handle11275879

6

WZ Gu DP Link H Tesluk K Blashka (1992) ArticleTitleExperimental renal embolization: Preliminary results with polyacrylonitrile-based multiblock copolymers. J Vasc Interv Radiol 3 119–125 Occurrence Handle1:STN:280:By2C2szntVY%3D Occurrence Handle1540712

7

J Isolauri P Laippala (1995) ArticleTitlePrevalence of symptoms suggestive of gastro-oesophageal reflux disease in an adult population. Ann Med 27 67–70 Occurrence Handle1:STN:280:ByqB28%2FkvFY%3D Occurrence Handle7742002

8

RW Jennings AW Flake G Mussan MR Harrison NS Adzick CA Pellegrini (1992) ArticleTitleA novel endoscopic trans-gastric fundoplication procedure for gastroesophageal reflux: an initial animal evaluation. J Laparoendosc Surg 2 207–213 Occurrence Handle1:STN:280:ByyD2czlsFE%3D Occurrence Handle1421537

9

DA Johnson R Ganz J Aisenberg LB Cohen J Deviere TR Foley GB Haber JH Peters GA Lehman (2003) ArticleTitleEndoscopic, deep mural implantation of enteryx for the treatment of GERD: 6-month follow-up of a multicenter trial. Am J Gastroenterol 98 250–258 Occurrence Handle10.1016/S0002-9270(02)06013-6 Occurrence Handle12591037

10

SS Kadirkamanathan DF Evans F Gong E Yazaki M Scott CP Swain (1996) ArticleTitleAntireflux operations at flexible endoscopy using endoluminal stitching techniques: an experimental study. Gastrointest Endosc 44 133–143 Occurrence Handle1:STN:280:ByiD3M7jtVw%3D Occurrence Handle8858318

11

DP Link JD Standberg R Virmani K Blashka F Mourtada MA Samphilipo (1996) ArticleTitleHistopathologic appearance of arterial occlusions with hydrogel and polyvinyl alcohol embolic material in domestic swine. J Vasc Interv Radiol 7 897–905 Occurrence Handle1:STN:280:ByiC3cbkslw%3D Occurrence Handle8951758

12

Z Mahmood BP McMahon Q Arfin PJ Byrne JV Reynolds EM Murphy DG Weir (2003) ArticleTitleEndocinch therapy for gastro-oesophageal reflux disease: a one year prospective follow up. Gut 52 34–39 Occurrence Handle10.1136/gut.52.1.34 Occurrence Handle1:STN:280:DC%2BD3s%2FgsVCltg%3D%3D Occurrence Handle12477756

13

T Martinez-Serna RE Davis R Mason G Perdikis CJ Filipi G Lehman J Nigro P Watson (2000) ArticleTitleEndoscopic valvuloplasty for GERD. Gastrointest Endosc 52 663–670 Occurrence Handle10.1067/mge.2000.109871 Occurrence Handle1:STN:280:DC%2BD3M%2FnsVSrug%3D%3D Occurrence Handle11060195

14

RJ Mason CJ Filipi TR DeMeester IH Peters RJ Lund AW Flake RA Hinder TC Smyrk CH Brenner S Thompson (1994) ArticleTitleA new intraluminal anti-gastroesophageal reflux procedure in baboons. Gastrointest Endosc 45 283–290

15

RC McGouran JM Galloway (1990) ArticleTitleA laser-induced scar at the cardia increases the yield pressure of the lower esophageal sphincter. Gastrointest Endosc 36 439–443 Occurrence Handle1:STN:280:By6D3s3otlA%3D Occurrence Handle2227313

16

KW O'Connor GA Lehman (1988) ArticleTitleEndoscopic placement of collagen at the lower esophageal sphincter to inhibit gastroesophageal reflux: a pilot study of 10 medically intractable patients. Gastrointest Endosc 34 106–112 Occurrence Handle1:STN:280:BieB3M3gs1Y%3D Occurrence Handle3366326

17

KW O'Connor SA Madison DJ Smith RC Ransburg GA Lehman (1984) ArticleTitleAn experimental endoscopic technique for reversing gastroesophageal reflux in dogs by injecting inert material in the distal esophagus. Gastrointest Endosc 30 275–280 Occurrence Handle1:STN:280:BiqD38fivFU%3D Occurrence Handle6489709

18

WO Richards S Scholz L Khaitan KW Sharp MD Holzman (2001) ArticleTitleInitial experience with the stretta procedure for the treatment of gastroesophageal reflux disease. J Laparoendosc Adv Surg Tech A 11 267–273 Occurrence Handle10.1089/109264201317054546 Occurrence Handle1:STN:280:DC%2BD3Mrmt1Orsg%3D%3D Occurrence Handle11642661

19

A Safik (1996) ArticleTitleIntra-esophageal Polytef injection for the treatment of reflux esophagitis. Surg Endosc 10 329–331 Occurrence Handle10.1007/s004649910053 Occurrence Handle1:STN:280:BymB2s7mtlM%3D Occurrence Handle8779070

20

CP Swain TN Mills (1986) ArticleTitleAn endoscopic sewing machine. Gastrointest Endosc 32 36–38 Occurrence Handle1:STN:280:BimC3sjivF0%3D Occurrence Handle3512359

21

G Triadafilopoulos JK DiBiase TT Nostrant NH Stollman PK Anderson MM Wolfe RI Rothstein JM Wo DA Corley MG Patti LV Antignano JS Goff SA Edmundowicz DO Castell JC Rabine MS Kim DS Utley (2002) ArticleTitleThe Stretta procedure for the treatment of GERD: 6 and 12 month follow-up of the U.S. open label trial. Gastrointest Endosc 55 149–156 Occurrence Handle10.1067/mge.2002.121227 Occurrence Handle11818914

22

V Velanovich T Ben-Menachem S Goel (2002) ArticleTitleCase-controlled comparison of endoscopic gastroplication with laparosocopic fundoplication in the management of gastroesophageal reflux disease: early symptomatic outcomes. Surg Laparosc Endosc Percutan Tech 12 219–223 Occurrence Handle10.1097/00129689-200208000-00003 Occurrence Handle12193813
About this article
Cite this article
Easter, D., Yurek, M. & Johnson, G. Long-term retention of endoscopically placed hydrogel prostheses at the lower esophageal sphincter in pigs. Surg Endosc 18, 448–451 (2004). https://doi.org/10.1007/s00464-003-8924-0
Received:

Accepted:

Published:

Issue Date:
Keywords
Gastroesophageal reflux

Lower esophageal sphincter

Heartburn