Abstract
Background: Transoral endoluminal gastroplasty (EG) by the Bard Endocinch device is available for the treatment of gastroesophageal reflux disease (GERD). This study assessed the early (≤12 months) outcomes in patients undergoing EG performed by one gastroenterologist compared with another set of patients referred by the same gastroenterologist for laparoscopic antireflux surgery (LAS) at a foregut surgery center. Methods: From June 2000 to July 2002, 87 consecutive patients cared for by a single gastroenterologist were diagnosed with refractory GERD and underwent either EG (n = 47) or referral for LAS (n = 40). Preoperative evaluation included symptom assessment, pH studies, and motility studies. Outcomes were assessed by symptomatic improvement and dependence on anti-acid medications. Data analyzed by chi-square or Mann-Whitney tests are reported as mean ± SEM. Results: Preoperative symptom duration, Johnson-DeMeester (JD) score, % time pH < 4, and reflux episodes were statistically similar in both treatment groups. The follow-up times for EG and LAS groups were 7.3 ± 0.9 and 8 ± 0.4 months, respectively. Of EG patients, 94% were available for follow-up, and all LAS patients had follow-up data. Overall, 66% of patients were satisfied with EG as compared to 93% after LAS (p = 0.1). Postoperative PPI/motility agent use was 32% for EG and 13% for LAS (p = 0.03). Identifiable causes of EG failure were premature procedure termination due to hypoxia or bleeding (three patients), intractable vomiting (two patients), and delayed gastric emptying (five patients). Three EG patients subsequently had LAS within 6 months of the procedure. Conclusions: LAS offers greater reduction in medication use than EG, as well as more durable patient satisfaction. Benefits of EG may include short-term symptomatic improvement while considering definitive surgical management.
This is a preview of subscription content, log in to check access.
Access options
Buy single article
Instant access to the full article PDF.
US$ 39.95
Price includes VAT for USA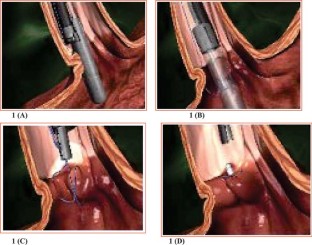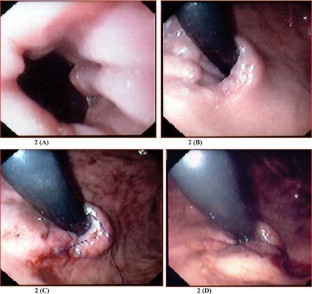 References
1

J Arts S Slootmaekers D Sifrim et al. (2002) ArticleTitleEndoluminal gastroplication (Endocinch) in GERD patients refractory to PPI therapy (abstract). Gastroenterology 122 47

2

T Eubanks P Omelanczuk C Richards et al. (2000) ArticleTitleOutcomes of laparoscopic antireflux procedures. Am J Surg 179 391–395 Occurrence Handle10.1016/S0002-9610(00)00363-9 Occurrence Handle1:STN:280:DC%2BD3cvitl2iuw%3D%3D Occurrence Handle10930488

3

CJ Filipi GA Lehman RI Rothstein I Raijman GV Stiegmann P Waring et al. (2001) ArticleTitleTrandal, flexible endoscopic suturing for the treatment of GERD: a multi-center trial. Gastrointest Endosc 53 416–422 Occurrence Handle10.1067/mge.2001.113502 Occurrence Handle1:STN:280:DC%2BD3MvkslGjtQ%3D%3D Occurrence Handle11275879

4

GB Haber NE Marcon P Kortan et al. (2000) ArticleTitleA 2-year follow-up of 25 patients undergoing endoluminal gastric plication (ELGP) for gastroesophageal reflux disease (GERD) [abstract]. Gastrointest Endosc 53 116

5

R Hinder G Perdikis P Klingler K DeVault (1997) ArticleTitleThe surgical option for gastroesophageal reflux disease. Am J Med 103 IssueIDsuppl 144s–148s Occurrence Handle10.1016/S0002-9343(97)00341-0 Occurrence Handle1:STN:280:DyaK1c%2FotlWjtg%3D%3D Occurrence Handle9422641

6

J Lagergren R Bergstrom A Lindgren O Nyren (1999) ArticleTitleSymptomatic gastroesophageal reflux as a risk factor for esophageal adenocarcinoma. N Engl J Med 340 825–831 Occurrence Handle1:STN:280:DyaK1M7msFeitw%3D%3D Occurrence Handle10080844

7

Z Mahmood PJ Byrne J McCullough et al. (2002) ArticleTitleA comparison of BARD Endocinch transesophageal endoscopic plication (BETEP) with laparoscopic Nissen fundoplication (LNF) for the treatment of gastroesophageal reflux disease (GORD) [abstract]. Gastrointest Endosc 55 AB90

8

JT Maple JA Alexander CJ Gostout et al. (2001) ArticleTitleEndoscopic gastroplasty for GERD: Not as good as billed? A single-center 6-month report [abstract]. Am J Gastroenterol 96S 65

9

VM Patel (2001) ArticleTitleClinical utility of endoluminal gastroplication for gastroesophageal reflux disease in private practice a prospective study of 55 patients in the Southwest [abstract]. Am J Gastroenterol 96S 89

10

I Raijman T Ben-Menachem G Reddy Y Chen (2001) ArticleTitleSymptomatic response to endoluminal gastroplication (ELGP) in patients with gastroesophageal reflux disease: A multi-center study [abstract]. Gastrointest Endosc 53 74

11

D Rattner D Brooks (1995) ArticleTitlePatient satisfaction following laparoscopic and open antireflux surgery. Arch Surg 130 289–294 Occurrence Handle1:STN:280:ByqC1MvhvFA%3D Occurrence Handle7887796

12

RI Rothstein H Pohl M Grove et al. (2001) ArticleTitleEndoscopic gastric plication for the treatment of GERD: Two year follow-up results [abstract]. Am J Gastroenterol 96S 107

13

CP Swain GJ Brown TN Mills (1989) ArticleTitleAn endoscopic stapling device: The development of a new flexible endoscopically controlled device for placing multiple transmural staples in gastrointestinal tissue. Gastrointest Endosc 35 338 Occurrence Handle1:STN:280:BiaA2MjjvVY%3D Occurrence Handle2767388

14

CP Swain TN Mills (1986) ArticleTitleAn endoscopic sewing machine. Gastrointest Endosc 32 36 Occurrence Handle1:STN:280:BimC3sjivF0%3D Occurrence Handle3512359

15

CP Swain SS Kadirkamanathann G Brown F Gong DR Evans TN Mills (1994) ArticleTitleSewing at flexible endoscopy in human gastrointestinal tract [abstract]. Gastrointest Endosc 40 AB35

16

CP Swain PO Park T Kjellin et al. (2001) ArticleTitleEndoscopic gastroplasty for gastro-oesophageal reflux disease [abstract]. Gastrointest Endosc 51 144

17

V Velanovich T Ben-Menachem S Goel (2001) ArticleTitleCase-control comparison of endoscopic fundoplication with Laparoscopic fundoplication in the treatment of gastroesophageal reflux disease. Gastroenterology 120 A115
Acknowledgements
We are grateful to Florea Carolyn, RN, and Craig Odum at the Center for Digestive Diseases, Macon, Georgia, for their assistance with the study.
About this article
Cite this article
Chadalavada, R., Lin, E., Swafford, V. et al. Comparative results of endoluminal gastroplasty and laparoscopic antireflux surgery for the treatment of GERD. Surg Endosc 18, 261–265 (2004). https://doi.org/10.1007/s00464-003-8921-3
Received:

Accepted:

Published:

Issue Date:
Keywords
Transoral endoluminal gastroplasty

Laparoscopic antireflux surgery

Gastroesophageal reflux disease (GERD)

Proton pump inhibitors (PPI)