Abstract
Background
Bile duct injuries (BDIs) during laparoscopic cholecystectomy (LC) still are reported with greater frequency than during open cholecystectomy (OC).
Methods
In 1999, a retrospective study evaluating the incidence of BDIs during LC in the area of Rome from 1994 to 1998 (group A) was performed. In addition, a prospective audit was started, ending in December 2001 (group B).
Results
In group A, 6,419 LCs were performed (222 were converted to OC; 3.4%). In group B, 7,299 LCs were performed (225 were converted to OC; 3.1%). Seventeen BDIs (0.26%) occurred in group A and 16 (0.22%) in group B. Overall, mortality and major morbidity rates were 12.1% and 30.3%, respectively, without significant differences between the two groups.
Conclusions
The incidence and clinical relevance of BDIs during LC in the area of Rome appeared to be stable over the past 8 years and were not influenced by the use of a prospective audit, as compared with a retrospective survey.
This is a preview of subscription content, log in to check access.
Access options
Buy single article
Instant access to the full article PDF.
US$ 39.95
Price includes VAT for USA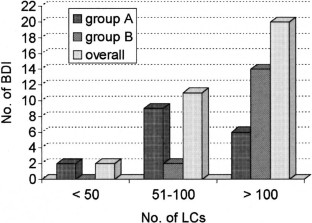 References
1

SB Archer DW Brown D Smith GD Branum JG Hunter (2001) ArticleTitleBile duct injury during laparoscopic cholecystectomy: results of a national survey. Ann Surg 234 549–559 Occurrence Handle10.1097/00000658-200110000-00014 Occurrence Handle1:STN:280:DC%2BD3MrisFGjsg%3D%3D Occurrence Handle11573048

2

JF Buell DC Cronin B Funaki A Koffron A Yoshida A Lo J Leef JM Millis (2002) ArticleTitleDevastating and fatal complications associated with combined vascular and bile duct injuries during cholecystectomy. Arch Surg 137 703–708 Occurrence Handle10.1001/archsurg.137.6.703 Occurrence Handle12049542

3

J Calvete L Sabeter B Camps A Verdu A Gomez-Portilla J Martin MA Torrico B Flor N Cassinello S Liedo (2000) ArticleTitleBile duct injury during laparoscopic cholecystectomy: myth or reality of the learning curve? Surg Endosc 14 605–611 Occurrence Handle10.1007/s004640000103 Occurrence Handle10948293

4

M Catarci M Carlini P Gentileschi E Santoro (2001) ArticleTitleMajor and minor injuries during the creation of pneumoperitoneum: a multicenter study on 12,919 cases. Surg Endosc 15 566–569 Occurrence Handle10.1007/s004640000381 Occurrence Handle1:STN:280:DC%2BD3MrksV2nsw%3D%3D Occurrence Handle11591941

5

AM Davidoff TN Pappas EA Murray DJ Hilleren RD Johnson ME Baker GE Newman PB Cotton WC Meyers (1992) ArticleTitleMechanisms of major biliary injury during laparoscopic cholecystectomy. Ann Surg 215 196–202 Occurrence Handle1:STN:280:By2C1c7itlE%3D Occurrence Handle1531913

6

WR Jarnagin LH Blumgart (1999) ArticleTitleOperative repair of bile duct injuries involving the hepatic duct confluence. Arch Surg 134 769–775 Occurrence Handle10.1001/archsurg.134.7.769 Occurrence Handle1:STN:280:DyaK1MzivVamug%3D%3D Occurrence Handle10401831

7

K Jones Monahan JC Gruenberg (1998) ArticleTitleBile duct injuries during laparoscopic cholecystectomy: a community's experience. Am Surg 64 638–642 Occurrence Handle1:STN:280:DyaK1czhsl2rsg%3D%3D Occurrence Handle9655274

8

L Krahenbuhl G Sclabas N Wente M Schafer R Schlumpf MW Buchler (2001) ArticleTitleIncidence, risk factors, and prevention of biliary tract injuries during laparoscopic cholecystectomy in Switzerland. World J Surg 25 1325–1330 Occurrence Handle11596898

9

K Ludwig J Bernhardt H Steffen D Lorenz (2002) ArticleTitleContribution of intraoperative cholangiography to incidence and outcome of common bile duct injuries during laparoscopic cholecystectomy. Surg Endosc 16 1098–1104 Occurrence Handle10.1007/s00464-001-9183-6 Occurrence Handle1:STN:280:DC%2BD38vhtFGjsQ%3D%3D Occurrence Handle12165830

10

BV MacFadyen SuffixJr R Vecchio E Ricardo CR Mathis (1998) ArticleTitleBile duct injury after laparoscopic cholecystectomy: the United States experience. Surg Endosc 12 315–321 Occurrence Handle10.1007/s004649900661 Occurrence Handle9543520

11

AJ McMahon CM Fischbacher SH Frame MC MacLeod (2000) ArticleTitleImpact of laparoscopic cholecystectomy: a population-based study. Lancet 356 1632–1637 Occurrence Handle10.1016/S0140-6736(00)03156-1 Occurrence Handle1:STN:280:DC%2BD3M%2FltlOksw%3D%3D Occurrence Handle11089821

12

AJ McMahon G Fullarton JN Baxter PJ O'Dwyer (1995) ArticleTitleBile duct injury and bile leakage in laparoscopic cholecystectomy. Br J Surg 82 307–313 Occurrence Handle1:STN:280:ByqA3MnjslQ%3D Occurrence Handle7795992

13

F Moody (2000) ArticleTitleBile duct injury during laparoscopic cholecystectomy. Surg Endosc 14 605–607 Occurrence Handle10.1007/s004640000103 Occurrence Handle10948293

14

AR Moosa DW Easter E Sonnenberg ParticleVan G Casola H D'Agostino (1992) ArticleTitleLaparoscopic injuries to the bile duct: a cause for concern. Ann Surg 215 203–208 Occurrence Handle1531914

15

MM Murr JF Gigot DM Nagorney WS Harmsen DM Ilstrup MB Farnell (1999) ArticleTitleLong-term results of biliary reconstruction after laparoscopic bile duct injuries. Arch Surg 134 604–610 Occurrence Handle10.1001/archsurg.134.6.604 Occurrence Handle1:STN:280:DyaK1M3psVarug%3D%3D Occurrence Handle10367868

16

A Nordin L Halme H Makisalo H Isoniemi K Hockerstedt (2002) ArticleTitleManagement and outcome of major bile duct injuries after laparoscopic cholecystectomy: from therapeutic endoscopy to liver transplantation. Liver Transplant 8 1036–1043 Occurrence Handle10.1053/jlts.2002.35557

17

J Regoly-Merei M Ihasz Z Szerberin J Sandor M Matè (1998) ArticleTitleBiliary tract complications in laparoscopic cholecystectomy: a multicenter study of 148 biliary tract injuries in 26,440 operations. Surg Endosc 12 294–300 Occurrence Handle10.1007/s004649900657 Occurrence Handle9543516

18

MC Richardson G Bell GM Fullarton (1996) ArticleTitleIncidence and nature of bile duct injuries following laparoscopic cholecystectomy: an audit of 5,913 cases. Br J Surg 83 1356–1360

19

AF Roy RB Passi RW Lapointe VC McAlister MH Dagenais WJ Wall (1993) ArticleTitleBile duct injury during laparoscopic cholecystectomy. Can J Surg 36 509–516 Occurrence Handle1:STN:280:ByuD1c%2FmsFQ%3D Occurrence Handle8258129

20

JC Russell SJ Walsch AS Mattie JT Lynch (1996) ArticleTitleBile duct injuries, 1989–1993: a statewide experience. Connecticut Laparoscopic Cholecystectomy Registry. Arch Surg 131 382–388 Occurrence Handle1:STN:280:BymB3c7ltVc%3D Occurrence Handle8615723

21

JA Shea JA Berlin DR Bachwich RN Staroscik PF Malet M McGuckin JS Schwartz JJ Escarce (1998) ArticleTitleIndications for and outcomes of cholecystectomy: a comparison of the pre- and postlaparoscopic eras. Ann Surg 227 343–350 Occurrence Handle10.1097/00000658-199803000-00005 Occurrence Handle1:STN:280:DyaK1c7os1artw%3D%3D Occurrence Handle9527056

22

JA Shea MJ Healey JA Berlin JR Clarke PF Malet RN Staroscik JS Schwartz SV Williams (1996) ArticleTitleMortality and complications associated with laparoscopic cholecystectomy: a meta-analysis. Ann Surg 224 609–620 Occurrence Handle10.1097/00000658-199611000-00005 Occurrence Handle1:STN:280:ByiD2svksV0%3D Occurrence Handle8916876

23

SM Strasberg M Hertl NJ Soper (1995) ArticleTitleAn analysis of the problem of biliary injury during laparoscopic cholecystectomy. J Am Coll Surg 180 101–125 Occurrence Handle1:STN:280:ByqD1Mznt10%3D Occurrence Handle8000648

24

B Taylor (1998) ArticleTitleCommon bile duct injury during laparoscopic cholecystectomy in Ontario: does ICD-9 coding indicate true incidence? CMAJ 158 481–485 Occurrence Handle1:STN:280:DyaK1c3ptFSgsg%3D%3D Occurrence Handle9627560

25

MH Thompson JR Benger (2000) ArticleTitleCholecystectomy, conversion, and complications. HPB Surg 11 373–378 Occurrence Handle1:STN:280:DC%2BD3M%2FmsFeiuw%3D%3D Occurrence Handle10977115

26

JA Windsor J Pong (1998) ArticleTitleLaparoscopic biliary injury: more than a learning curve problem. ANZ J Surg 68 186–189 Occurrence Handle1:STN:280:DyaK1c3it12isg%3D%3D

27

SL Zacks RS Sandler R Rutledge RS Brown SuffixJr (2002) ArticleTitleA population-based cohort study comparing laparoscopic cholecystectomy and open cholecystectomy. Am J Gastroenterol 97 334–340 Occurrence Handle10.1016/S0002-9270(01)04028-X Occurrence Handle11866270

28

K Z'graggen H Wehrli A Metzger M Buehler E Frei C Klaiber (1998) ArticleTitleComplications of laparoscopic cholecystectomy in Switzerland: a prospective 3-year study of 10,174 patients. Swiss Association of Laparoscopic and Thoracoscopic Surgery. Surg Endosc 12 1303–1310 Occurrence Handle10.1007/s004649900846 Occurrence Handle1:STN:280:DyaK1M%2FgsFCksQ%3D%3D Occurrence Handle9788852
Additional information
(T. Zanarini) Other members that actively participated in this multicenter study are: C. Allegri, Ospedale Cristo Re, Roma; D. Antonellis, Ospedale S. Giuseppe, Marino; N. Basso, Università La Sapienza, Roma; F. Cancrini, Ospedale S. Carlo di Nancy, Roma; G. Cucchiara, Ospedale Fatebenefratelli, Roma; A. Garofalo, Ospedale S. Camillo Forlanini, Roma; A.L. Gaspari, Università Tor Vergata, Roma; M. Lombardi, Ospedale CTO, Roma; G. Massi, Ospedale S. Camillo Forlanini, Roma; R. Marrese, G.B. Grassi, Ospedale S. Filippo Neri, Roma; V. Mazzucato, M. Mulieri, Ospedale Nuovo Regina Margherita, Roma; A. Montori, Università La Sapienza, Roma; A. Moraldi, Ospedale S. Giacomo, Roma; G. Pasquini, Ospedale Civile, Velletri; E. Santoro, Istituto Regina Elena, Roma; F. Scutari, Ospedale S. Spirito, Roma; R. Tersigni, Ospedale S. Camillo Forlanini, Roma; C.E. Vitelli, Ospedale Madre G. Vannini, Roma; F. Zaraca, M. Carboni, Università La Sapienza, Roma
About this article
Cite this article
Gentileschi, P., Di Paola, M., Catarci, M. et al. Bile duct injuries during laparoscopic cholecystectomy: a 1994–2001 audit on 13,718 operations in the area of Rome. Surg Endosc 18, 232–236 (2004). https://doi.org/10.1007/s00464-003-8815-4
Received:

Accepted:

Published:

Issue Date:
Keywords
Cholecystectomy

Laparoscopic/adverse effects

Bile duct/injuries

Multicenter studies