Abstract
Background: The aim of this study was to evaluate the need for transfixion sutures during laparoscopic ventral hernia repair with mesh. Methods: Incisional hernias were created in 14 Yucatan mini-pigs. Animals were randomized to undergo laparoscopic hernia repair either with spiral tacks alone (Tacks) or with tacks and 4 Prolene transfixion sutures (Sutured) using Composix E/X mesh (Davol Inc.). At 4 weeks, exploratory laparoscopy was performed to assess the repair and score adhesions. The abdominal wall was harvested for tensile strength analysis and histologic evaluation. Continuous variables were compared using a two-tailed nonpaired t-test. Results are presented as mean ± standard deviation. Results: The mean hernia size was 8.5 ± 0.5 cm by 5.5 ± 0.7 cm, with no difference between groups. The operative time was significantly longer (p = 0.006) for the Sutured group (62.1 ± 16.8 min) than for the Tacks group (32.3 ± 7.0 min). The number of tacks per repair was equivalent between groups. At necropsy, the mesh in all cases was well incorporated, reperitonealized, and without evidence of migration. No hernias recurred. However, the Sutured group had a significantly (p ≤ 0.05) higher adhesion score (5.4 ± 3.3) than the Tacks group (2.0 ± 2.7). The tensile strength of the repair zone was no different between groups (Sutured 4.8 ± 1.5 N/cm, Tacks 3.8 ± 1.4 N/cm). On histologic examination, the ratio of inflammatory cells to fibroblasts was similar between groups (Sutured 0.2 ± 0.6, Tacks 0.2 ± 0.3). Only 82% of tacks in each group penetrated the fascia, and the depth of tack penetration was similar between groups (Sutured 3.7 ± 0.3 mm, Tacks 3.9 ± 0.4 mm). Conclusions: In a porcine model, the use of transfixion sutures was associated with longer operative times and more adhesions, without improvement in tensile strength or mesh incorporation. A human clinical trial is needed to determine the optimal method of securing abdominal wall mesh.
This is a preview of subscription content, log in to check access.
Access options
Buy single article
Instant access to the full article PDF.
US$ 39.95
Price includes VAT for USA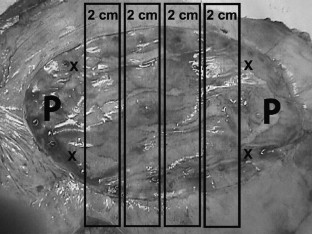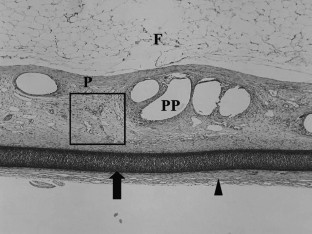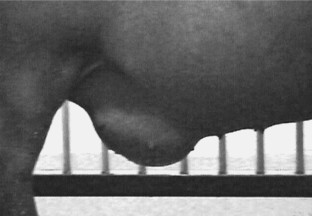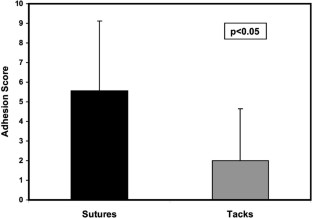 References
1

JP Arnaud R Eloy M Adloff JF Grenier (1977) ArticleTitleCritical evaluation of prosthetic materials in repair of abdominal wall hernias: new criteria of tolerance and resistance. Am J Surg 133 338–345 Occurrence Handle1:STN:280:CSiC2Mrht1w%3D Occurrence Handle139832

2

A Baykal K Yorganci C Sokmensuer E Hamaloglu N Renda I Sayek (2000) ArticleTitleAn experimental study of the adhesive potential of different meshes. Eur J Surg 166 490–494 Occurrence Handle10.1080/110241500750008826 Occurrence Handle1:STN:280:DC%2BD3M%2FlsFSrtw%3D%3D Occurrence Handle10890547

3

JM Becker MT Dayton VW Fazio DE Beck SJ Stryker SD Wexner BG Wolff PL Roberts LE Smith SA Sweeney M Moore (1996) ArticleTitlePrevention of postoperative abdominal adhesions by a sodium hyaluronate-based bioresorbable membrane: a prospective, randomized, double-blind multicenter study. J Am Coll Surg 183 297–306 Occurrence Handle8843257

4

JM Bellon J Bujan LA Contreras A Carrera-San Martin F Jurado (1996) ArticleTitleComparison of a new type of polytetrafluoroethylene patch (Mycro Mesh) and polypropylene prosthesis (Marlex) for repair of abdominal wall defects. J Am Coll Surg 183 11–18 Occurrence Handle1:STN:280:BymB28bkt1M%3D Occurrence Handle8673302

5

A Bickel A Eitan (1999) ArticleTitleA simplified laparoscopic technique for mesh placement in ventral hernia repair [comment]. Surg Endosc 13 532–534 Occurrence Handle10.1007/s004649901030 Occurrence Handle1:STN:280:DyaK1M3ksVOltw%3D%3D Occurrence Handle10227960

6

CE Butler FA Navarro DP Orgill (2001) ArticleTitleReduction of abdominal adhesions using composite collagen-GAG implants for ventral hernia repair. J Biomed Mater Res 58 75–80 Occurrence Handle10.1002/1097-4636(2001)58:1<75::AID-JBM110>3.3.CO;2-A Occurrence Handle1:CAS:528:DC%2BD3MXht1Gqu70%3D Occurrence Handle11153001

7

MA Carbajo JC Martin del Olmo JI Blanco C de la Cuesta M Toledano F Martin C Vaquero L Inglada (1999) ArticleTitleLaparoscopic treatment vs open surgery in the solution of major incisional and abdominal wall hernias with mesh [comment]. Surg Endosc 13 250–252 Occurrence Handle1:STN:280:DyaK1M7msF2jtg%3D%3D Occurrence Handle10064757

8

PM Christoforoni YB Kim Z Preys RY Lay FJ Montz (1996) ArticleTitleAdhesion formation after incisional hernia repair: a randomized porcine trial. Am Surg 62 935–938 Occurrence Handle1:STN:280:ByiD2M%2FpslM%3D Occurrence Handle8895716

9

EJ DeMaria JM Moss HJ Sugerman (2000) ArticleTitleLaparoscopic intraperitoneal polytetrafluoroethylene (PTFE) prosthetic patch repair of ventral hernia. Prospective comparison to open prefascial polypropylene mesh repair. Surg Endosc 14 326–329 Occurrence Handle1:STN:280:DC%2BD3c3ltlynsQ%3D%3D Occurrence Handle10790548

10

M Farrakha (2000) ArticleTitleLaparoscopic treatment of ventral hernia. A bilayer repair [comment]. Surg Endosc 14 1156–1158 Occurrence Handle10.1007/s004640000305 Occurrence Handle1:STN:280:DC%2BD3M7htFCisA%3D%3D Occurrence Handle11148788

11

M Franchi F Ghezzi M Buttarelli S Tateo D Balestreri P Bolis (2001) ArticleTitleIncisional hernia in gynecologic oncology patients: a 10-year study. Obstet Gynecol 97 696–700

12

A Garcia-Ruiz T Naitoh M Gagner (1998) ArticleTitleA porcine model for laparoscopic ventral hernia repair. Surg Laparosc Endosc Percutan Tech 8 35–39 Occurrence Handle10.1097/00019509-199802000-00009 Occurrence Handle1:STN:280:DyaK1c7kslyqsA%3D%3D

13

KE Greenawalt TJ Butler EA Rowe AC Finneral DS Garlick JW Burns (2000) ArticleTitleEvaluation of sepramesh biosurgical composite in a rabbit hernia repair model. J Surg Res 94 92–98 Occurrence Handle1:CAS:528:DC%2BD3cXosVOmtbs%3D Occurrence Handle11104648

14

BT Heniford A Park BJ Ramshaw G Voeller (2000) ArticleTitleLaparoscopic ventral and incisional hernia repair in 407 patients. J Am Coll Surg 190 645–650 Occurrence Handle1:STN:280:DC%2BD3czivFequw%3D%3D Occurrence Handle10872998

15

MD Holzman CM Purut K Reintgen S Eubanks TN Pappas (1997) ArticleTitleLaparoscopic ventral and incisional hernioplasty. Surg Endosc 11 32–35 Occurrence Handle1:STN:280:ByiC2cfjsFc%3D Occurrence Handle8994985

16

GD Hooker BM Taylor DK Driman (1999) ArticleTitlePrevention of adhesion formation with use of sodium hyaluronate-based bioresorbable membrane in a rat model of ventral hernia repair with polypropylene mesh—a randomized, controlled study. Surgery 125 211–216 Occurrence Handle10.1067/msy.2099.94987 Occurrence Handle1:STN:280:DyaK1M7ltVyiug%3D%3D Occurrence Handle10026756

17

LA Israelsson T Jonsson (1996) ArticleTitleIncisional hernia after midline laparotomy: a prospective study. Eur J Surg 162 125–129 Occurrence Handle8639725

18

K LeBlanc (2001) ArticleTitleLaparoscopic treatment of ventral hernia [comment]. Surg Endosc 15 1242,

19

MA Liberman RJ Rosenthal EH Phillips (2002) ArticleTitleLaparoscopic ventral and incisional hernia repair: a simplified method of mesh placement. J Am Coll Surg 194 93–95 Occurrence Handle10.1016/S1072-7515(01)01135-8 Occurrence Handle11800347

20

RW Luijendijk WC Hop MP van den Tol DC de Lange MM, JN, IJ Braaksma RU Boelhouwer BC de Vries MK Salu JC Wereldsma CM Bruijninckx J Jeekel (2000) ArticleTitleA comparison of suture repair with mesh repair for incisional hernia. N Engl J Med 343 392–398 Occurrence Handle1:STN:280:DC%2BD3czovVKhsQ%3D%3D Occurrence Handle10933738

21

GJ Morris-Stiff LE Hughes (1998) ArticleTitleThe outcomes of nonabsorbable mesh placed within the abdominal cavity: literature review and clinical experience. J Am Coll Surg 186 352–367 Occurrence Handle9510268

22

M Musella F Milone M Chello P Angelini R Jovino (2001) ArticleTitleMagnetic resonance imaging and abdominal wall hernias in aortic surgery. J Am Coll Surg 193 392–395 Occurrence Handle10.1016/S1072-7515(01)01003-1 Occurrence Handle1:STN:280:DC%2BD3MrjvVGgsg%3D%3D Occurrence Handle11584967

23

A Park M Gagner A Pomp (1996) ArticleTitleLaparoscopic repair of large incisional hernias. Surg Laparosc Endosc Percutan Tech 6 123–128 Occurrence Handle10.1097/00019509-199604000-00007 Occurrence Handle1:STN:280:BymB28bgvFw%3D

24

HH 3rd Parker JM Nottingham RP Bynoe MJ Yost (2002) ArticleTitleLaparoscopic repair of large incisional hernias. Am Surg 68 530–533, Occurrence Handle12079134

25

DR Reitter JK Paulsen JR Debord NC Estes (2000) ArticleTitleFive-year experience with the "four-before" laparoscopic ventral hernia repair. Am Surg 66 465–468, Occurrence Handle1:STN:280:DC%2BD3c3ot1ylsw%3D%3D Occurrence Handle10824747

26

D Rosenthal ME Franklin Jr (1993) ArticleTitleUse of percutaneous stitches in laparoscopic mesh hernioplasty. Surg Gynecol Obstet 176 491–492 Occurrence Handle1:STN:280:ByyB2c3ltVE%3D Occurrence Handle8480274

27

LM Sanders LM Flint JJ Ferrara (1999) ArticleTitleInitial experience with laparoscopic repair of incisional hernias. Am J Surg 177 227–231 Occurrence Handle10.1016/S0002-9610(99)00015-X Occurrence Handle1:STN:280:DyaK1M3jsFaltw%3D%3D Occurrence Handle10219859

28

J Szymanski A Voitk J Joffe C Alvarez G Rosenthal (2000) ArticleTitleTechnique and early results of outpatient laparoscopic mesh onlay repair of ventral hernias. Surg Endosc 14 582–584 Occurrence Handle10.1007/s004640020073 Occurrence Handle1:STN:280:DC%2BD3cvitlWmtg%3D%3D Occurrence Handle10890970

29

N Tagaya H Mikami H Kogure O Ohyama (1995) ArticleTitleLaparoscopic repair of an abdominal hernia using an expanded polytetrafluoroethylene patch secured by a four-corner tacking technique. Surg Today 25 930–931 Occurrence Handle1:STN:280:BymC28%2FgvVY%3D Occurrence Handle8574064

30

FK Toy RW Bailey S Carey CW Chappuis M Gagner LG Josephs EC Mangiante AE Park A Pomp RT Smoot Jr JF Uddo Jr GR Voeller (1998) ArticleTitleProspective, multicenter study of laparoscopic ventral hernioplasty. Preliminary results [comment]. Surg Endosc 12 955–959 Occurrence Handle1:STN:280:DyaK1c3pvVeiug%3D%3D Occurrence Handle9632869

31

M Riet Particlevan't PJ Steenwijk Particlede Vos van GJ Kleinrensink EW Steyerberg HJ Bonjer (2002) ArticleTitleTensile strength of mesh fixation methods in laparoscopic incisional hernia repair. Surg Endosc 16 1713–1716 Occurrence Handle10.1007/s00464-001-9202-7 Occurrence Handle1:STN:280:DC%2BD38jis1eqtg%3D%3D Occurrence Handle12098028

32

WW Vrijland F Bonthuis EW Steyerberg RL Marquet J Jeekel HJ Bonjer (2000) ArticleTitlePeritoneal adhesions to prosthetic materials: choice of mesh for incisional hernia repair. Surg Endosc 14 960–963 Occurrence Handle10.1007/s004640000180 Occurrence Handle1:STN:280:DC%2BD3M7gvFOqtA%3D%3D Occurrence Handle11080412
Acknowledgements
The authors acknowledge the support of the Washington University Institute of Minimally Invasive Surgery and Davol Inc. for an educational grant that helped fund this study. Also, we acknowledge the assistance of the Washington University Division of Plastic Surgery for use of the tensiometer.
About this article
Cite this article
Winslow, E., Diaz, S., Desai, K. et al. Laparoscopic incisional hernia repair in a porcine model: What do transfixion sutures add? . Surg Endosc 18, 529–535 (2004). https://doi.org/10.1007/s00464-003-8519-9
Received:

Accepted:

Published:

Issue Date:
Keywords
Laparoscopy

Incisional hernia

Mesh fixation

Porcine model