Abstract
Hepaticojejunostomy is performed to reestablish bilioenteric continuity. During a 5-year period between July 1998 and July 2003, the authors attempted hepaticojejunostomy by a total laparoscopic approach in 10 patients with benign stricture disorders of the extrahepatic biliary tree. Six of these patients had type 1 (extrahepatic, fusiform) choledochal cyst and presented with pain, fever, and jaundice. Four of the patients had iatrogenic biliary strictures after cholecystectomy (2 patients after laparoscopic cholecystectomy and 2 patients after open cholecystectomy). These patients had a variable presentation 1 to 3 weeks after the primary procedure, with peritonitis and/or cholangitis or only progressive jaundice. For nine of the patients (90%), the procedure was completed entirely laparoscopically. The mean operative time was 326.6 min for the patients with choledochal cysts and 268 min for the patients with iatrogenic strictures. One patient with stricture after open cholecystectomy underwent conversion to an open repair because of severe anatomic distortion and fibrosis. Four patients drained bile postoperatively for 5 to 7 days. One patient with iatrogenic biliary stricture after open cholecystectomy required open revision of the anastomosis 18 months after laparoscopic hepaticojejunostomy because of recurrent cholangitis. The remaining eight patients (80%) were doing well a mean follow-up period of 3.1 years (range, 3 months to 5 years). Total laparoscopic hepaticojejunostomy is feasible for a select group of patients, but requires advanced laparoscopic skills, including intracorporeal suturing. It must be attempted only in centers well versed in advanced laparoscopic surgery.
This is a preview of subscription content, log in to check access.
Access options
Buy single article
Instant access to the full article PDF.
US$ 39.95
Price includes VAT for USA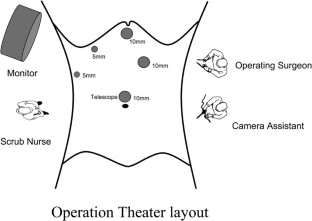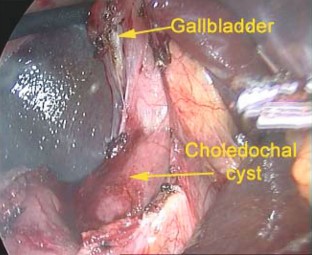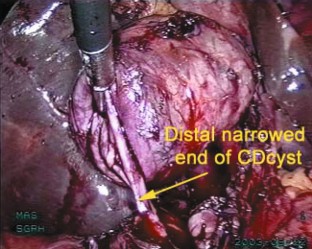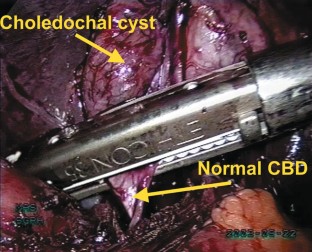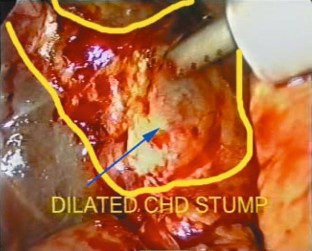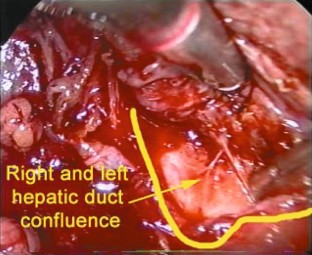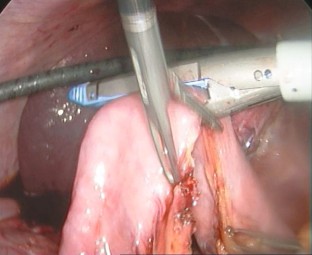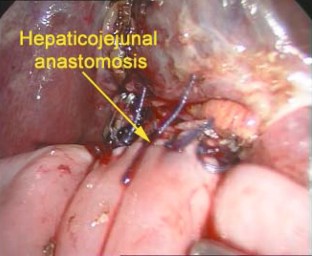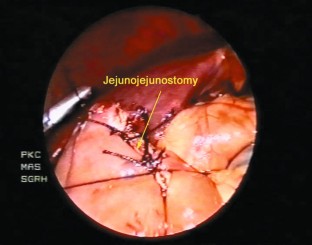 References
1.

S Adamsen OH Hansen P Funch Jensen et al. (1997) ArticleTitleBile duct injury during laparoscopic choelcystectomy: a prospective nation wide series J Am Coll Surg 184 571 Occurrence Handle1:STN:280:ByiA383mt1Y%3D Occurrence Handle9179112

2.

SA Ahrendt HA Pitt (2001) ArticleTitleSurgical therapy of iatrogenic lesions of biliary tract World J Surg 25 1360–1365 Occurrence Handle1:STN:280:DC%2BD3MrltVOjsA%3D%3D Occurrence Handle11596904

3.

F Alonzo-Lej WB Raver DJ Pessagno (1959) ArticleTitleCongenital choledochal cysts with a report of two and an analysis of 94 cases Int Abstr Surg 108 1 Occurrence Handle13625059

4.

H Bismuth PE Majno (2001) ArticleTitleBiliary strictures: classification based on the principles of surgical treatment World J Surg 25 1241–1244 Occurrence Handle1:STN:280:DC%2BD3MrltVKrsg%3D%3D Occurrence Handle11596882

5.

LH Blumgart WR Jarnagin (2000) Surgery of the liver and biliary tract LH Blumgart Y Fong (Eds) Vol 1 EditionNumber3 WB Saunders Philadelphia, PA 853–895

6.

PK Chowbey MP Katrak A Sharma R Khullar V Soni M Baijal A Vashistha A Dhir A Dewan (2002) ArticleTitleComplete laparoscopic management of choledochal cyst: report of 2 cases J Laparoendosc Adv Surg Tech 12 219–223

7.

GA Fatello A Cerofolini M Rebonato G Bergamaschi C Ferrari A Chiappetta (1995) ArticleTitleCongenital choledochal cyst: video-guided laparoscopic treatment Surg Laparosc Endosc Perc Tech 5 354–358

8.

D Henne Bruns B Kremer F Thonke H Grimm N Soehendra (1993) ArticleTitle"Endoscopy friendly" resection technique of choledochal cysts Endoscopy 25 176–178 Occurrence Handle1:STN:280:ByyB2MbgslU%3D Occurrence Handle8491136

9.

HU Laasch DF Martin (2002) ArticleTitleManagement of benign biliary strictures Cardiovasc Intervent Radiol 25 457–466 Occurrence Handle12391514

10.

AJ Moser (2001) ArticleTitleBenign biliary strictures Curr Treat Options Gastroenterol 4 377–387 Occurrence Handle11560785

11.

A Nordin L Halme H Makisalo H Isoniemi K Hockerstedt (2002) ArticleTitleManagement of outcome of major bile duct injuries after laparoscopic choelcystectomy: from therapeutic endoscopy to liver transplantation Liver Transplant 8 1036–1043

12.

F Palacio-Velez A Castro-Mendoza AR Oliver-Guerra (2002) ArticleTitleResults of 21 years of surgery in iatrogenic lesions of the bile ducts Rev Gastroenterol Mex 67 76–81 Occurrence Handle12214338

13.

GA Quintero JF Patino (2001) ArticleTitleSurgical management of benign strictures of the biliary tract World J Surg 25 1245–1250 Occurrence Handle1:STN:280:DC%2BD3MrltVKrsw%3D%3D Occurrence Handle11596883

14.

JJ Roslynn GS Binns FXE Hughes et al. (1993) ArticleTitleOpen cholecystectomy: a contemporary analysis of 42,464 patients Ann Surg 218 129 Occurrence Handle8342992

15.

H Seeliger A Furst C Zulke KW Jauch (2002) ArticleTitleSurgical management of bile duct injuries following laparoscopic choelcystectomy: analysis and follow-up of 28 cases Langenbecks Arch Surg 387 286–293 Occurrence Handle10.1007/s00423-002-0330-x Occurrence Handle12447554

16.

H Shimura M Tanaka S Shimizu K Mizumoto (1998) ArticleTitleLaparoscopic treatment of congenital choledochal cysts Surg Endosc 12 1268–1271 Occurrence Handle1:STN:280:DyaK1cvislWisA%3D%3D Occurrence Handle9745070

17.

M Tanaka S Shimizu K Mizumoto K Yokohata K Chijiiwa K Yamaguchi Y Ogawa (2001) ArticleTitleLaparoscopically assisted resection of choeldochal cyst and Roux-en-Y reconstruction Surg Endosc 15 545–552 Occurrence Handle1:STN:280:DC%2BD3MrksV2gtQ%3D%3D Occurrence Handle11591937

18.

M Tanaka S Shimizu K Yokohata K Chijiiwa K Yamaguchi Y Ogawa (2001) ArticleTitleLaparoscopically assisted resection of choledochal cyst and Roux-en-Y reconstruction Surg Endosc 15 545–551 Occurrence Handle1:STN:280:DC%2BD3MrksV2gtQ%3D%3D Occurrence Handle11591937

19.

T Todani Y Watanabe M Narusue K Tabuchi K Okajima (1977) ArticleTitleCongenital bile duct cysts: classification, operative procedures, and review of 37 cases including cancer arising from choledochal cysts Am J Surg . 134–263 Occurrence Handle835773

20.

KG Tsalis EC Christoforidis CA Dimitriadis SC Kalfadis DS Botsios JD Dadoukis (2003) ArticleTitleManagement of bile duct injury during and after laparoscopic cholecystectomy Surg Endosc 17 31–37 Occurrence Handle1:STN:280:DC%2BD3s%2FmtFKiug%3D%3D Occurrence Handle12384766

21.

CJ Yeo KD Lillemoe SA Ahrendt HA Pitt (2002) Shackelford's surgery of the alimentary tract GD Zuidema CJ Yeo G Jeremiah HA Turcotte (Eds) Vol. III EditionNumber5 WB Saunders Philadelphia, PA 247–280
About this article
Cite this article
Chowbey, P.K., Soni, V., Sharma, A. et al. Laparoscopic hepaticojejunostomy for biliary strictures: the experience of 10 patients. Surg Endosc 19, 273–279 (2005). https://doi.org/10.1007/s00464-003-8288-5
Received:

Accepted:

Published:

Issue Date:
Keywords
Hepaticojejunostomy

Choledochal cyst

Latrogenic biliary strictures

Iatrogenic