Abstract
Background: Increasing constraints on the time and resources needed to train surgeons have led to a new emphasis on finding innovative ways to teach surgical skills outside the operating room. Virtual reality training has been proposed as a method to both instruct surgical students and evaluate the psychomotor components of minimally invasive surgery ex vivo. Methods: The performance of 100 laparoscopic novices was compared to that of 12 experienced (>50 minimally invasive procedures) and 12 inexperienced (<10 minimally invasive procedures) laparoscopic surgeons. The values of the experienced surgeons' performance were used as benchmark comparators (or criterion measures). Each subject completed six tasks on the Minimally Invasive Surgical Trainer—Virtual Reality (MIST-VR) three times. The outcome measures were time to complete the task, number of errors, economy of instrument movement, and economy of diathermy. Results: After three trials, the mean performance of the medical students approached that of the experienced surgeons. However, 7–27% of the scores of the students fell more than two SD below the mean scores of the experienced surgeons (the criterion level). Conclusions: The MIST-VR system is capable of evaluating the psychomotor skills necessary in laparoscopic surgery and discriminating between experts and novices. Furthermore, although some novices improved their skills quickly, a subset had difficulty acquiring the psychomotor skills. The MIST-VR may be useful in identifying that subset of novices.
This is a preview of subscription content, log in to check access.
Access options
Buy single article
Instant access to the full article PDF.
US$ 39.95
Price includes VAT for USA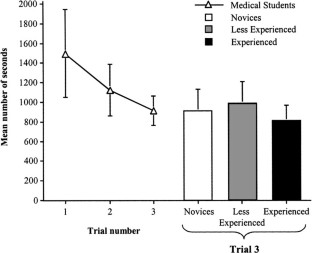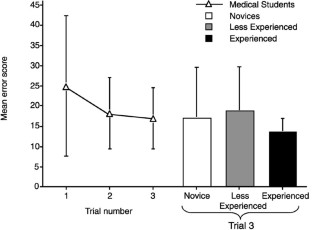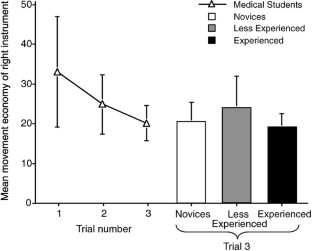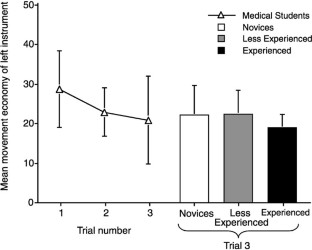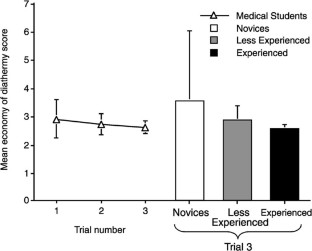 References
1

A Chaudhry C Sutton J Wood R Stone R McCloy (1999) ArticleTitleLearning rate for laparoscopic surgical skills on MIST-VR, a virtual reality simulator: quality of human–computer interface. Ann R Coll Surg Engl 81 281–286 Occurrence Handle1:STN:280:DC%2BD3c%2Fot1SlsQ%3D%3D

2

PM Chiasson DE Pace CM Schlacta J Mamazza EC Poulin (2002) ArticleTitleMIS training in Canada: a survey of general surgery residents. Surg Endosc 16 IssueIDSuppl 1 S202 Occurrence Handle10.1007/s00464-001-4139-4

3

IR Crothers AG Gallagher N McClure DT James J McGuigan (1999) ArticleTitleExperienced laparoscopic surgeons are automated to the "fulcrum effect": an ergonomic demonstration. Endoscopy 31 365–369 Occurrence Handle10.1055/s-1999-26 Occurrence Handle1:STN:280:DyaK1MzmtVChtQ%3D%3D Occurrence Handle10433045

4

A Cuschieri (1995) ArticleTitleWhither minimal access surgery: tribulations and expectations. Am J Surg 169 9–19 Occurrence Handle10.1016/S0002-9610(99)80104-4 Occurrence Handle1:STN:280:ByqC3Mjns1M%3D Occurrence Handle7818004

5

AG Gallagher RM Satava (2002) ArticleTitleVirtual reality as a metric for the assessment of laparoscopic psychomotor skills: learning curves and reliability measures. Surg Endosc 16 1746–1752 Occurrence Handle1:STN:280:DC%2BD38jis1CisA%3D%3D Occurrence Handle12140641

6

AG Gallagher N McClure J McGuigan K Ritchie NP Sheehy (1998) ArticleTitleAn ergonomic analysis of the fulcrum effect in the acquisition of endoscopic skills. Endoscopy 30 617–620 Occurrence Handle1:STN:280:DyaK1M%2FktFGisQ%3D%3D Occurrence Handle9826140

7

AG Gallagher N McClure J McGuigan I Crothers J Browning (1999) ArticleTitleVirtual reality training in laparoscopic surgery: a preliminary assessment of minimally invasive surgical trainer virtual reality (MIST-VR). Endoscopy 31 310–313 Occurrence Handle10.1055/s-1999-15 Occurrence Handle1:STN:280:DyaK1Mzgt12msw%3D%3D Occurrence Handle10376458

8

AG Gallagher K Richie N McClure J McGuigan (2001) ArticleTitleObjective psychomotor skills assessment of experienced, junior, and novice laparoscopists with virtual reality. World J Surg 25 1478–1483 Occurrence Handle1:STN:280:DC%2BD38%2FjtlSmuw%3D%3D Occurrence Handle11760752

9

JG Hunter (2002) ArticleTitleThe case for fellowship in gastrointestinal and laparoendoscopic surgery. Surgery 132 523–525 Occurrence Handle12324771

10

JA Jordan AG Gallagher J McGuigan N McClure (2000) ArticleTitleRandomly alternating image presentation during laparoscopic training leads to faster automation to the "fulcrum effect. Endoscopy 32 317–321 Occurrence Handle10.1055/s-2000-7374 Occurrence Handle1:STN:280:DC%2BD3c3jsFSjtA%3D%3D Occurrence Handle10774973

11

JA Jordan AG Gallagher J McGuigan K McGlade N McClure (2000) ArticleTitleA comparison between randomly alternating imaging, normal laparoscopic imaging, and virtual reality training in laparoscopic psychomotor skill acquisition. Am J Surg 180 208–211 Occurrence Handle1:STN:280:DC%2BD3M%2FmtFOiug%3D%3D Occurrence Handle11084131

12

JA Jordan AG Gallagher J McGuigan N McClure (2001) ArticleTitleVirtual reality training leads to faster adaptation to the novel psychomotor restrictions encountered by laparoscopic surgeons. Surg Endosc 15 1080–1084 Occurrence Handle1:STN:280:DC%2BD3MnotV2jtg%3D%3D Occurrence Handle11727074

13

SS McNatt CD Smith (2001) ArticleTitleA computer-based laparoscopic skills assessment device differentiates experienced from novice laparoscopic surgeons. Surg Endos 15 1085–1089 Occurrence Handle1:STN:280:DC%2BD3MnotV2jtw%3D%3D

14

D Ota B Loftin T Saito R Lea J Keller (1995) ArticleTitleVirtual reality in surgical education. Comput Biol Med 25 127–137

15

RM Satava (1993) ArticleTitleVirtual reality surgical simulator: the first steps. Surg Endos 7 203–205 Occurrence Handle1:STN:280:ByyB2snjvVY%3D Occurrence Handle8503081

16

NE Seymour AG Gallagher SA Roman MK O'Brien VK Bansal DK Andersen RM Satava (2002) ArticleTitleVirtual reality training improves operating room performance: results of a randomized, double-blinded study. Ann Surg 236 458–463 Occurrence Handle10.1097/00000658-200210000-00008 Occurrence Handle12368674

17

CD Smith TM Farrell SS McNatt RE Metreveli (2001) ArticleTitleAssessing laparoscopi manipulative skills. Am J Surg 181 547–550 Occurrence Handle10.1016/S0002-9610(01)00639-0 Occurrence Handle1:STN:280:DC%2BD3MvmvV2huw%3D%3D Occurrence Handle11513783

18

Surgery Residency Review Committee (2001–2) Surgery resident statistics summary. American Council on Graduate Medical Education, Chicago , IL

19

J Torkington SG Smith BI Rees A Darzi (2001) ArticleTitleSkill transfer from virtual reality to a real laparoscopic task. Surg Endosc 15 1076–1079 Occurrence Handle1:STN:280:DC%2BD3MnotV2jsQ%3D%3D Occurrence Handle11727073
Acknowledgments
This study was funded by a grant to Anthony G. Gallagher from the Economic and Social Research Council (ESRC), UK.
About this article
Cite this article
Gallagher, A., Lederman, A., McGlade, K. et al. Discriminative validity of the Minimally Invasive Surgical Trainer in Virtual Reality (MIST-VR) using criteria levels based on expert performance. Surg Endosc 18, 660–665 (2004). https://doi.org/10.1007/s00464-003-8176-z
Received:

Accepted:

Published:

Issue Date:
Keywords
Minimal access surgery

Task performance

Psychomotor skills

Surgical simulator

Minimally Invasive Surgical Trainer—Virtual Reality (MIST-VR)