Abstract
A 32-year-old man was investigated for repeated episodes of right-sided flank pain. Ultrasonography showed a dilated right pelvicalyceal system and upper ureter as well as multiple gallstones; subsequent intravenous urogram demonstrated a retrocaval ureter. At surgery, a right-sided double-J ureteric stent was placed under fluoroscopic guidance. Initially, three laparoscopic ports were used. The dilated pelvis and upper ureter were mobilized, followed by the lower ureter. The pelvis was transected and transposed anterior to the inferior vena cava. Reconstruction was carried out with an intracorporeally sutured anastomosis over the double-J stent. A fourth port was added for completion of cholecystectomy. The patient had an uneventful recovery and was discharged on the third day. Fourteen months later he remains well, with a recent intravenous urogram showing regression of hydronephrosis. We review the previously reported cases of laparoscopic and retroperitoneoscopic reconstruction of retrocaval ureter to compare and contrast these minimal access approaches.
This is a preview of subscription content, log in to check access.
Access options
Buy single article
Instant access to the full article PDF.
US$ 39.95
Price includes VAT for USA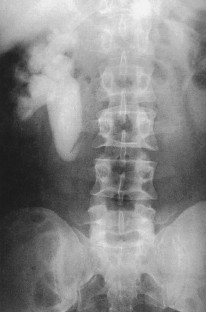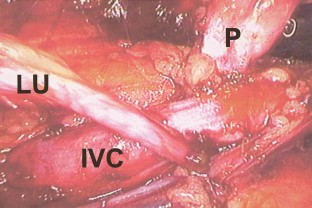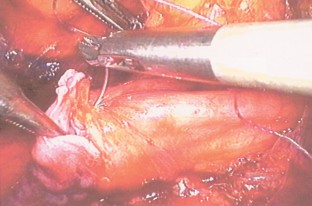 References
1

K Ameda H Kakizaki T Harabayashi Y Watarai K Nonomura T Koyanagi (2001) ArticleTitleLaparoscopic ureteroureterostomy for retrocaval ureter. Int J Urol 8 71–74 Occurrence Handle10.1046/j.1442-2042.2001.00255.x Occurrence Handle1:STN:280:DC%2BD3M3ktValtg%3D%3D Occurrence Handle11345057

2

S Baba M Oya M Miyahara N Deguchi H Tazaki (1994) ArticleTitleLaparoscopic surgical correction of circumcaval ureter. Urology 44 122–126 Occurrence Handle1:STN:280:ByuA3MjisVA%3D Occurrence Handle8042252

3

EM Bateson D Atkinson (1969) ArticleTitleCircumcaval ureter: a new classification. Clin Radiol 20 173–177 Occurrence Handle1:STN:280:CCaC1M%2FnvFQ%3D Occurrence Handle5771632

4

NP Gupta AK Hemal I Singh A Khaitan (2001) ArticleTitleRetroperitoneoscopic ureterolysis and reconstruction of retrocaval ureter. J Endourol 15 291–293 Occurrence Handle10.1089/089277901750161818 Occurrence Handle1:STN:280:DC%2BD3MrgsFalsA%3D%3D Occurrence Handle11339395

5

HC Harrill (1940) ArticleTitleRetrocaval ureter. Report of a case with operative correction of the defect. J Urol 44 450–457

6

S Ishitoya K Okubo Y Arai (1996) ArticleTitleLaparoscopic ureterolysis for retrocaval ureter. Br J Urol 77 162–163 Occurrence Handle1:STN:280:BymB28vkvVw%3D Occurrence Handle8653298

7

T Matsuda R Yasumoto T Tsujino (1996) ArticleTitleLaparoscopic treatment of a retrocaval ureter. Eur Urol 29 115–118 Occurrence Handle1:STN:280:BymH3MfptFM%3D Occurrence Handle8821702

8

S Mugiya K Suzuki T Ohhira T Un-No T Takayama K Fujita (1999) ArticleTitleRetroperitoneoscopic treatment of a retrocaval ureter. Int J Urol 6 419–422 Occurrence Handle10.1046/j.1442-2042.1999.00083.x Occurrence Handle1:STN:280:DyaK1MzpsVegsw%3D%3D Occurrence Handle10466455

9

TJ Polascik RN Chen (1998) ArticleTitleLaparoscopic ureteroureterostomy for retrocaval ureter. J Urol 160 121–122 Occurrence Handle1:STN:280:DyaK1c3ptVGrtg%3D%3D Occurrence Handle9628620

10

L Salomon A Hoznek C Balian D Gasman DK Chopin CC Abbou (1999) ArticleTitleRetroperitoneal laparoscopy of a retrocaval ureter. BJU Int 84 181–182 Occurrence Handle10.1046/j.1464-410x.1999.00183.x Occurrence Handle1:STN:280:DyaK1MzntlOhtg%3D%3D Occurrence Handle10444149
About this article
Cite this article
Bhandarkar, D., Lalmalani, J. & Shivde, S. Laparoscopic ureterolysis and reconstruction of a retrocaval ureter . Surg Endosc 17, 1851–1852 (2003). https://doi.org/10.1007/s00464-003-4513-5
Received:

Accepted:

Published:

Issue Date:
Keywords
Laparoscopy

Retrocaval ureter

Ureteroureterostomy