Abstract
Background: Postoperative pain is less intense after laparoscopic surgery than after open surgery. However, patients may gain additional benefit from a preincisional local infiltration of anesthetic. The aim of this study was to compare the analgesic efficacy of two local anesthetics, ropivacaine and levobupivacaine, for tissue infiltration as a means of improving postoperative pain control after laparoscopic cholecystectomy.Methods: Using a randomized, double-blind study design, 57 American Society of Anesthesiologists (ASA) I and II patients scheduled for laparoscopic cholecystectomy were randomly assigned to receive local infiltration with 0.9% saline solution (Placebo group, n = 18), ropivacaine 1% (Rop group, n = 20), or levobupivacaine 0.5% (Lev group, n = 19). The local anesthetic was administered, prior to trocar placement, using the same technique and delivering the same volume (20 ml) for all three groups. The anesthetic technique was standardized for all groups. Postoperative pain was rated at 2 h, 4 h, and 24 h postoperatively by visual analogue scale (VAS) score. Cumulative analgesic consumption and adverse effects were also recorded. Data were analyzed by analysis of variance (ANOVA), followed by a post hoc test.Results: The Lev and Rop groups did not differ significantly in their VAS scores at 2 h postoperatively, but the Lev group experienced significantly (p < 0.001) less pain than the Placebo and Rop groups at 4 h and 24 h postoperatively. The Rop group registered significantly lower VAS scores (p < 0.001) than the Placebo group at 4 h postoperatively. Additionally, the consumption of analgesics was significantly lower in the Lev group than in the Rop (p < 0.01) and Placebo (p < 0.001) groups, and patients in the Rop group consumed significantly less analgesics (p < 0.001) than the to patients in the Placebo group.Conclusion: Local tissue infiltration with levobupivacaine is more effective than ropivacaine in reducing the postoperative pain associated with laparoscopic cholecystectomy.
This is a preview of subscription content, log in to check access.
Access options
Buy single article
Instant access to the full article PDF.
US$ 39.95
Price includes VAT for USA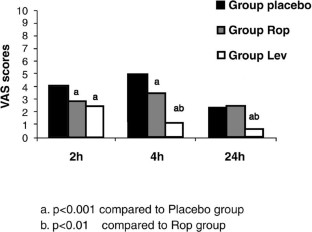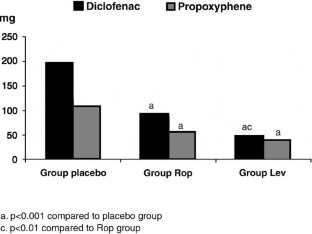 References
1

C Aps F Reynolds (1978) ArticleTitleAn intradermal study of the local anaesthetic and vascular effects of the isomers of bupivacaine. Br J Clin Pharmacol 6 63–68 Occurrence Handle1:CAS:528:DyaE1cXlsFOmt7o%3D Occurrence Handle666948

2

M Bay-Nielsen B Klarsov K Bech J Andersen H Kehlet (1999) ArticleTitleLevobupivacaine vs bupivacaine as infiltration anesthesia in inguinal herniorrhaphy. Br J Anaesth 82 280–282 Occurrence Handle1:CAS:528:DyaK1MXhvFGgtbs%3D Occurrence Handle10365010

3

T Bisgaard B Klarskov K Bjerregaard et al. (1999) ArticleTitleMulti-regional local anesthetic infiltration during laparoscopic cholecystectomy in patients receiving prophylactic multi-modal analgesia: a randomized, double-blind, placebo-controlled study. Anesth Analg 89 1017–1024 Occurrence Handle1:STN:280:DyaK1MvktVygtg%3D%3D Occurrence Handle10512282

4

A Goldstein P Grimault A Henique M Keller A Fortin E Darai (2000) ArticleTitlePreventing postoperative pain by local anesthetic instillation after laparoscopic gynecologic surgery: a placebo-controlled comparison of bupivacaine and ropivacaine. Anesth Analg 91 403–407 Occurrence Handle1:CAS:528:DC%2BD3cXlvVOqsrk%3D Occurrence Handle10910857

5

RW Gristwood (2002) ArticleTitleCardiac and CNS toxicity of levobupivacaine: strengths of evidence for advantage over bupivacaine. Drug Saf 25 153–163 Occurrence Handle1:CAS:528:DC%2BD38Xkt1Sgur0%3D Occurrence Handle11945112

6

B Johansson B Hallerback A Stubberod T Janbu B Edwin H Glise JH Solhaug (1997) ArticleTitlePreoperative local infiltration with ropivacaine for postoperative pain relief after inguinal hernia repair: a randomised controlled trial. Eur J Surg 163 371–378 Occurrence Handle1:STN:280:ByiA3sfmtFU%3D Occurrence Handle9195171

7

JA Katz PO Bridenbaugh DC Knarr SH Helton DD Denson (1990) ArticleTitlePharmacodynamics and pharmacokinetics of epidural ropivacaine in humans. Anesth Analg 70 16–21 Occurrence Handle1:STN:280:By%2BC38%2FgvVA%3D Occurrence Handle2297100

8

T Labaille JX Mazoit X Paqueron D Franco D Benhamou (2002) ArticleTitleThe clinical efficacy and pharmacokinetics of intraperitoneal ropivacaine for laparoscopic cholecystectomy. Anesth Analg 94 100–105 Occurrence Handle1:CAS:528:DC%2BD38Xmt1GitA%3D%3D Occurrence Handle11772809

9

DL Lewis WAL Thompson (1953) ArticleTitleReduction of postoperative pain. BMJ 1 973–974 Occurrence Handle13032582

10

U Maestroni D Sortini C Devito et al. (2002) ArticleTitleA new method of preemptive analgesia in laparoscopic cholecystectomy. Surg Endosc 16 1336–1340 Occurrence Handle1:STN:280:DC%2BD38vntlGquw%3D%3D Occurrence Handle11988800

11

O Mjåland J Ræder V Aasboe et al. (1997) ArticleTitleOutpatient laparoscopic cholecystectomy. Br J Surg 84 958–961 Occurrence Handle9240135

12

B Papaziogas H Argiriadou P Papagiannopoulou T Pavlidis M Georgiou E Sfyra T Papaziogas (2001) ArticleTitlePreincisional intravenous low-dose ketamine and local infiltration with ropivacaine reduces postoperative pain after laparoscopic cholecystectomy. Surg Endosc 15 1030–1033 Occurrence Handle1:STN:280:DC%2BD3MrlvVCmsQ%3D%3D Occurrence Handle11443472

13

N Pettersson BM Emanuelsson M Pharm H Reventlid R Hahn (1998) ArticleTitleHigh-dose ropivacaine wound infiltration for pain relief after inguinal hernia repair. Reg Anesth Pain Med 23 189–196 Occurrence Handle1:CAS:528:DyaK1cXislCjs7o%3D Occurrence Handle9570609

14

AM Sarac AO Aktan N Baykan C Yegen R Yalin (1996) ArticleTitleThe effect and timing of local anesthesia in laparoscopic cholecystectomy. Surg Laparosc Endosc 6 362–366 Occurrence Handle10.1097/00019509-199610000-00005 Occurrence Handle1:STN:280:ByiD2crjs1E%3D Occurrence Handle8890420

15

DB Scott A Lee D Fagan GMR Bowler P Bloomfield R Lundh (1989) ArticleTitleAcute toxicity of ropivacaine compared with that of bupivacaine. Anaesth Analg 69 563–569 Occurrence Handle1:CAS:528:DyaK3MXhsFOjs7o%3D

16

K Slim (2000) ArticleTitlePain after laparoscopic cholecystectomy. Br J Surg 87 1249 Occurrence Handle1:STN:280:DC%2BD3M%2Fjs1OrtQ%3D%3D

17

BM Ure H Troidl W Spangenberger E Neugebauer R Lefering K Ullmann J Bende (1993) ArticleTitlePreincisional local anesthesia with bupivacaine and pain after laparoscopic cholecystectomy: a double-blind randomized clinical trial. Surg Endosc 7 482–488 Occurrence Handle1:STN:280:ByuD1MfksFE%3D Occurrence Handle8272992

18

BM Ure H Troidl W Spangenberger A Dietrich R Lefering E Neugebauer (1994) ArticleTitlePain after laparoscopic cholecystectomy: intensity and localization of pain and analysis of predictors in preoperative symptoms and intraoperative events. Surg Endosc 8 90–96 Occurrence Handle1:STN:280:ByuB3MfnsVQ%3D Occurrence Handle8165491

19

C Woolf WS Chong (1993) ArticleTitlePreemptive analgesia—treating postoperative pain by preventing the establishment of central sensitization. Anesth Analg 77 362–379 Occurrence Handle1:STN:280:ByyA2cfps1Y%3D Occurrence Handle8346839
About this article
Cite this article
Papagiannopoulou, P., Argiriadou, H., Georgiou, M. et al. Preincisional local infiltration of levobupivacaine vs ropivacaine for pain control after laparoscopic cholecystectomy . Surg Endosc 17, 1961–1964 (2003). https://doi.org/10.1007/s00464-002-9256-1
Received:

Accepted:

Published:

Issue Date:
Keywords
Laparoscopic cholecystectomy

Local tissue infiltration

Ropivacaine

Levobupivacaine

Pain control