Abstract
Background: Patients who undergo unilateral adrenalectomy are known to benefit from the endoscopic procedure. Only a few reports on bilateral endoscopic adrenalectomy exist. The optimal approach and the value of this operation were assessed in this study. Methods: For 18 patients, synchronous bilateral lateral adrenalectomy with intraoperative repositioning was performed for different indications. The transperitoneal and retroperitoneal approaches were varied on both sides. Results: With the reported procedure, the operative time diminished considerably. Blood loss was low, and no blood transfusions were required. No conversion to an open procedure was necessary. There were no intraoperative or postoperative complications, except for one death from pulmonary embolism. The mean postoperative hospital stay was 7 days, and the follow-up evaluation showed overall improvement. Conclusion: The risk associated with endoscopic bilateral adrenalectomy is low. Transperitoneal and retroperitoneal lateral adrenalectomy are recommended as approaches of choice. The authors advocate early bilateral adrenalectomy for Cushing's disease after unsuccessful transsphenoidal operation and ectopic adrenocorticotropic hormone production from an inaccessible tumour.
This is a preview of subscription content, log in to check access.
Access options
Buy single article
Instant access to the full article PDF.
US$ 39.95
Price includes VAT for USA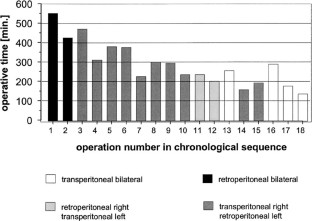 References
1

S Baba A Miyajima A Uchida H Asanuma A Miyakawa M Murai (1997) ArticleTitleA posterior lumbar approach for retroperitoneoscopic adrenalectomy: assessment of surgical efficacy. Urology 50 19–24 Occurrence Handle10.1016/S0090-4295(97)00119-2 Occurrence Handle1:STN:280:ByiA287htF0%3D Occurrence Handle9218013

2

TW Bax DR Marcus GQ Galloway LL Swanstrom BC Sheppard (1996) ArticleTitleLaparoscopic bilateral adrenalectomy following failed hypophysectomy. Surg Endosc 10 1150–1153 Occurrence Handle10.1007/s004649900268 Occurrence Handle1:STN:280:ByiC2srot1M%3D Occurrence Handle8939832

3

HJ Bonjer JF Lange G Kazemier WW De Herder EW Steyerberg HA Bruining (1997) ArticleTitleComparison of three techniques for adrenalectomy. Brit J Surg 84 679–682 Occurrence Handle10.1046/j.1365-2168.1997.02655.x Occurrence Handle1:STN:280:ByiA3MrnsF0%3D Occurrence Handle9171764

4

HJ Bonjer V Sorm FJ Berends G Kazemier EW Steyerberg WW De Herder HA Bruining (2000) ArticleTitleEndoscopic retroperitoneal adrenalectomy: lessons learned from 111 consecutive cases. Ann Surg 232 796–803 Occurrence Handle10.1097/00000658-200012000-00008 Occurrence Handle1:STN:280:DC%2BD3M%2FltVymsw%3D%3D Occurrence Handle11088074

5

JF Buell HR Alexander JA Norton KC Yu DL Fraker (1997) ArticleTitleBilateral adrenalectomy for Cushing's syndrome: anterior versus posterior surgical approach. Ann Surg 225 63–68 Occurrence Handle10.1097/00000658-199701000-00007 Occurrence Handle1:STN:280:ByiC2M3hvV0%3D Occurrence Handle8998121

6

Y Chapuis S Chastanet B Dousset et al. (1997) ArticleTitleBilateral laparoscopic adrenalectomy for Cushing's disease. Br J Surg 84 1009–1012 Occurrence Handle1:STN:280:ByiA1cvkvVA%3D Occurrence Handle9240152

7

Y Chapuis B Inabnet B Abboud S Chastanet J Pitre B Dousset JP Luton (1998) ArticleTitleSurrénalectomie bilatérale vidéo-endoscopique dans la maladie de Cushing. Expérience chez 24 patients. Ann Chir 52 350–356 Occurrence Handle1:STN:280:DyaK1cvisFSgtA%3D%3D Occurrence Handle9752469

8

Y Chapuis J Pitre F Conti B Abboud N Pras-Jude JP Luton (1996) ArticleTitleRole and operative risk of bilateral adrenalectomy in hypercortisolism. World J Surg 20 775–780 Occurrence Handle10.1007/s002689900118 Occurrence Handle1:STN:280:BymH38jit1Y%3D Occurrence Handle8678950

9

P Cougard JL Peix F Peschaud P Goudet (2001) ArticleTitlePancreatite aigue aprés surrénalectomie bilatérale laparoscopique pour sécrétion ectopique d'ACTH. Ann Chir 126 336–338 Occurrence Handle10.1016/S0003-3944(01)00516-8 Occurrence Handle1:STN:280:DC%2BD3MzltVOgsA%3D%3D Occurrence Handle11413814

10

QY Duh AE Siperstein OH Clark WP Schecter JK Horn MR Harrison TK Hunt LW Way (1996) ArticleTitleLaparoscopic adrenalectomy: comparison of the lateral and posterior approaches. Arch Surg 131 870–876 Occurrence Handle1:STN:280:BymA3MnosVA%3D Occurrence Handle8712912

11

G Favia M Boscaro F Lumachi DF D'Amico (1994) ArticleTitleRole of bilateral adrenalectomy in Cushing's disease. World J Surg 18 462–466 Occurrence Handle1:STN:280:ByqB2c3ns1A%3D Occurrence Handle7725729

12

L Fernández-Cruz A Saenz G Benarroch E Astudillo P Taura L Sabater (1996) ArticleTitleLaparoscopic unilateral and bilateral adrenalectomy for Cushing's syndrome. Ann Surg 224 727–736 Occurrence Handle10.1097/00000658-199612000-00008 Occurrence Handle1:STN:280:ByiC383pslw%3D Occurrence Handle8968227

13

L Fernandez-Cruz A Saenz G Benarroch L Sabater P Taura (1997) ArticleTitleTotal bilateral laparoscopic adrenalectomy in patients with Cushing's syndrome and multiple endocrine neoplasia (IIa). Surg Endosc 11 103–107 Occurrence Handle10.1007/s004649900307 Occurrence Handle1:STN:280:ByiB383kvFc%3D Occurrence Handle9069136

14

L Fernandez-Cruz A Saenz P Taura G Benarroch E Astudillo L Sabater (1999) ArticleTitleRetroperitoneal approach in laparoscopic adrenalectomy. Is it advantageous? Surg Endosc 13 86–90 Occurrence Handle10.1007/s004649900907 Occurrence Handle1:STN:280:DyaK1M%2FovVeisQ%3D%3D Occurrence Handle9869699

15

FA Ferrer DC MacGillivray CD Malchoff DM Albala SJ Shichman (1997) ArticleTitleBilateral laparoscopic adrenalectomy for adrenocorticotropic-dependent Cushing's syndrome. J Urol 157 16–18 Occurrence Handle10.1097/00005392-199701000-00006 Occurrence Handle1:STN:280:ByiC3s%2FksVY%3D Occurrence Handle8976205

16

M Gagner A Lacroix RA Prinz et al. (1993) ArticleTitleEarly experience with laparoscopic approach for adrenalectomy. Surgery 114 1120–1125 Occurrence Handle1:STN:280:ByuD2sfisFM%3D Occurrence Handle8256217

17

R Hasan KL Harold BD Matthews KW Kercher RF Sing BT Heniford (2002) ArticleTitleOutcomes for laparoscopic bilateral adrenalectomy. J Laparoendosc Adv Surg Tech 12 233–236 Occurrence Handle10.1089/109264202760267989 Occurrence Handle1:STN:280:DC%2BD38votlylug%3D%3D

18

JF Henry F Sebag M lacobone J Hubbard S Maweja (2002) ArticleTitleLecons retenues apres 274 surrenalectomies laparoscopiques. Ann Chir 127 512–519 Occurrence Handle10.1016/S0003-3944(02)00831-3 Occurrence Handle1:STN:280:DC%2BD38nks1ertQ%3D%3D Occurrence Handle12404845

19

THS Hsu IS Gill (2002) ArticleTitleBilateral laparoscopic adrenalectomy: retroperitoneal and transperitoneal approaches. Urology 59 184–189 Occurrence Handle10.1016/S0090-4295(01)01525-4 Occurrence Handle11834382

20

G Janetschek G Finkenstedt R Gasser et al. (1998) ArticleTitleLaparoscopic surgery for pheochromocytoma: adrenalectomy, partial resection, excision of paragangliomas. J Urol 160 330–334 Occurrence Handle10.1097/00005392-199808000-00008 Occurrence Handle1:STN:280:DyaK1czktlCltw%3D%3D Occurrence Handle9679871

21

E Kebebew AE Siperstein QY Duh (2001) ArticleTitleLaparoscopic adrenalectomy: the optimal surgical approach. J Laparoendosc Adv Surg Tech 11 409–413 Occurrence Handle10.1089/10926420152761941 Occurrence Handle1:STN:280:DC%2BD38%2Fos1Gluw%3D%3D

22

R Lanzi F Montorsi M Losa A Centemero MF Manzoni P Rigatti G Cornaggia AE Pontiroli G Guazzoni (1998) ArticleTitleLaparoscopic bilateral adrenalectomy for persistent Cushing's disease after transsphenoidal surgery. Surgery 123 144–150 Occurrence Handle10.1067/msy.1998.83643 Occurrence Handle1:STN:280:DyaK1c7kt1equg%3D%3D Occurrence Handle9481399

23

E Lezoche M Guerrieri F Feliciotti AM Paganini S Perretta M Baldarelli J Bonjer P Miccoli (2002) ArticleTitleAnterior, lateral, and posterior retroperitoneal approaches in endoscopic adrenalectomy. Surg Endosc 16 96–99 Occurrence Handle10.1007/s004640090043 Occurrence Handle1:STN:280:DC%2BD383isFGmtQ%3D%3D Occurrence Handle11961614

24

E Lezoche M Guerrieri AM Paganini F Feliciotti P Zenobi F Antognini F Mantero (2000) ArticleTitleLaparoscopic adrenalectomy by the transperitoneal approach. Surg Endosc 14 920–925

25

T Manger S Piatek S Klose D Kopf D Kunz H Lehnert H Lippert (1997) ArticleTitleBilaterale laparoskopische transperitoneale Adrenalektomie beim Phäochromozytom. Langenbecks Arch Chir 382 37–42 Occurrence Handle10.1007/s004230050020 Occurrence Handle1:STN:280:ByiB3c3ktlA%3D Occurrence Handle9157231

26

DS O'Riordain DR Farley WF Young CS Grant JA van Heerden (1994) ArticleTitleLong-term outcome of bilateral adrenalectomy in patients with Cushing's syndrome. Surgery 116 1088–1093 Occurrence Handle1:STN:280:ByqD2snjs1M%3D Occurrence Handle7985092

27

SJ Shichman CD Herndon RE Sosa et al. (1999) ArticleTitleLateral transperitoneal laparoscopic adrenalectomy. World J Urol 17 48–53 Occurrence Handle10.1007/s003450050104 Occurrence Handle1:STN:280:DyaK1M7psFyrtw%3D%3D Occurrence Handle10096151

28

AE Siperstein E Berber KL Engle QY Duh OH Clark (2000) ArticleTitleLaparoscopic posterior adrenalectomy: technical considerations. Arch Surg 135 967–971 Occurrence Handle10.1001/archsurg.135.8.967 Occurrence Handle1:STN:280:DC%2BD3cvhs12rtQ%3D%3D Occurrence Handle10922260

29

A Terai T Terachi T Inoue et al. (1997) ArticleTitleLaparoscopic adrenalectomy for bilateral pheochromocytoma: a case report. Int J Urol 4 300–303 Occurrence Handle1:STN:280:ByiA1MblsFc%3D Occurrence Handle9255671

30

A Vella GB Thompson CS Grant JA van Heerden DR Parley WF Young (2001) ArticleTitleLaparoscopic adrenalectomy for adrenocorticotropin-dependent Cushing's syndrome. J Clin Endocrinol Metab 86 1596–1599 Occurrence Handle1:CAS:528:DC%2BD3MXivVClu70%3D Occurrence Handle11297589

31

MA Zeiger DL Fraker HI Pass LK Niemann GB Cutler GP Chrousos JA Norton (1993) ArticleTitleEffective reversibility of the signs and symptoms of hypercortisolism by bilateral adrenalectomy. Surgery 114 1138–1143 Occurrence Handle1:STN:280:ByuD2sfis1Q%3D Occurrence Handle8256220
About this article
Cite this article
Jäger, E., Heintz, A. & Junginger, T. Synchronous bilateral endoscopic adrenalectomy: experiences after 18 operations . Surg Endosc 18, 314–318 (2004). https://doi.org/10.1007/s00464-002-9243-6
Received:

Accepted:

Published:

Issue Date:
Keywords
Endoscopic bilateral adrenalectomy

Transperitoneal approach

Retroperitoneal approach