Abstract
Background: Natural killer (NK) activity plays an important role in the prevention of tumor metastasis. However, few studies compared changes in NK activities between gas(less) laparoscopy and open surgery. Materials and methods: Donryu rats were randomized to 4 groups (n = 6–9, for each lime point in each group): gasless group, pneumoperitoneum group, laparotomy group, and control group. The surgical treatment groups received additional cecal resection at the end of the procedures. Spleen cells and hepatic nonparenchymal cells were harvested at 6, 24, or 96 h, to determine the splenic and hepatic NK activities against YAC-1 cells. Results: Compared with the anesthesia control, laparotomy and pneumoperitoneum depressed splenic NK activity at 24 h (p < 0.01 for laparotomy and p < 0.05, for pneumoperitoneum) and 96 h (p < 0.05). Laparotomy also depressed hepatic NK activity at 24 h (p < 0.05). In contrast, the gasless procedure did not show any deterioration in the splenic and hepatic NK activities. Conclusion: These results suggest that gasless laparoscopic surgery would be a favorable approach in terms of the preservation of NK activities.
This is a preview of subscription content, log in to check access.
Access options
Buy single article
Instant access to the full article PDF.
US$ 39.95
Price includes VAT for USA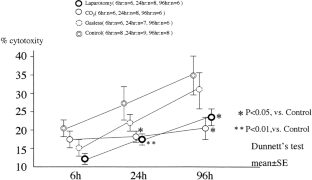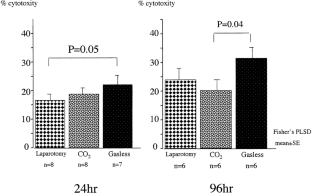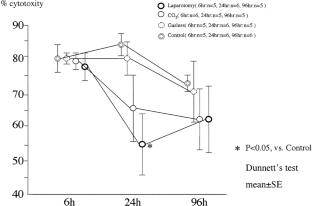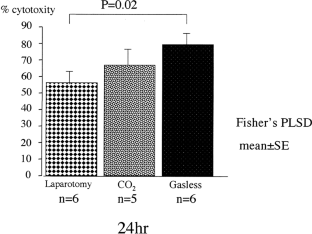 References
1

ND Bouvy RI Marquet H Jeekel HJ Bonjer (1996) ArticleTitleImpact of gas(less) laparoscopy and laparotomy on peritoneal tumor growth and abdominal wall metastases. Ann Surg 224 694–700 Occurrence Handle10.1097/00000658-199612000-00005 Occurrence Handle8968224

2

L Bowens L Remels M Baekeland H VanBossuyt E Wisse (1987) ArticleTitleLarge granular lymphocytes or "pit cells" from rat liver: isolation, ultrastructural characterization and natural killer activity. Eur J Immunol 17 37–42 Occurrence Handle3816934

3

L Bowens R Jacobs L Remels E Wise (1988) ArticleTitleNatural cytotoxicity of rat natural killer cells and macrophages against a syngeneic colon adenocarcinoma. Cancer Immunol Immother 27 137–141

4

ML Da Costa HP Redmond N Finnegan M Flynn D Bouchier-Hayes (1998) ArticleTitleLaparotomy and laparoscopy differentially accelerate experimental flank tumor growth. Br J Surg 85 1439–1442 Occurrence Handle10.1046/j.1365-2168.1998.00853.x Occurrence Handle1:STN:280:DyaK1cvltlaqtg%3D%3D Occurrence Handle9782033

5

. Da Costa HP Redmond D Bouchier-Hayes (1998) ArticleTitleThe effect of laparotomy and laparoscopy on the establishment of spontaneous tumor metastases. Surgery 124 516–525 Occurrence Handle10.1067/msy.1998.89410 Occurrence Handle1:STN:280:DyaK1cvgvVWisw%3D%3D Occurrence Handle9736904

6

CN Gutt Z-G Kim T Schmandra V Paolucci M Lorenz (2000) ArticleTitleCarbon dioxide pneumoperitoneum is associated with increased liver metastases in a rat model. Surgery 127 566–570 Occurrence Handle1:STN:280:DC%2BD3c3nvFSgug%3D%3D Occurrence Handle10819066

7

CN Gutt TC Schmandra (1999) ArticleTitlePortal venous flow during CO2 pneumoperitoneum in the rat. Surg Endosc 13 902–905 Occurrence Handle10.1007/s004649901130 Occurrence Handle1:STN:280:DyaK1MzotVKlsw%3D%3D Occurrence Handle10449849

8

N Hanna IJ Fidler (1980) ArticleTitleRole of natural killer cells in the destruction of circulating tumor cells. JNCI 65 801–809 Occurrence Handle1:STN:280:Bi6D38fntlc%3D Occurrence Handle6932529

9

N Hannna (1982) ArticleTitleRole of natural killer cells in control of cancer metastasis. Cancer Metastasis Rev 1 45–64 Occurrence Handle7185419

10

L Hoffmann-Goetz B MacNeil Y Arumugam (1992) ArticleTitleEffect of differential housing in mice on natural killer cell activity, tumor growth, and plasma corticosterone. PSEBM 199 337–344

11

H Ishida D Hashimoto I Takeuchi M Yokoyama H Okita T Hoshino (2002) ArticleTitleLiver metastases are less established after gasless laparoscopy than after CO2 pneumoperitoneum and laparotomy in a mouse model. Surg Endosc 16 193–196 Occurrence Handle10.1007/s004640080173 Occurrence Handle1:STN:280:DC%2BD383isFGitw%3D%3D Occurrence Handle11961638

12

J Jakimowicz G Stultiens F Smulders (1998) ArticleTitleLaparoscopic insufflation of the abdomen reduces portal blood flow. Surg Endosc 12 129–132 Occurrence Handle10.1007/s004649900612 Occurrence Handle1:STN:280:DyaK1c7ktVemsQ%3D%3D Occurrence Handle9479726

13

G Morioka Y Yamanaka M Kon (1995) ArticleTitleFacilitation of hepatic metastasis by surgical stress in mice. Jpn J Clin Immun 18 521–528 Occurrence Handle1:STN:280:BymC38vlvVA%3D

14

M Oka S Hazama M Suzuki F Wang K Shimoda N Iizuka K Wadamori S Takashi S Attwood (1994) ArticleTitleDepression of cytotoxity of nonparenchymal cells in the liver after surgery. Surgery 116 877–882 Occurrence Handle1:STN:280:ByqD38nkslM%3D Occurrence Handle7940192

15

Y Okuzawa H Ishibashi M Shirahata S Kurokawa J Kudo H Okubo Y Niho (1987) ArticleTitleKupffer cells modulate natural killer cell activity in vitro by producing prostaglandins. Cellular Immunol 107 89–98

16

MS Roh MP Kahky C Oyedeji J Klostergaard L Wang SA Curley E Lotzova (1992) ArticleTitleMurine Kupffer cells and hepatic natural killer cells regulate tumor growth in a quantitative model of colorectal liver metastases. Clin Exp Metastasis 10 317–327 Occurrence Handle1:CAS:528:DyaK3sXht1Wqsbc%3D Occurrence Handle1505122

17

J Suo N Tanaka A Hizuta S Yunoki K Orita (1994) ArticleTitleSuppression of hepatic natural killer activity by liver metastasis of cancer and restoration of killer activity by oral administration of a Basidomycetes-derived polysaccharide, PSK. Acta Med Okayama 48 237–242 Occurrence Handle1:STN:280:ByqC28jpslw%3D Occurrence Handle7863794

18

CL Tang KW Eu BC Tai JG Soh D MacHin F Seow-Chen (2001) ArticleTitleRandomized clinical trial of the effect of open versus laparoscopically assisted colectomy on systemic immunity in patients with colorectal cancer. Br J Surg 88 801–807 Occurrence Handle10.1046/j.1365-2168.2001.01781.x Occurrence Handle1:STN:280:DC%2BD3MzkvFWhtg%3D%3D Occurrence Handle11412248

19

PI Tartter B Steinberg DM Barron G Martinelli (1987) ArticleTitleThe prognostic significance of natural killer cytotoxicity in patients with colorectal cancer. Arch Surg 122 1264–1268 Occurrence Handle1:STN:280:BieD2cfovFI%3D Occurrence Handle3675190

20

RH Wiltrout (2000) ArticleTitleRegulation and antimetastatic functions of liver-associated natural killer cells. Immunol Rev 174 63–76 Occurrence Handle10.1034/j.1600-0528.2002.00014h.x Occurrence Handle1:CAS:528:DC%2BD3cXjtVygsrw%3D Occurrence Handle10807507
Acknowledgments
We thank Dr. Kouki Jinnai, Vice President, Senboku Jinnai Hospital, for his kind advice.
About this article
Cite this article
Takeuchi, I., Ishida, H., Mori, T. et al. Comparison of the effects of gasless procedure, CO2-pneumoperitoneum, and laparotomy on splenic and hepatic natural killer activity in a rat model . Surg Endosc 18, 255–260 (2004). https://doi.org/10.1007/s00464-002-9180-4
Received:

Accepted:

Published:

Issue Date:
Keywords
Natural killer activity

Large granular lymphocyte

Pneumoperitoneum

Gasless laparoscopy

Laparotomy